Here's another in our series of 2020 wrap-ups, this time looking at how saving and investing shot up for most people during the lockdowns of 2020.
Curiosity in investing has skyrocketed in the last year due to a combination of 3 factors:
it's easier to do than ever before thanks to free trading apps;
the economy melting down made people stop and think about their own finances; and
people on the whole have been saving way more money during lockdowns than they would normally be able to.
Today we're looking into this last point in detail. How much have people been able to save and invest during the lockdowns?
Of course… it isn't the case that everyone is better off.
For those of you who have done well out of lockdown, we're also going to look at where you might want to prioritise putting that money, to get yourself prepared, for if – or maybe when – the economy really starts to tank.
Stake are giving away a free US stock worth up to $100 to everyone who signs up via our link on the Offers Page – be sure to check that out!
Artificial Problem – Artificial Solution
While lockdowns are an artificial problem, put in place by government order, the financial solution to them is coming from another government order – the furlough scheme and related business loans. So far, the 2 policies are largely offsetting each other financially for many people.
Because of unprecedented financial support for the private sector from Boris and Rishi, the bulk of Brits have so far been able to keep calm and carry on despite lockdowns – in many cases improving their financial situation.
How Much Are People Saving?
The Centre for Economics and Business Research reports that households saved £7,100 on average in 2020, thanks to the lockdowns preventing them from spending, and most being able to maintain their jobs.
A study by AA Financial Services shows that 85% of UK adults spent less during the lockdowns.
Some of the largest savings areas were petrol (£49 a month), staying away from pubs and restaurants (£57 a month), and avoiding the shops (£53 a month).
In total people still on a full income were able to save £617 a month on average.
The Bank of England back this up, reporting that personal bank deposits have grown by 3x the recent average, with 31% of savers increasing their monthly deposits over the timeframe. Are people investing that money or just letting it rot in the bank?
Well, the US Bureau of Economic Analysis reckons that similar spending cuts to what's been seen in the UK are also being seen across all the major economies, with most of the difference being diverted into savings accounts.
We know that investing is much more culturally embedded in America than in Britain, so we can expect a higher proportion of spare British money to be directed towards savings rather than investing.
We're investors, so every last penny we've found ourselves up by during this pandemic has gone into the stock market and other assets. After all, saving for 0% interest is a chump's game.
We want to know if investing activity has gone up, not just because it's interesting to know, but also because more noobie investors entering into the market tends to push up asset prices, and can even lead to bubbles.
How Many People Are Investing
We know that the average saved was £7,100, but it's safe to assume that most of that ended up in savings accounts rather than investment platforms.
However, 2020 did see a huge rise in individual investors taking to the markets for the first time.
eToro saw a 420% increase in investors' trades between January and June 2020, compared to the same period a year earlier.
Interactive Investor reported a 119% increase between April and August 2020, and AJ Bell a 200% annual increase for March to April that year.
Across the board, hundreds of thousands of people have been turning to investing to store and grow their wealth.
But has this huge flow of money into the stock market had any effect on stock prices? Are new investors chasing rising prices or are rising prices partly due to new investors?
What Happened To Asset Prices
There's a strong argument that the rush of new investors into the market in 2020 has caused asset price bubbles in the "trendy" stocks and industries: such as big tech, clean energy, and anything to do with electric vehicles.
It also may be partly behind why we now see a K-shaped recovery. That is, some industries like Tech recovering while others like Travel continue to slump: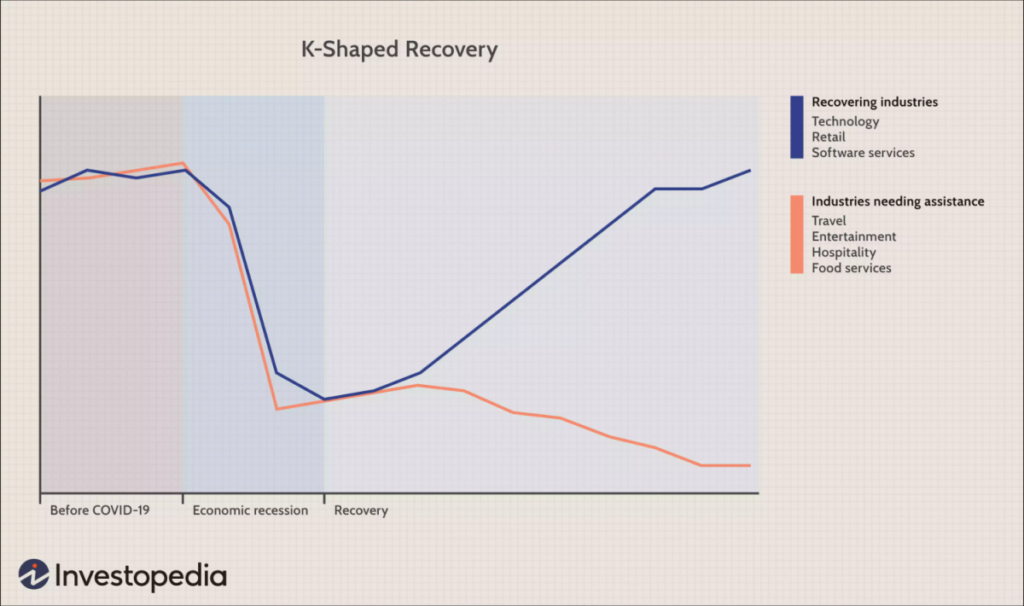 Take Tesla for example. Since March 2020, Tesla went from an adjusted $72 a share to over $800, and saw a PE ratio of over 1000, riding a wave of media coverage and new investor enthusiasm.
The rise of free trading apps and innovations like fractional trading made it easy for anyone to buy shares, and the data shows that new investors overwhelmingly favoured the big name brands: Tesla, Apple, Microsoft and Amazon being the main beneficiaries of their cash.
It's not just individual stocks – a rise in popularity of ETFs as an investment vehicle may mean that stock prices across the board in major indexes have been pushed upward by the flow of new investors, as ETF providers must now buy more of those companies to meet demand.
Let's now look at what happened at the other end of the financial spectrum.
What Happened To Household Debt?
The Bank of England has revealed that consumer debt fell after the first lockdown by £7.5 billion – this reversed a trend of increases every month since 2013.
This is a combination of people having lower expenses and paying down their debts instead; and fewer opportunities to use a credit card, plus the fear of uncertainty stopping people from wanting to take out new loans.
Not Everyone Has Benefitted
One of the few positives of living under lockdown is being able to save more money. But that just isn't the case for many low earners.
Right now there is a widening financial gulf opening up between middle and low earners.
The K-shaped recovery doesn't only describe a split in industries – the analogy can be applied to the condition of the home finances of middle earners vs low earners.
While spending decreased for higher and middle earners; the lower your income, the more likely that your outgoings would have gone up during lockdown: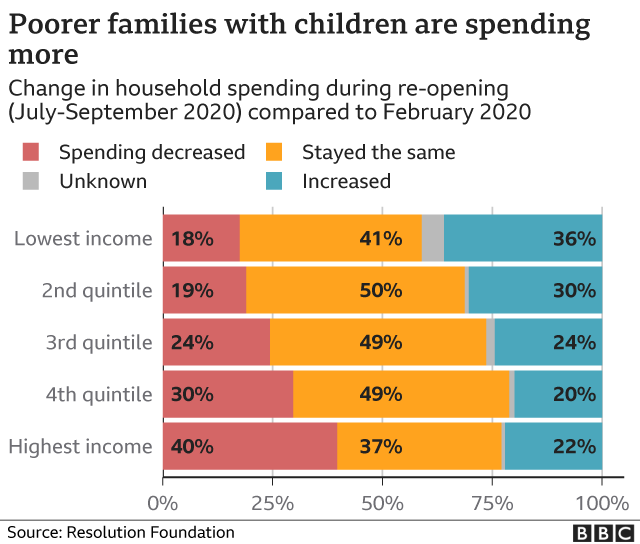 The problem was even predicted last Spring, with Universal Credit being increased by £20 a week in April 2020 in response to the lockdowns, but it hasn't seemed to help much.
We can see that over a third of the lowest earners are having to cope with higher expenses than usual – and of course, this is both terrible and unsustainable.
There are several explanations for this, such as:
being forced to shop locally, at higher prices than the supermarket because you don't own a car (and might want to avoid public transport right now);
higher heating costs because you and your kids are home all day during winter;
but no chance to offset this with the cost savings that middle class office workers saw from avoiding Pret a Manger lunches and dress-for-success work clothes, because they didn't have these luxuries anyway;
home-schooling meant having to buy in extra equipment;
they are furloughed, on 80% of an already low wage.
The saying "the rich get richer" is true because rich people can take advantage of opportunities as they arise.
Conversely, it's also true that the poor get poorer, as they get shafted harder when there's a crisis.
We should reflect that while many have benefitted from lockdown, many have not, and Rishi and his magic money tree will have to make sure that these people don't fall through the cracks.
For Those Lucky Enough To Have Financially Benefitted – Choose How Best To Use It
So if you've benefited from a lockdown savings windfall, how can you best direct that cash to protect yourself from a future crisis?
We may not even need to wait all that long.
There's a fair chance that once the furlough scheme is removed, the shock to the wider economy from mass unemployment will be huge, even for those not directly impacted.
That, or any number of unforeseen issues with vaccine rollouts or new strains of the virus could set the economy back to square one.
Here's 5 things you should consider doing with your cash while the going is good.
#1 – Clear The Slate
Pay down any short-term debts, especially any high interest ones, and set up an emergency cash fund of at least 3 months wages and ideally more.
You got lucky this time, possibly because your job was kept secure by government intervention.
If the company you work for fails during the next crisis, and government help isn't possible, at least your personal finances can be working with you, rather than against you.
#2 – Take Out Insurance
It might be worthwhile to have Income Protection insurance in place to cover you for sickness.
That way, you and your family are more likely to be protected if you find yourself incapacitated by illness and unable to work. The next virus to come along might be far worse than Covid-19.
Unemployment Insurance exists too, which protects you from redundancy, but since the pandemic, you'll struggle to get a quote.
#3 – Invest It
In our view, investing is almost always the superior choice over hoarding money in a bank account.
Given you may need access to this money, opening a General Investing Account or ISA is probably safer than locking it away in a pension – however, your emergency cash fund should have you covered for, well… emergencies.
Remember to grab your free stock in the intro above, and subscribe to our YouTube channel below or surf the articles on this site to learn everything you need to know about investing for the long term.
#4 – Important Upgrades
At time of filming, we're on Lockdown #3. Who knows how long it will last and how many more there'll be.
Lockdowns may even be forced upon us next Winter too, according to Chris Whitty. Now there's a depressing thought!
If you've struggled through the last lockdowns with inferior home comforts, and still lack a proper home office, a decent TV, gaming console etc, now might be a good time to spend a bit on making home-life more bearable.
#5 – An Epic Holiday
If you have any money left after securing your finances, why not have a sweet holiday when this is over? After the last year, you certainly deserve one!
Recycled Taxes
At the end of the day, a lot of these savings are just recycled taxpayers' money – £17.5 billion has been paid out to furloughed workers from the Treasury, and another £7.2 billion to the self-employed.
Much of this may even be given back to the Treasury in future massive tax hikes, as many economists and journalists theorise will happen to pay for the Covid splurge.
But get your finances in line now, and hopefully you'll be in a good place for the years ahead.
How much did you save or invest during the lockdowns? Join the conversation in the comments below!