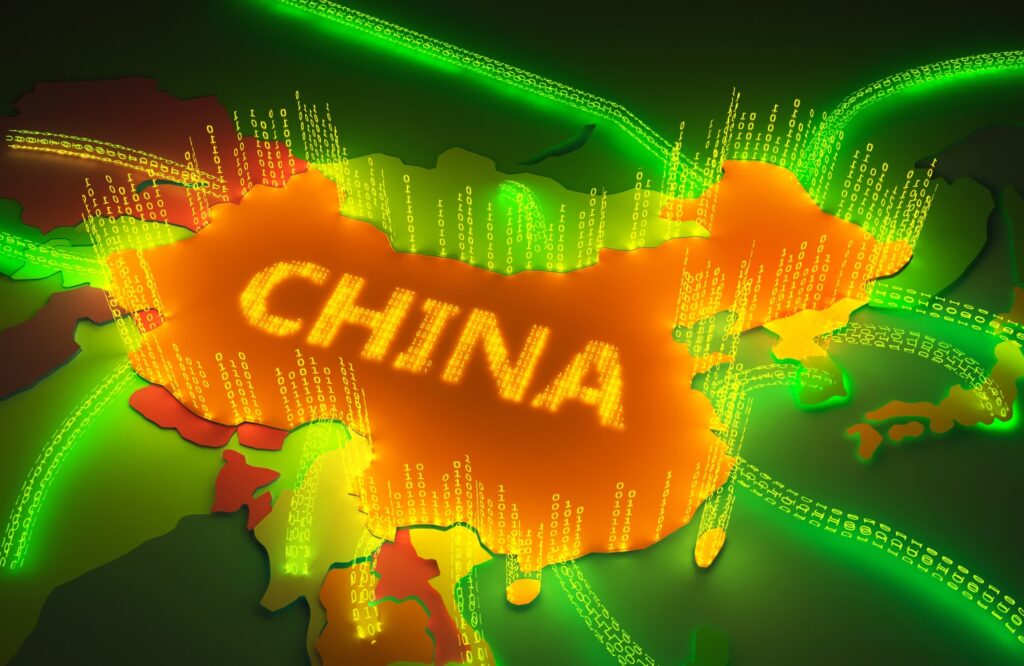 One in six people on earth live in China, with populations of each of China's mega regions by themselves the equivalents of other major countries. But their stock market is overlooked by western investors.
In 2020, Chinese companies' market capitalisations hit $10trn USD, in second place behind America's $38trn. Despite this, China typically only gets allocated around a measly 5% in world tracking ETFs.
A lot of this is to do with the shadowy way in which the Chinese government controls the stock market, keeping the volumes of shares that are available to foreign investors artificially suppressed.
But with China expected to be the world's biggest contributor to economic growth through to 2030, it is not a region to be side-lined. But how should you invest in China and ride this wave? Let's check it out!
Don't forget to scoop up free stocks, cash and other discounts when you open an investing account through any one of our many partners on the Offers Page. These include Freetrade and Stake, who are giving away free stocks!
Why You Should Invest In China
China has exploded in the last couple of decades, mostly thanks to the government's creation of city hubs and massive investment in infrastructure, including skyscrapers, road networks, air and rail transport and massive expansion of factories and fossil fuel harnessing.
And even staunch communists have found a way to embrace capitalism, with American consumer products, internet access and smart devices helping millions to join the middle classes.
China went from a nation of cyclists to the world's biggest car market in a matter of years, and are now also the world's largest smartphone market, and set to surpass the US as the world's biggest retail market by 2021.
Endless Growth
China's growth is seemingly unstoppable. While the rest of the world embraced recessions in 2020, China went ahead and found the V-Shaped Recovery that had eluded everyone else.
China is expected to be the only G20 economy to grow in 2020.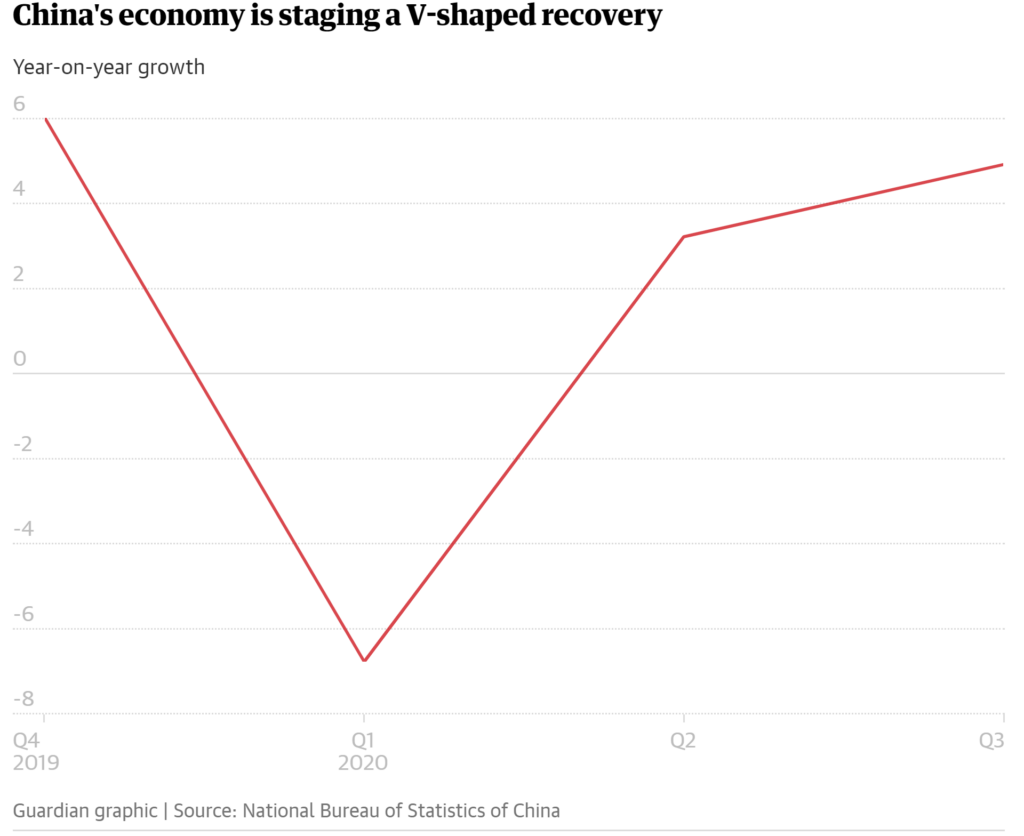 The global economy is expected to contract by around 4-5% in 2020 according to the IMF – the worst downturn since the Great Depression. China, meanwhile, has bounced back strong.
But despite sweet growth and a strong economy, its stock market remains underdeveloped.
How You Can Invest In China
Investing in China poses a logistical problem. Their government wants to control foreign ownership of Chinese companies, and makes it tough for outsiders to plough money into their stocks.
Of course, this damages China and holds it back, but you can't expect communists to fully embrace capitalism overnight. They're slowly getting better at running a stock market, but they have a long way still to go before they reach Western standards.
In their efforts to smush together 2 opposing ideologies, they've come up with a complicated class system of shares, with some tightly controlled, and others open to everyone.
The main types, A-shares and B-shares, are the shares of China-based companies that trade on the two mainland Chinese stock exchanges, in Shanghai, and Shenzhen.
A-Shares and B-Shares
Historically, China A-shares were only available to mainland citizens, due to China's restrictions on foreign investors.
This is still mostly the case, with exceptions now for big institutional foreign investors like banks and fund providers, including our favourite ETFs providers – iShares, Vanguard and Invesco.
These big institutions have something called an RQFII qualification, which allows them to buy A-shares.
The other share classes in theory are open to everyone these days, and can be bought by foreigners, though you may struggle on UK platforms.
These include China mainland B-Shares, as well as H, Red Chip and P Chip share classes which trade on the Hong Kong stock exchange.
ADRs
A modern development is that many of those elusive A-shares can now be bought indirectly through American exchanges, using American Depositary Receipts, or ADRs.
Note however that this is a certificate from a bank that represents the stock you're buying, not the physical stock itself.
A qualified U.S. bank will purchase the real A-shares from the Chinese exchanges, and hold onto them, but list ADRs for that stock on the NYSE or the Nasdaq – which you can then trade.
One other convenient option you have to get exposure to China is to buy an ETF – more on this shortly.
Some Of China's Biggest Stocks
The Great Firewall of China has long kept out Western technology companies from getting established within its borders. You won't find Amazon there, but you will find Alibaba and JD.com.
You won't find Google, but you will find Baidu. Instead of Facebook and Whatsapp, they use Tencent's QQ and WeChat.
The point is, these companies are as important for China's 1.4bn people as the FAANG stocks are for us in the West, and at least the following 3 should make their way into your portfolio in one way or another.
#1 – Tencent [SEHK:700] (Market Cap $416bn USD)
If you're investing in Facebook for the potential that social technology has to shape the future, then you should want to own Tencent as well.
Facebook serves 2.7 billion people – Tencent similarly serves another 1.2 billion people, with almost zero overlap between the two. A portfolio including both of these giants covers most of the world's adult population.
Tencent Holdings does not have an ADR listing in America, so look to the bigger platforms like Interactive Investor to buy Tencent shares on the Hong Kong Stock Exchange.
#2 – Alibaba [NYSE:BABA] (Market Cap $495bn USD)
Alibaba is the e-commerce company in China, their equivalent of Amazon as a one-stop-shop for everything.
And similar to Amazon, they are also leading the way with their cloud computing service, Alibaba Cloud.
They also own a large stake in Alipay, a major payment processing service used by 700 million people in China.
If one company personified the Chinese march towards the middle class, it would be Alibaba. You can find it listed on the NYSE as an ADR.
#3 – JD.com [NASDAQ:JD] (Market Cap $73bn USD)
A fierce rival to Alibaba is JD.com, far smaller in market cap but poised to grow, with a logistics and delivery service the equal of Amazon's.
They offer a same or next day delivery across China, and have similar warehouse robotics and drone technology.
JD and Tencent operate as close partners, allowing JD to use Tencent's social media apps as part of its shopping network. JD is listed on the NASDAQ as an ADR.
The Risks Of Investing In China
There are risks when investing in foreign countries: currency risk, regulatory issues, transparency, volatility, corruption, and possibility of war, to name a few. China has 3 key risks.
#1 – Political
The shady communist government could nick your money. It's not likely, but it's not inconceivable either.
Another way it could upset your portfolio is through its ability to crackdown on companies at will if they step out of line.
This happened to software company Momo in 2019 who had its Tantan dating app forcibly removed from app stores.
#2 – China Has An Underdeveloped Stock Market
But… it is improving, and there has been real progress in the last several years. China itself doesn't have much of an institutional investing sector, and it's A-shares market used to be 99% owned by normal people – retail investors – which led to the Chinese stock market behaving like a casino.
Now it is around 18% owned by institutional investors since throwing open the doors to approved foreigners, and is gradually becoming more stable.
This still stands in stark contrast to truly open markets like Hong Kong, the US and the UK, which are dominated by big investment banks.
Institutional investors are less reactive to short-term news, have better analysis tools and move in and out of positions slowly to manage profits, by keeping prices from moving too fast – in this way bringing order to a stock market.
While retail investors often trade on rumours, causing stocks to be significantly under or overvalued.
A study by Bloomberg in 2015 found that more than two-thirds of new Chinese investors failed to graduate high school – many investing with borrowed money based on faith in the government.
#3 – Problems Analysing Chinese Stocks
China has very different reporting standards to the UK and US, so understanding a stock's balance sheet is trickier.
There is also believed to be a higher potential for fraud in their financial system, so less trust can be placed in a set of accounts.
The Best Way To Invest In China
We believe the best way to invest in China is through an ETF, and to forget individual stocks.
To get proper exposure to the China market, the right ETF can buy you ownership of all major stocks, including A-shares.
The MSCI China Index
There are a great number of ETFs and indexes that focus on parts of China, but this index gives us the full coverage we need.
It covers large and mid-cap China A-shares, B-shares, H-shares, Red chips, P chips and foreign listings such as ADRs. With 714 constituents, the index covers about 85% of the China equity universe.
ETFs that cover this index are few and far between. The cheapest one for UK investors is the Lyxor MSCI China UCITS ETF (LSE:LCCN), with an OCF of 0.29%.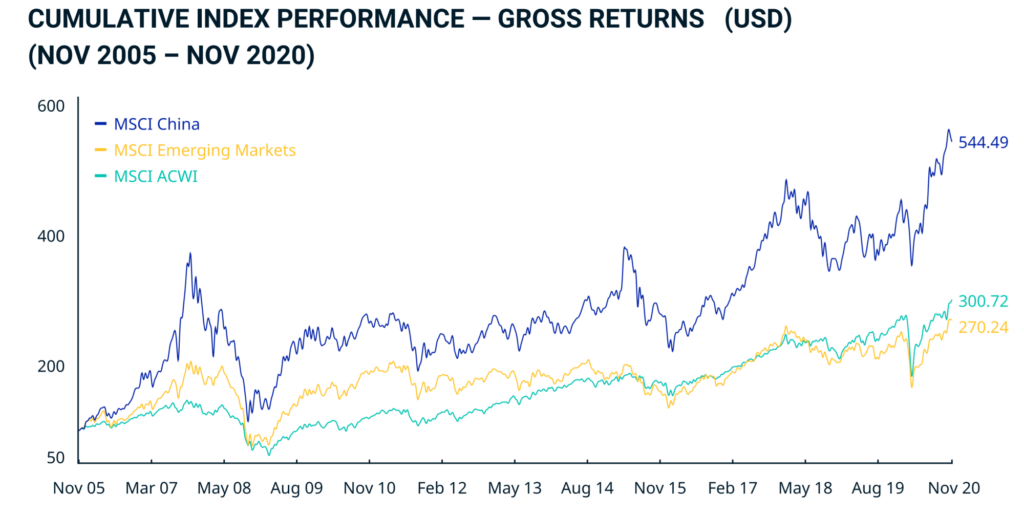 Look at that growth. China is classed as an emerging market, but has been significantly outperforming the rest of the emerging markets.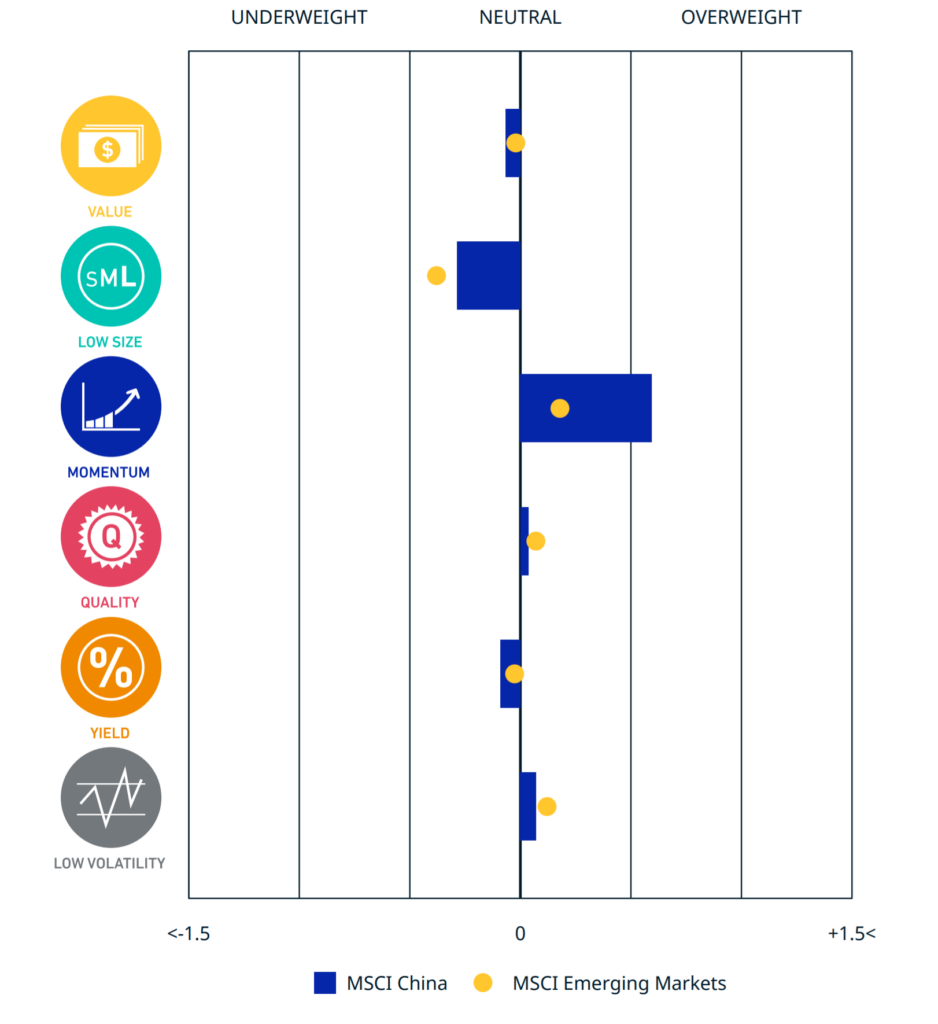 This chart shows that China in blue has much higher momentum behind it than emerging markets as a whole, the yellow dot. A higher momentum means investors are backing China.
The MSCI Emerging Markets IMI Index
Another, cheaper way to get this same coverage is by investing in an ETF which tracks the MSCI Emerging Markets IMI Index.
China makes up 37% of the index, and the China part is an exact copy of the MSCI China Index which we just covered.
The ETF we use is the iShares MSCI Emerging Markets IMI ETF (EMIM), with an OCF of just 0.18%, and a typical spread of just 0.11%.
You may want to hold the Emerging Markets ETF, and top it up a little with the China ETF if you felt like you needed more China in your life!
ETFs and China
Although institutions can buy A-shares, many index providers choose not to include 100% of their value, as A-shares still pose a trust and volatility problem.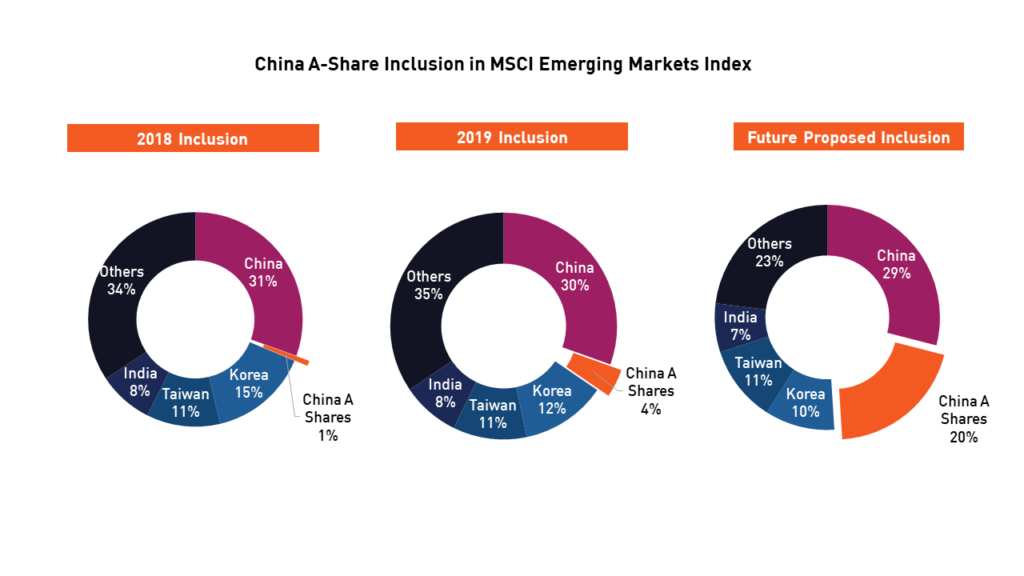 It was as recently as 2018 that MSCI started adding China Large and Mid-Cap A-shares to its Emerging Markets and China indices, increasing the holdings by many hundreds.
It is adding them in on a gradual basis, starting at 5% of their market cap in 2018 (being 1% of Emerging markets as a whole), and quadrupling to 20% in 2019, where it sits now (being 4% of the Emerging Markets).
If China becomes a free and open market and A-shares increase to full inclusion in the index, China would make up almost half the value of the Emerging Markets.
What We Do
For now, we feel the risk is too high to excessively ramp up China in our portfolio, and will stick to the MSCI Emerging Market IMI Index allocation, which incorporates the MSCI China index.
Mindful of growth potential, but also of Chinese government shadiness, we like to overweight the emerging markets slightly in our portfolios, which puts China at around 6-7% of the total equity for now.
This will be naturally increased as MSCI adds more A-shares into the index, and as China continues to grow.
How are you investing in China? Let us know in the comments below.