Is this innovative Robo-Investing platform right for you?
The InvestEngine Investment Platform
This is an independent review of InvestEngine – the opinions and insights that follow are our own! We advise you to read the review in full so you have all the facts – particularly the parts about fees and the big differences between their Growth and Income portfolios.
First up, we love this platform's philosophy. We appreciate what they are trying to do by addressing one of the biggest problems still prevalent in the industry – high investing fees. InvestEngine, founded by Gumtree co-founder Simon Crookall with his sister Joanna Crookall, have managed to get the platform fee down to an impressive 0.25% for managed portfolios. And they are working to release a "Do-It-Yourself" service which will have no platform fee!
Before reading on, note that if you use this link to create an InvestEngine account you will be given a FREE £50 cash bonus, credited to your new InvestEngine account. Don't forget to take advantage of this free portfolio boost if you decide that InvestEngine is for you!
This is an affiliate link which means that we will also get a small commission when you use it, at no additional cost to you.
Pros
Incredibly small platform fee (0.25%).
Uses low-cost ETFs (average fund fees 0.15% for Growth portfolios).
Offers an ISA at no additional charge.
Simple user-friendly platform and onboarding process.
Sensible global equity allocations, PLUS allocations to gold and silver (Growth portfolios only).
Cons
The number of ETFs in our portfolio might be considered to be slightly bit excessive (over 10).
Doesn't offer a SIPP.
Income portfolios perhaps focus too much on bonds, rather than dividend stocks.
How Does Investing On InvestEngine Work?
InvestEngine is a robo-advisor, also known as a robo-investing platform. They launched in 2019, so are fairly new on the scene, but their fee structure and simple ETF portfolios have made a huge impact on us as index investors.
They ask you a series of questions and then allocate you a portfolio based on suitability, which includes attitude to risk and investment time horizon.
They offer 3 account types – Personal, ISA, and Business. Personal and ISA will be the account types of choice for most people. Business accounts allow companies to invest their surplus cash. Note that if you choose the ISA account, this is a Stocks & Shares ISA, and you are only allowed to deposit into one Stocks & Shares ISA in any one tax year.
Within each account there are 2 portfolio types to choose from. These are Income (which pays you a monthly dividend) and Growth (which keeps your returns invested).
There are two portfolio themes to choose from: Income and Growth. Note: the two themes offer two very different approaches to investing. Ensure you read this section in full before choosing. The minimum starting investment for each is £100, and the minimum monthly investment is £50.
The risk level of each portfolio is achieved by the ratio of stocks to bonds. Lower risk portfolios contain more bonds; higher risk contain more stocks. Stocks have historically been the best performing asset class over the long-term (but volatile over the short-term), with bonds providing much lower returns than stocks but providing some portfolio stability.
Overview:
Follows standard index investing theory of a sensible mix of stocks and bonds
All returns are reinvested into the portfolio for compound growth
Portfolios are named "Growth 1" through to "Growth 10" (with Growth 1 being the lowest risk and lowest potential return, and Growth 10 being the highest risk and highest potential return)
Average ETF cost is very cheap at 0.15%
If you choose Growth, your money will be invested in low-cost ETFs, typically with a 5% allocation to Gold and Silver and the remaining 95% split between global equities (stocks) and bonds.
The split of equity to bonds will depend on the answers you give to a set of questions that the platform asks you at account set-up to determine your attitude to risk, though you can adjust this split at any time once your portfolio is up and running (it will take up to 2 business days to process this change).
The number of equity ETFs are a bit excessive in our view, but this isn't something unique to InvestEngine – all the robo-advisor platforms do something similar (our test Growth 10 portfolio contained 11 equity ETFs and 2 precious metals ETFs). Despite the number of ETFs, this doesn't negatively affect the fees – the average ETF cost is very cheap at 0.15% for the average Growth portfolio.
Despite an overcomplicated selection of ETFs, the resulting geographical split is sensible in our view as it weights roughly in line with global market capitalisation: that is, with a focus on US stocks.
Within our test portfolio, the total UK weighting was around 11% of the equity. A true market-cap weighted global portfolio might allocate around 4% to the UK. If you can accept or even prefer a little home bias, the Growth portfolios may be ideal for you.
Overview:
Pays income directly into your bank account once a month.
Very high weightings to bonds, with the small allocation to stocks being undiversified geographically – will not be suitable for people wanting to grow their wealth over time.
Estimated variable income of 1.8%, 2.9% or 4.3% a year (depending on portfolio risk).
3 risk levels: Cautious (100% Lower Risk Bonds); Higher (100% Bonds); Enhanced (25% Stocks, 75% Bonds).
Average ETF cost is slightly more expensive than the Growth portfolios at an average of 0.25%.
We think the income portfolios are suitable for people who already have as much wealth as they need, and now just want to draw a steady income from it. We wouldn't expect significant growth from the Income portfolios.
The 2 lowest risk Income portfolios are 100% bonds, and the "riskiest" portfolio is 75% bonds to 25% dividend stocks.
This is a very different product to the Growth portfolios – an entirely different approach to investing. If you were expecting a global mix of dividend stocks with a smattering of bonds, this is not it!
The bonds are a mix of government (least risky) and corporate (more risky) bonds, and the stocks are 3/5ths US to 2/5ths UK listed.
If you are willing to potentially sacrifice the growth of your wealth, and just want a steady income, Income portfolios might be for you. But if you want your wealth to grow, go for Growth.
InvestEngine's fees are the lowest we've seen for a robo-advisor. Their managed portfolios carry a platform fee of just 0.25% – this is cheaper or similarly priced to many of the most popular "Do-It-Yourself" platforms, but InvestEngine also will do everything for you for this tiny fee.
Their upcoming "Do-It-Yourself" service will be completely free, though a release date for this has not been announced at time of writing.
All of the investments on InvestEngine are low-cost ETFs, which have reasonable average fees of 0.15% for Growth portfolios and 0.25% for Income portfolios.
The full breakdown of fees is shown here, with comparisons included for the other major robo-advisors:
Platform
Welcome Offer With Our Link
Minimum Starting Investment
Platform Fee
Fund Costs
Market Spread
Accounts Offered
Review
InvestEngine
£50 welcome bonus
£100
Managed Portfolios: 0.25%
Average growth portfolio: 0.15%,
Average income portfolio: 0.25%
Average 0.07%
Stocks & Shares ISA,
Personal (General),
Business
Nutmeg
6 months with zero platform fee
£500
(Lifetime ISA: £100)
Fixed Allocation Portfolio:
0.45% up to £100,000, 0.25% beyond
Average 0.19%
Average 0.05%
Stocks & Shares ISA,
Stocks & Shares Lifetime ISA,
General, Pension,
Stocks & Shares Junior ISA
Coming Soon
Fully Managed Portfolio:
0.75% up to £100k, 0.35% beyond
Average 0.19%
Smart Alpha Portfolio:
0.75% up to £100k, 0.35% beyond
Average 0.14%
Socially Responsible Portfolio:
0.75% up to £100k, 0.35% beyond
Average 0.32%
Wealthify
£25 welcome bonus
£1 (Pension: £50)
0.60%
Average: 0.16%, or
Average ethical portfolio: 0.56%
Included in fund costs
Stocks & Shares ISA,
General, Pension,
Stocks & Shares Junior ISA
Coming Soon
MoneyFarm
6 months with zero platform fee on your first £5,000
£5,000
Up to £10,000: 0.75%
Next £10,000 - £50,000: 0.60%
Next £50,000 - £100,000: 0.50%
On anything over £100,000: 0.35%
Average 0.20%
Up to 0.09%
Stocks & Shares ISA,
General, Pension
Coming Soon
Wealthsimple
-
£1 (£5,000 for SRI portfolios)
Up to £100,000: 0.70%
£100,000+: 0.50%
Average 0.20%
Included in fund costs
Stocks & Shares ISA,
General, Pension,
Stocks & Shares Junior ISA
Coming Soon
IG Smart Portfolios
-
£500
0.50% (capped at £250 a year)
Average 0.14%.
0.50% FX fee when converting foreign dividends
Average 0.07%
Stocks & Shares ISA,
General, Pension
Coming Soon
evestor
-
£1
0.35%
Average 0.11% - 0.14%
Included in fund costs
Stocks & Shares ISA,
General, Pension
Coming Soon
InvestEngine haven't been around long enough to showcase their portfolio performance history on their site. They project future performance for your portfolio within your account screen (the "Projections" tab), but the expected range is between 0% and 26% – not exactly precise!
This is because predicting future returns to the penny is a fool's game. We think the best you can do when picking a portfolio is to own a bit of everything: stocks from all over the world (focusing on the major economies), tempered with a few bonds if you wish to lower the risk.
InvestEngine does this, so we would expect their highest risk/return portfolio – Growth 10 – to perform as well as any global stocks portfolio would over the long term. They themselves state in their FAQs that they are not trying to beat or time the market, only to track it as closely as possible with index investing.
History shows that a conservative estimate for global stock market returns is 8% before inflation on average, and we might expect something similar from the Growth 10 portfolio but of course there is no guarantee. The other portfolios should expect to return less than this, with returns getting lower as risk decreases. Note: returns are never consistent every year and 8% is an approximate historical long-term average annual figure. Past performance is no guarantee of future performance.
Here again is the link to open a new account with the £50 free cash bonus. When you open a new account, you'll be asked to choose between Individual and Business. You'll then be asked to create an account with an email address and password.
You then choose an account type (ISA or Personal if you're an Individual), then a portfolio type (Income or Growth).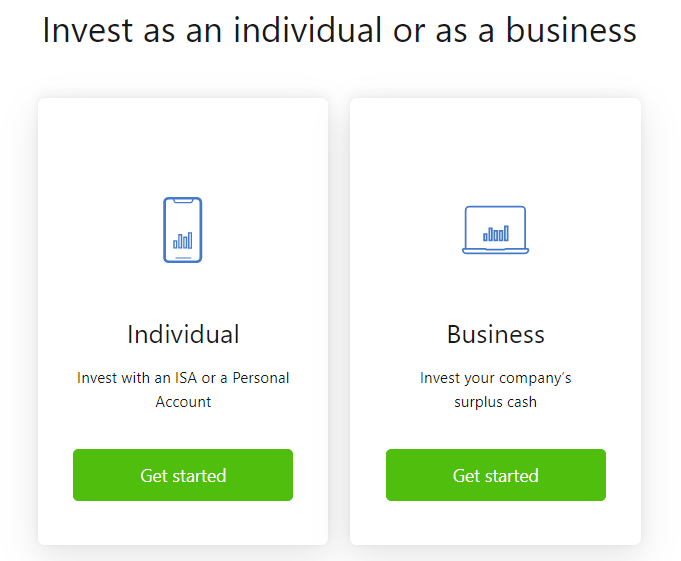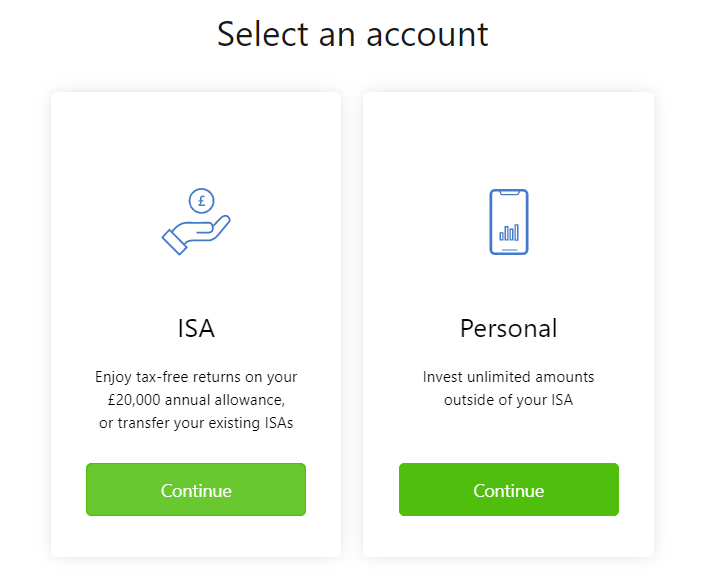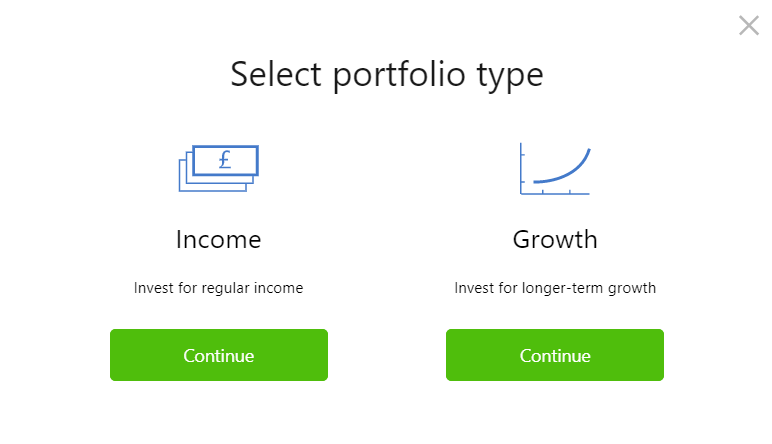 InvestEngine will ask you a selection questions which include the following:
your age and your starting investment amount;
what proportion of your total investable assets will this portfolio represent;
your annual income before tax;
your investing timeframe (Short/Medium/Long Term);
do you prefer to minimise losses or maximise profits;
what you'd do if the market takes a downturn;
how big of a loss can you sustain;
do you prefer returns to be guaranteed;
if you'll need to withdraw money from the portfolio in the next 5 years;
if you're prepared to accept the risk of capital losses to receive higher income;
how much of your income needs do you expect this portfolio to provide;
your previous investment experience.
InvestEngine will then serve you up the portfolio that they think fits you best. You can tweak the risk levels at this point if you disagree with the results of the questionnaire. Then your portfolio is built!
Depositing money is simple. Click the "+ Add funds" button. The first time you do this they will ask you to link your bank account. Future deposits will be even simpler once your account is linked.

Enter the amount to deposit (the minimum is £100). We dropped £200 into our account in our test, and a notification said the money would be invested into the portfolio's ETFs within 1 working day.
There was no option to hold the deposited money as cash in the account – it all automatically gets invested in the portfolio assets within 1 working day.
You can withdraw your money from the "More" dropdown button in the Dashboard:

It typically takes up to 4 business days for the money to hit your bank account. Note that the valuation of your investments can fluctuate during this time.

Set up a monthly payment into your account by clicking the link on the left side of your Dashboard. The minimum monthly investment is £50. You can choose the monthly payment day, between the 1st and the 28th of the month. The money will be applied to your portfolio typically 3 days after your monthly payment date. In our trial we chose the 10th of the month:

You can manage or cancel your regular payments from the "More" dropdown button in the Dashboard (see Fig.5).
Receiving Dividends/Interest
The income from your portfolio's dividends and interest payments are either reinvested (in the case of Growth portfolios) or paid to you once a month (in the case of Income portfolios).
Adjusting Your Risk Level
This is easily done from the "Projections" tab in your Dashboard. Any changes take up to 2 business days to be processed.

We asked a question as part of our trial in the chat box within the Dashboard. We got an answer immediately, which was helpful and politely answered. No issues to report for quality of customer service.
Who Should Use This Platform?
InvestEngine is for people who want to invest their money, without the hassle of having to do anything themselves (other than set up an account and set up a Direct Debit), and who don't want to be charged a high fee for the privilege.
InvestEngine's incredibly low platform fee and use of low-cost ETFs could easily make them the #1 choice of provider for such people.
However, they only currently offer 2 types of accounts for individuals – a general "Personal" account, and an ISA. They do not offer SIPPs (pensions), nor do they offer Junior ISAs or LISAs. This might make InvestEngine less attractive as a platform if you like to have all of your finances with a single provider (Nutmeg is a popular alternative which does offer all of these account types).
InvestEngine effectively takes into consideration your tolerance to risk through their sign-up survey, so will be of use to you whether you're a cliff-diving risk taker, or whether you have just come around to the idea of storing your money somewhere other than a bank account.
The minimum investment amount (£100 lump sum, £50 monthly) is small enough to be accessible to most people.
First up, any investment carries risk. We can't possibly comment on how safe the underlying investments are, other than to say we place a great deal of confidence in the ETF method of equity investing as you are tracking the prices of hundreds (if not thousands) of companies. Also, government bonds are widely considered to be one of the safest asset classes.
There is a good chance that your investments will go up in value over time, but a chance remains that the value of your investments could go down. The chances of losses are higher over the short-term. The longer you invest the more likely it is your investments will have grown.
But in terms of how safe your investments are with InvestEngine specifically:
InvestEngine is authorised and regulated by the Financial Conduct Authority ("FCA") and as such they must segregate client funds and assets; they keep your money and investments separate from their own.
Your cash is held in a separate client money account at Natwest and any investments are held by a nominee company, with the assets of that company held in a segregated Euroclear (CREST) account.
InvestEngine is a member of the Financial Services Compensation Scheme (FSCS), which means that you may be entitled to compensation of up to £85,000 of the value of your investments if InvestEngine do not meet their obligations.
That said, if InvestEngine did go bust, you might have to wait a while for access to your money while everything got ironed out with the FSCS. How likely is this?
The platform is run by 'InvestEngine (UK) Limited', incorporated in 2016. They are a tiny start-up company with a balance sheet of £2.7m at March 2020, making losses of £1.2m in that year. This does throw up questions about the company's longevity (it's tiny for instance compared to long-established brokers like Hargreaves Lansdown).
However, it's normal for start-up fintech companies to make heavy losses in the early years, and InvestEngine have a great product that should keep their customers around for years to come.
InvestEngine scores 4.5 out of 5 ("Excellent") on Trustpilot at time of writing, though as they are a newly launched website there aren't that many reviews.
We think the platform speaks for itself. The fees are low, the interface is simple, and the investments it chose for us are similar to what we would have chosen for ourselves.
In our view, the main place that InvestEngine falls down on is their lack of history. They're new, and hence unproven as a provider. If this concerns you, a popular alternative that we've used ourselves is Nutmeg.
As you can see in the fees table above, Nutmeg costs a little more but comes with an incredible performance history going back to 2013. Nutmeg is also a much bigger operation, with £3bn of customer money invested on the platform (known as Assets Under Management).
We also have a welcome offer for Nutmeg if you make your way to them using this offer link, which gets you the first 6-months without any platform fees.
Other good robo-advisors include MoneyFarm (offer link here) and Wealthify (offer link here). Check out their fee structures above, and if you sign up via our offer links you'll also get a welcome bonus (see table above for bonus details).
We think InvestEngine fills a gap in the market at the low-fee end of the robo-advisor platforms. Not only that, but their offering is clean, sensible and does what we would need it to.
If you do open an account, don't forget to grab your free £50 with this offer link.
So you know…
Some of the links above are affiliated links and therefore help Money Unshackled stay free to use, as it is tracked to us. If you use these links, they can sometimes result in a payment or benefit to the site. You shouldn't notice any difference and the link will never negatively impact the product.
Most importantly, the things we write are NEVER impacted by these links. We review all products impartially. If an affiliate link for the top deal isn't available, it is still included!
If you see incorrect information or a broken link, please let us know by emailing us at contactus@moneyunshackled.com