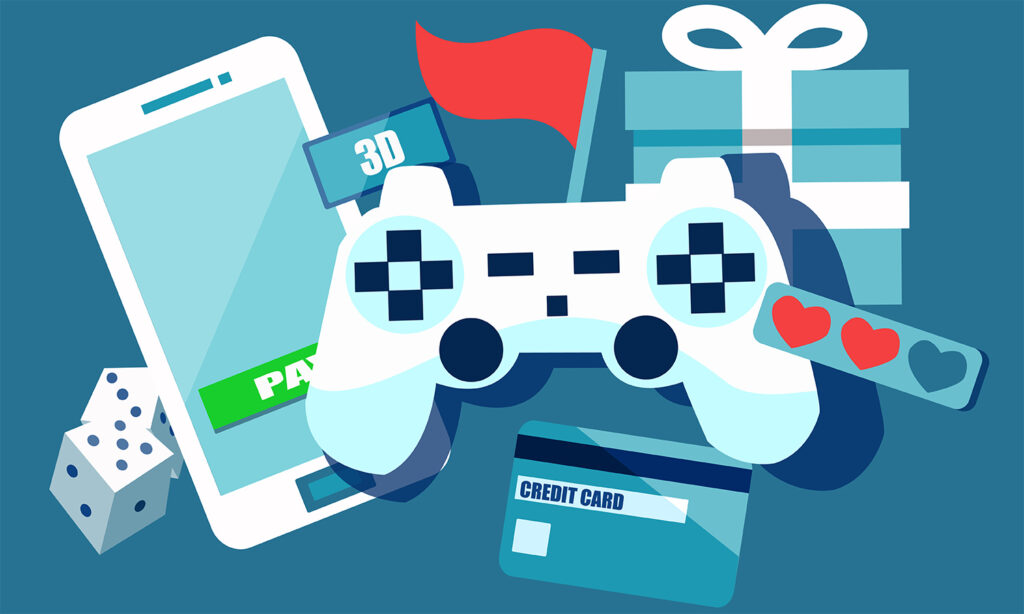 The video games industry is now larger than the movie and music industry combined. It doesn't get the same attention as those industries, but maybe it should. There are over two billion gamers across the world. That is 26% of the world's population and it should come as no surprise that all manner of gaming and tech companies are battling it out to gain as much market share as possible.
There's so much going on right now with the imminent release of new consoles, new games, new technologies and new ways to play, that we're asking the question – should we be investing in the gaming industry?
Here we can see the growth of the global video games market according to Statitsta.com. Since this forecast we now know that the market is even bigger than this, largely thanks to Covid.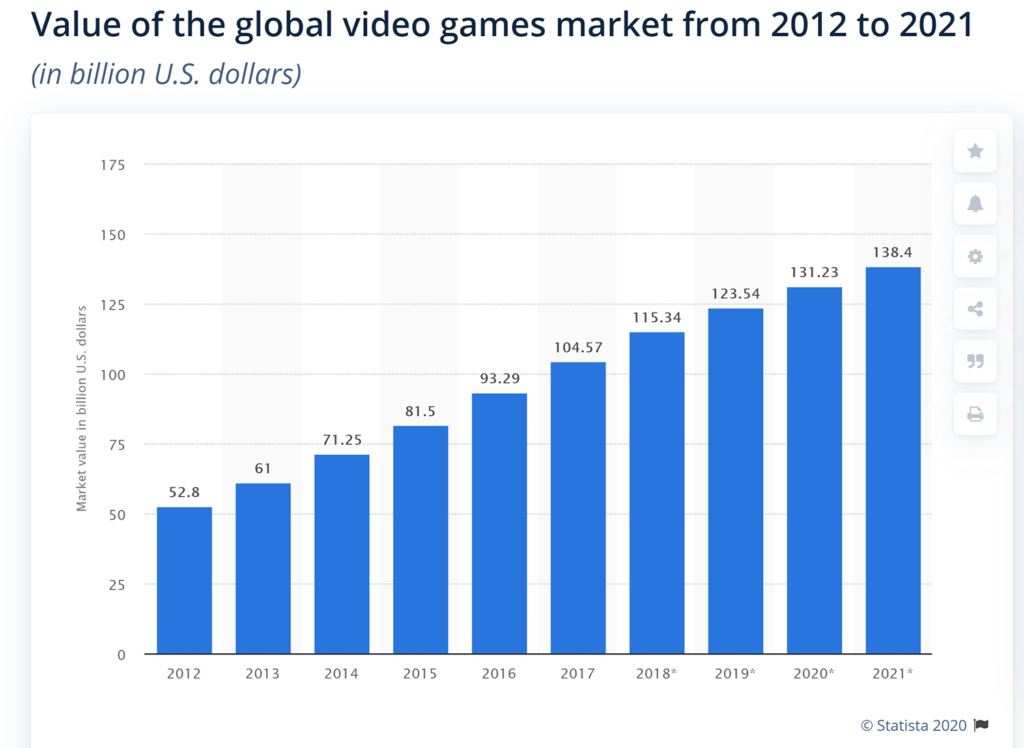 With people locked up inside their homes many have found respite by grabbing a controller and immersing themselves into gaming.
For investors, this incredible growth is an awesome opportunity, so we're looking at the future of the gaming industry, how you can invest and profit from the surge in its popularity, and 3 gaming stocks & 1 gaming ETF that we are think are set to level up.
The Future of Gaming
#1 – Console Wars
It's really exciting times right now as we're about to witness a new console war with the imminent release of Microsoft's new Xbox console and Sony's PlayStation 5. Microsoft has said the Xbox Series X will be four times more powerful than its current Xbox One X console and no doubt the PS5 will be equally impressive.
According to Sony, the inclusion of a solid-state drive will give the console 100x faster loading speeds compared to a hard drive. With faster load speeds we're expecting these console improvements to lead to even greater gamer satisfaction and therefore far more spending on games and downloadable content.
The release of faster and more powerful consoles has in the past fuelled growth in the video game industry overall, as increased marketing and gaming quality leads to a new generation of players.
#2 – Cloud Gaming
Cloud gaming is a new way to play games and according to Mordor Intelligence, a market research company, the emergence of cloud gaming will be driving the global market growth in the industry.
Thanks to advances in cloud technology a gamer will be able to play games on a mobile or other device that normally would be far too graphically intensive. Rather than the local device doing all the computational work, this is instead handled by the cloud server, where all the games are stored.
This new sector is also seen as a serious competitor for the traditional game market, but we see it as complimentary to console gaming rather than cannibalising it and this is a viewpoint shared by Microsoft. In a post their chief vice president described their new cloud gaming service as, "a vision for game-streaming technology that will complement our console hardware and give gamers more choices in how and where they play."
This type of technology is still very new and will make giant leaps over the next few years but surely by bringing true console-quality gaming to mobile devices we're on the cusp of a revolutionary change in the gaming industry.
Not everyone can afford a gaming console or gaming PC and not everyone wants one but almost everyone on the planet has a mobile phone, which will soon be able to handle the best games the gaming industry has to offer. Even in developing countries everyone has a phone, but not necessarily a console. Cloud gaming could be a gateway into the adoption of gaming across the globe.
#3 – Smartphone Gaming
Smartphone gaming has exploded in the past few years. According to Newzoo, a gaming insight company, the mobile gaming market is worth $68.5 billion or 45% of the global games market.
We knew that mobile gaming was huge, but this is mind blowing. Interestingly, Apple, who do not even make games, is the fourth-biggest public gaming company in the world due to its operation of the App Store. Apple managed a record $22.2billion in revenue from gaming apps in the App Store during the first half of 2020.
What strikes us is just how much money is floating around the mobile gaming industry.
We've personally have never been particularly keen on mobile games because most of them seem to implement the freemium model, where paying more allows you to advance through the game rather than based on skill alone. However, based on the revenue figures it seems that many gamers are more than happy to pay.
The top gross mobile game in July 2020 according to Sensortower.com game is Battlegrounds (PUBG) from Tencent and generated $208 million in July alone. Honor of Kings came in second, which is another Tencent game. The next top grossing game was Monster Strike from Mixi, followed by Pokémon Go from Niantic and Roblox from Roblox Corporation.
If you're interested in investing in mobile gaming our tip to you guys would be to check out what the top games are and then research those companies. Another good source of information is your own kids. What games are they playing and who makes them? Get in early before the rest of the world can see what's happening.
#4- eSports
eSports is competitive and organised gaming. Gaming competitions have long been part of the video game culture, but this was largely between amateurs until the late 2000's. A lot has changed since then as it has experienced a surge in popularity with participation by professional gamers and events being live streamed.
The increasing availability of online streaming media platforms such as YouTube and Twitch have been a driving factor in the growth and promotion of esports competitions. FYI, Alphabet (more commonly known as Google) own YouTube and Amazon owns Twitch in case you were tempted to invest.
Industry revenues will rise from $776 million in 2018 to an expected $1.6 billion in 2023. According to Statista.com, the majority of these revenues come from sponsorships and advertising, and the rest from media rights, publisher fees, merchandise and tickets, digital, and streaming.
In terms of revenues, Asia and North America represent the two largest eSports markets, with China alone accounting for almost 20% of the market.
Gaming Stocks Set To Level Up
If that wasn't enough to get you excited about the gaming industry let's take a look at some massive US gaming stocks that could be set to level up.
#1 – Take-Two Interactive (TTWO)
Take-Two Interactive Software develops, produces, and markets interactive software specialising in video games. The company creates video games for consoles, handheld systems, personal computers, smart phones, and tablets.
The market cap of Take Two is $19bn and revenues continue to climb yearly, surpassing $3bn in 2020. EPS is growing at breakneck speed and could well continue for years to come. The icing on the cake is they have no debt and are in a cash positive position with net cash of $2.3bn.
The company owns 2 major publishing labels, Rockstar Games and 2K. Take-Two's combined portfolio includes franchises such as BioShock, Borderlands, Grand Theft Auto, NBA 2K, and Red Dead among many others.
GTA is the third highest selling video game franchise of all time and is practically a guaranteed best seller whenever it releases a new game. GTA V is the best-selling game of the decade in the United States and has consistently sat in the top 20 best-earning titles for 74 consecutive months since release.
Moreover, Take Two have a 50% share in professional esports organization NBA 2K League, so could be a great stock if you believe esports is set to skyrocket.
#2 – Activision Blizzard (ATVI)
Activision Blizzard is America's largest video game software company by revenue and combines three main developing and publishing divisions.
The company's Market cap is $63bn, and is seeing revenue growing fast every year with EPS following suit. The operating margins are also very healthy and there is even a very small dividend, which is growing at an annual compound growth rate of 13.1%.
They own King Digital, which mostly does mobile games such as Candy Crush Saga. Activision has primarily been focused on console platforms, and Blizzard has been responsible for some of the biggest hits in PC gaming. This company has all major platforms covered.
Their major games include Call of Duty, Guitar Hero, Tony Hawk's, World of Warcraft, and Overwatch among many others. Many of their franchises such as Call of Duty and have also been very popular as eSports.
#3 – Electronic Arts (EA)
EA is a gaming juggernaut with a market cap of $38bn. The company develops, publishes, and markets video game software for consoles, personal computers, mobile phones, and tablets.
EA develops and publishes games of established franchises including Battlefield, The Sims, Medal of Honor, Star Wars and let's not forget their EA Sports titles of FIFA, Madden NFL and so many more.
Sports games such as FIFA are huge money spinners as they essentially release the same game every year, and yet fans still rush out to buy it. As casual gamers ourselves we would usually wait to buy games until they're cheaper but even we can't do this with sports games as you have to have the latest players.
Stockopedia are rating this very strongly in both quality and Momentum and the revenue has been growing year after year. It has excellent operating margins as so many software companies do, and like the other 3 stocks we've looked at, are sitting on a big pile of cash.
VanEck Vectors Video Gaming and eSports UCITS ETF (ESPO)
The 3 stocks we've discussed are ones that we think are particularly well placed to take advantage of cloud gaming but if picking individual stocks isn't your thing, then you could instead opt for the VanEck Vectors Gaming ETF. This ETF is available both in London and in the US and gives you direct access to the 25 largest companies with at least 50% of their revenues from video gaming and eSports.
It is globally diversified with big weightings in the US, Japan, China and Taiwan. It has some awesome stocks but as it only it focusses on the companies that generate most of their revenue from gaming, it does miss some huge players, like Microsoft.
Arguably, Microsoft are one of biggest gaming companies around and have just agreed to purchase Zenimax, the holding company for a number of great gaming studios for $7.5 billion. Game franchises such as Doom, Fallout and Elder Scrolls will all now fall under the Microsoft umbrella.
It's worth pointing out that you don't have to make games to be a gaming company. Nvidia who take top spot as the largest holding in the ETF make all the graphics cards for gaming PC's, and AMD hardware will be present in the upcoming consoles.
Gaming stocks have had an awesome year so far with this ETF up an extraordinary 62%. It's always scary investing after the fact, but we think the gaming industry will do well for years to come.
And our final tip – we think the gaming industry is set to benefit from a full-on shift to digital downloads of new games. As the new consoles will be pushing this more than ever before, the gaming companies will have lower distribution costs and customers will be more likely to download in-game items resulting in bumper profits across the industry.
You can invest in all of these stocks with Stake – an investment app specialising in US stocks. Stake offers fractional investing too, so you can easily afford to buy highly priced stocks. And Stake are also giving away a free US stock worth up to $100 to everyone who signs up via our link, which can be found on the Money Unshackled Offers page here.