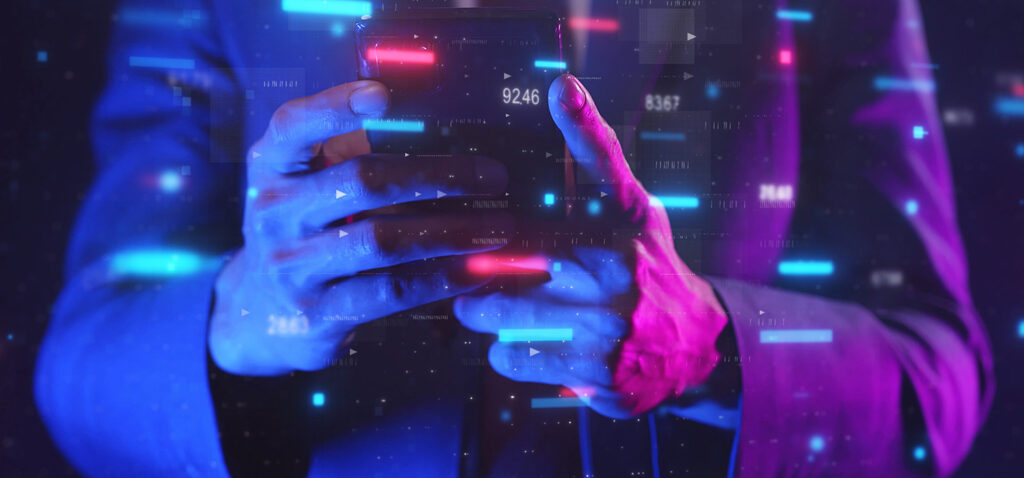 Hey guys, in the medium to long-term the investment platform you use to invest through must generate a profit for itself or otherwise it will become insolvent, which is bad news for them and potentially you as well. A failed platform could result in your money being locked-up, making it inaccessible for an unknown period of time – possibly several months.
But worse still, is there a risk of actually losing your money when you use a commission free platform? Imagine you had invested for several years, built-up a tidy investment pot, which was your ticket to freedom, only to lose the lot because you tried to save a few quid on each trade and picked a dud investment app.
In this post we're going to look at some examples of how investment platforms are making money such as Freetrade, InvestEngine, and even more established platforms like Hargreaves Lansdown. We'll discuss whether it's safe to invest on a platform if they make a loss and look at some of the other drawbacks of using commission-free apps.
One of the many reasons to use a commission-free app is the generous new customer welcome offers such as free stocks and free cash that many of these platforms provide. The Money Unshackled Offers page lists as many of these as we can arrange for you, so it's worth checking that out if you're looking for a new investment app.
Alternatively Watch The YouTube Video > > >
How Exactly Do The More Established Platforms Make Money?
Let's first take a look at how the existing major players are making their money as it helps to put things into context. Some of the big boys like Hargreaves Lansdown are publicly traded companies, and many of these will give an overview of their revenue breakdown in their annual reports, so we can see precisely how their business model works.

In the latest annual report from Hargreaves Lansdown, on page 145 of 188… yawn… we can see they made £631m and 37% of this was from 'fees on stockbroking transactions'. Surprisingly, this was up from 23% of overall revenue in the year before. So, in a market where commission-free apps are hoovering up new customers, Hargreaves Lansdown is seemingly becoming more dependent on trading fees.
Also, their overall revenue increased year-on year by around £80m, which is mostly driven by increased revenue on trading transactions – a revenue stream which we think is massively under threat. This post is not meant to be an assessment on whether you should invest in this stock, but it doesn't paint a pretty picture.
Moreover, £264m or 42% of their revenue was from 'Platform fees'. This is the charge for you simply having your money sit on their platform. The commission-free apps are not all targeting the elimination of this revenue stream so vehemently as they are with trading fees, but it is also under threat.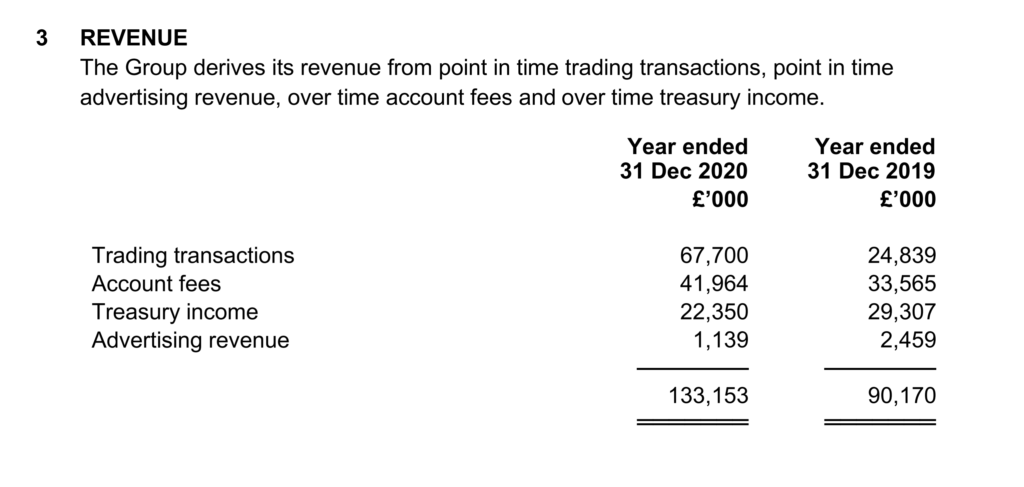 We didn't think we would be able to get our hands on Interactive Investor's revenue breakdown as it was a privately owned company, but they have indeed published accounts for the year 2020 and we're shocked. 51% of their revenue came from trading transactions. I'm sure I had previously read that trading was not a significant influence on revenue, but this clearly shows it is.

And finally, AJ Bell is similar to the others with the majority of their revenue coming from platform charges, and then trading transactions.
How Do 'Commission-Free' Apps Make Money?
As of now most of them don't make money or at least not enough to turn a profit. I suppose before we go any further down the rabbit hole we should explain what commission-free investing is. Commission-free investing does not mean free. Generally, it means that placing trades is free but even that is questionable.
As we have seen, the established platforms make the bulk of their money from administration fees and trading fees. Those trading fees have tended to be around £10 per trade, which seems outrageous in this day and age, and makes investing only accessible to the rich.
The commission-free apps have done away with trading fees but most still continue to charge some sort of administration or account fee to hold your investments with them.
Freetrade openly admit that they run a freemium pricing model, and for fans of South Park you'll know that "mium" in Freemium is latin for "not really".  The freemium business model is where they give a basic service away for free and then upsell other products that customers will pay for.
It's not exactly a new business model; UK banks have been giving out free current accounts for forever as far as we know, and instead make their money by charging a minority of clients interest on overdrafts and credit cards, and whatever else they can upsell. We have never heard anyone question the sustainability of free banking even though it surely costs the banks billions.
In the UK, Freetrade is the granddaddy of free trading apps. In their 2020 accounts, the auditors highlighted that Freetrade would need to raise additional funding during the year in order to meet their cash requirements and that this represents a material uncertainty.
This is not yet a problem; it's actually quite normal for a new business. Freetrade, just like most other startups are in the rapid growth stage of their business, where making a loss is to be expected. But how do the commission-free apps intend to make a profit?
#1 – Charge For Certain Account Types
Some commission-free apps are giving you access to a general investing account for free but charging small amounts for ISAs and SIPPs. Freetrade is one such platform, but we don't think charging for an ISA is sustainable because the increasingly hot competition are not doing this. In fact, Freetrade were probably given a lifeline when Trading 212 closed to new investors as Trading 212's ISA account was free. Meanwhile, other free trading apps have flooded the scene and also don't charge for this.
In contrast, charging for SIPPs is probably more sustainable (certainly over the next few years) because most new investing apps don't offer SIPPs yet, and the older established platforms charge too much. Freetrade have been able to charge £10 a month for their SIPP and this still undercuts most of the competition. We actually showed in this video that Freetrade offer one of the cheapest SIPPs on the market for larger pension pots, despite the £10 a month fee – even cheaper than Vanguard's in some scenarios.
Trading 212 was an existing profitable CFD platform before they side stepped into offering real stock investing. In their accounts they say their new stockbroking business did not generate material revenue during the year, despite the large growth in the number of accounts. They go on to say that they have a pathway towards monetising this line of business.
However, it seems as though offering free trading on real stocks has elevated its CFD business with revenue growing from £2m in 2019 to £54.3m in 2020, while a loss has become a £21.9m profit. That, ladies and gentlemen, is how you make a success of charging nothing for your product. Essentially, their stockbroking business has been a marketing machine for their CFD business, which makes all the money.
#2 – FX Fees
Most commission-free apps have continued to charge nasty FX fees – better than what we had before, granted, but still too high. The best stocks in the world are frequently based in the US and priced in dollars, so in a way these FX fees are just another type of trading commission that is unavoidable unless you trade less or stick to boring UK stocks.
#3 – Interest Rate Arbitrage
Not all money deposited on a platform is invested and it often just sits there in cash. Your broker is unlikely to be paying you interest on this but is almost certainly scooping it up for themselves. In recent years this has probably not been a massive earner for the platforms due to pathetic interest rates, but times are changing, and rates are rising and so could become a nice little earner.
Even with dire interest rates Hargreaves Lansdown still managed to pocket a tidy £52m in a single year (see breakdown image at top of article). How? By managing in excess of £100 billion of client assets, of which some (likely billions) will sit in cash.
#4 – Securities Lending
Recently, Freetrade announced that they would introduce securities lending in a step towards becoming a more sustainable business – or in other words, a profit-making business. Securities lending is the practice of loaning shares to other investors or firms, and in return a fee is paid to the lender.
This kicked up a bit of stink on social media as it is short sellers who borrow stocks and then try to push the price down. The borrower hopes to profit by selling the security and buying it back later at a lower price. So, you could argue there is a conflict of interest. Whatever your views, securities lending is common, and is a way that platforms can reduce the cost of trading for you. Seems fair enough.
#5 – Managed Service
InvestEngine is another commission-free app that is taking the world by storm and yet we regularly get asked how they make money. Well before they launched their do-it-yourself investing service, they first launched a managed service, for which they charge 0.25%. Currently 2/3rds of clients' assets are managed and in their own words InvestEngine are using their free investing service to draw new customers in and then they aim to up-sell them to a premium service.
#6 – Margin Lending
We've not yet seen any UK commission-free platforms offer margin accounts but it's super popular in the US. According to InvestEngine's crowdfunding investment deck, they plan to introduce this, which we believe could be a great money spinner. Margin lending is simply borrowing to invest in shares and other financial products using your existing investments as security. You pay interest when you do this.
What About The Spread?
It's commonly believed by many new investors that platforms simply widen the spread between the buy and sell prices of stocks and profit from this. However, FCA-regulated brokers are obliged by law to obtain the best result for the client. Price and costs are some of the key factors that must be considered.
Some excellent research by monevator.com found that etoro controls the spread for CFDs as they set both the sell price and the buy price. In their T&Cs they state that they are required to act in your best interest when providing services. However, there may be instances where your interest conflicts with their interests such as CFD trading. Whereas in the fee schedule for 0% commission stocks they state that the spread is determined by the market and not by eToro.
Analysis carried out by brokerchooser.com found that the spreads are basically the same among all brokers, and the best execution prices are usually very close to each other. Based on this they concluded that you don't get a compromised execution if you open an account with a newcomer, but you pay far less for it in terms of fees.
Is It Safe To Invest On A Loss-Making Platform?
In most cases, yes it will be safe. You should always check that the business is authorised and regulated by the FCA. Simply go to the FCA site and search for the company. When they are authorised you will know that your money is ringfenced and segregated from the investment platform's own business and protected by the financial services compensation scheme. There will also usually be a page on the platform's own site detailing what precautions they have in place.
Beyond that if you wanted to be extra careful you could consider the roadmap of the investment platform, which many of them make available on their website or when they raise capital. What services do they intend to offer down the road, what will they charge for these, and how likely is it that they will ever turn a profit?
Personally, we're not too concerned by this. If any of these new commission-free platforms fail, they will likely be easily wound up due to their small size, and clients' assets will likely be transferred to a different broker. In the P2P Lending space, many platforms have closed but successfully returned clients' investments, and these had considerably less protection than a stocks and shares investment platform.
Drawbacks Of Using A Commission-Free Platform
We are generalising a lot as there any many commission-free apps all offering different levels of service, but generally, the main drawbacks are as follows:
A smaller investment range – the expensive older platforms tend to offer any investment you can imagine.
Fewer account types offered – SIPPs are currently quite rare, and Lifetime ISAs and Junior ISAs are practically non-existent.
A watered-down customer service – sometimes being able to pick up the phone is useful but this isn't normally an option. However, in-app chats on the whole have been excellent.
Encouraged to trade frequently – even without fees there is still a cost to invest and always will be due to the bid offer spread and possible stamp duty taxes. Therefore, trading frequently is often bad for your pocket.
Pooled orders – pooled orders is a cost saving technique used by some platforms. Although it shouldn't really bother long-term investors too much it is still nice to know your order has been executed straight away.
No automatic investing – the best way to invest is to set it on autopilot and forget about it. Each month your bank will send money to your investment app, and they will automatically invest this according to your plan. InvestEngine are one of the few who offer this without charging but unfortunately, many free apps do not currently have this feature at all.
That brings an end to our take on commission free investing apps. They have come a long way in the last few years and are getting better almost day by day. We believe it's only a matter of time before the big boys all follow suit and cut their fees. We can't wait to see how this plays out.
Remember, if you want to sign up to a commission-free platform, we probably have a new customer offer for it on the Money Unshackled Offers Page, so check that out first.
Are you worried about using commission-free investing apps? Join the conversation in the comments below.
Written by Andy
Featured image credit: thinkhubstudio/Shutterstock.com