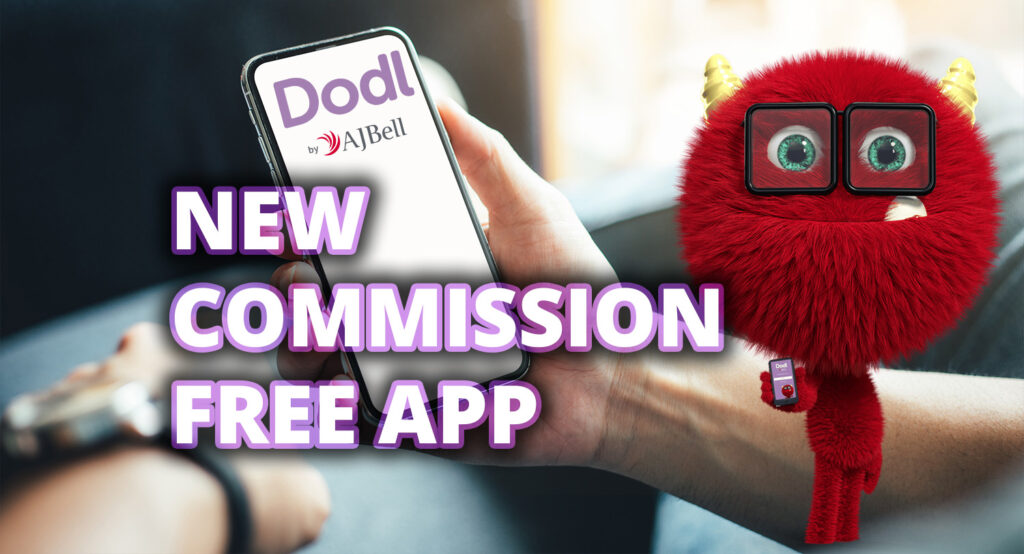 AJ Bell have launched their much-anticipated commission-free investing app, known as Dodl, which is set to compete with the likes of Freetrade, Trading 212, InvestEngine, and all the other great investing apps which are driving down the cost of investing for ordinary people like us.
In this article we'll be reviewing Dodl, looking at what account types they offer, the fees being charged, the available investment range, what we like, what we don't like, and how it compares to the alternatives. Hopefully by the end of this review you'll know whether you want to start investing with Dodl by AJ Bell.
As always this is a totally independent review and we're not being paid by Dodl in any way. We do everything we can to bring you the best customer offers on financial products, so if we do ever get a Dodl welcome bonus or any other such offer, we will of course put it on the Money Unshackled Offers page, so that'll be worth checking out first. Right now there are thousands of pounds worth of other offers (such as free shares and cash) up for grabs from competing investment apps. Now, with that said, let's check it out…
Alternatively Watch The YouTube Video > > >
What Are The Charges?
Let's kick off by stating the fees because there's little point in listing a tonne of amazing features if you have to pay through to nose to use it. Well, we're pleased to announce that they have kept things super simple – which we love.
There is a 0.15% annual account fee which is charged on the value of your investments and paid monthly. However, there is a minimum charge of £1 per month, which means if you've got barely any money invested it can be relatively expensive.
For example, for the purpose of this review I dropped in £100. So that £1 monthly fee would be a 12% annual fee if I didn't add any more money. You'll need £8,000 invested before you start paying 0.15%.
You can easily calculate what percentage you'll be paying by dividing £12 by the value of your investments, with 0.15% being the minimum. So, if you have £3,000 invested that comes out at a 0.40% fee. That would be quite expensive; for comparison Vanguard charge 0.15% with no minimum pound amount, and InvestEngine charge no account fee whatsoever.
There is also no top-end cap on the fees charged, which means charges can get out of hand once you start building a sizable investment pot. Based on the competition and what we consider reasonable, our rule of thumb is that you dont want to pay much more than £10 a month or £120 a year. When your Dodl investments reach £80,000 that is when the fee begins to exceed £120 a year, and you might want to consider looking elsewhere.
Annoyingly and this is nit-picking, there seems to be only one way to pay the account fee and that is for it to come out of your available cash in your account. Our problem with this is that you always have to have some cash available just sitting there for this reason otherwise it would be an outstanding balance. Once this balance gets to £5, they will get in touch with you.
With some other investment platforms, you have the option to have the fee taken from your bank account via direct debit instead or have some of your investments automatically sold to cover the fee.
As for trading fees, there are no charges to buy and sell your investments, which is awesome, and what we now expect as standard from investing platforms. There is a smallish foreign exchange fee of 0.5%, which you'll incur if a company or fund you own pays a dividend in another currency, but most platforms carry a similar sized FX fee so is not unusual.
What Accounts Does Dodl Offer?
This is where Dodl has taken an active lead in improving what we currently have available from other commission-free apps. Not only do they offer a General Investment Account and an ISA – they are also offering a Pension and a Lifetime ISA as well, which are two products that they have competitively priced at 0.15%. For comparison, AJ Bell's Youinvest Lifetime ISA costs 0.25% and Hargreaves Lansdown is 0.45%, although both of these have caps on shares.
Those Dodl fees we mentioned previously apply no matter which accounts you use but bear in mind the minimum £1 monthly fee is charged per account, so if you have an ISA, a Pension, and a General Investment Account, the minimum fee would be £3 per month.
What Is The Investment Range Like?
This is probably the biggest disappointment! You can tell the guys at Trading 212, InvestEngine, Freetrade, and others are trying to create the best investment platforms they can with the resources they have, but our guess is that AJ Bell are deliberately offering a disappointing range to avoid cannibalising their existing Youinvest platform. New investors might like this very simplified range but for experienced investors the choice is very limited.
It would also seem that Dodl are slightly embarrassed with the investment range as the only way to see it is to download the app – a step that a lot of people wouldn't bother with if they had seen what was available before.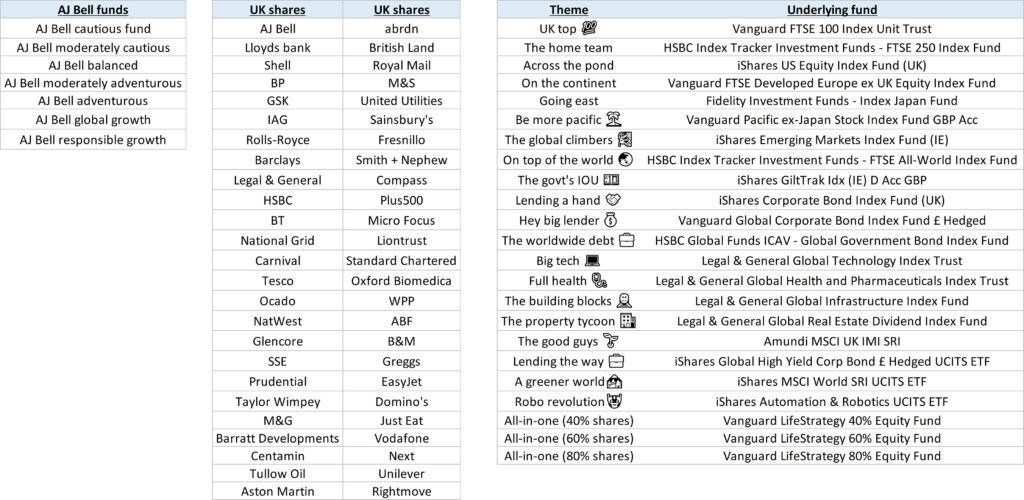 So you can avoid this hassle we went ahead and asked them to send us the full list and as of the 22nd April this is it. The investment range is split into 3 broad categories: AJ Bell Funds, Themed Investments, and Shares.
It is clear that the app is geared towards promoting AJ Bell's own funds, which in our opinion are slightly overpriced.  The cynic in me would say they are offering a very cheap investment app and then hoping to recoup some of those lost profits by pushing new investors towards their own funds. The AJ Bell Growth funds all seem to charge 0.31% which isn't outrageous by any means but price sensitive investors like us do prefer to pay less.
Next, we have Themed Investments. These are just funds and ETFs that have been rebadged with what is meant to be a helpful name. For example, the 'global climbers' theme is the iShares Emerging Markets Index Fund. Noob investors will likely benefit from the dumbing down of terminology, but we found it made things more difficult for us as we could no longer see what an investment was based on the name alone.  We wish they would have provided users with the ability to toggle real names on and off.
One theme (or fund) that we particularly like is 'On top of the world', which is really the HSBC FTSE All-World Index fund. This tracks the same index as the very popular Vanguard VWRL that everyone raves about but does it for a fraction of the price, costing just 0.13%. This HSBC fund is one of our favourite ways to track the whole world, and if we were to switch, say, our pensions to Dodl, we'd personally put all our money in this fund.
And finally, there are 50 UK stocks to choose from by our count. This might be enough for a casual noob investor but for anyone who wants to pick the best stocks it's unlikely to be in this small list. Other commission-free apps make available thousands of stocks.
Naturally, most investors will want to invest in the big American companies like Amazon and Apple, but you can't yet buy US stocks on Dodl, although they do say it's on their roadmap. Nevertheless, based on the small range of UK stocks we can't imagine they will ever make available thousands of US stocks, so it's probably not something to wait around for. For one thing, making available thousands of stocks for free would undermine their Youinvest platform.
Other Things Worth Knowing
Low Minimum Investment Amount – You can start investing with as little as £100 for a one-off contribution or £25 if you setup a monthly direct debit. If you do start with the bare minimum do remember that the minimum monthly fee of £1 will massively eat into your contributions, so you will want to scale up your overall investment pot fairly quickly.
Good Customer Service – It's always handy to have a responsive and helpful customer service. In order to clarify a few points for this review, we got in touch with Dodl and found them to be polite, helpful and they responded quickly. You get in touch with them via the in-app chat or via their website. There is no phone number, which might be a drawback for some.
Delayed Orders – When you submit an order Dodl will process it either later that day or the next day. Admittedly, this is annoying but for fund investors it's something we can tolerate. In fact, this is similar to InvestEngine and is how Freetrade used to behave back in the day when they first launched.
The problem is that this type of order processing is dangerous when it comes to buying and selling individual stocks because you don't know what the share price will be at the time of the transaction. Funds are unlikely to move massively within a day, but shares can have enormous swings. You could end up paying far more per share than you are comfortable with.
App Only – There is no website platform, so the only place you can buy, sell and do everything else is via the Apple or Android Apps. We can't imagine this is too much of an issue for the younger audience which Dodl are clearly targeting but we always like to have a website platform as well as an app. If you lost your phone, you might not have access to your investments until you were all setup with a new one.
Monthly Investing – Some commission-free investing apps do not allow you to automatically invest on a monthly basis or charge you to do so. We're big believers that regularly investing on autopilot is one of the best ways to build long-term wealth. With Dodl, you can set up a direct debit and invest into as many of the available investments as you like.
No Information On Available Investments – With the older investment platforms like Interactive Investor you get given a tonne of information about the fund or stock that you're thinking about investing in. Unfortunately, with Dodl there is practically zero information within the app. For an app aimed at beginners many will have no idea what they're actually investing in. Clued up investors will know how to find this information elsewhere, but they shouldn't have to.
InvestEngine, a competing commission-free app, which specialises in ETFs serves up loads of information that an investor would need to know before investing right within the app. For example, you can view the fund objective, geographical breakdown, all of the underlying holdings, of which there may be thousands, and so on. You can even download the fund fact sheet, which is essential reading before investing in any fund.
Good, Intuitive App… But A Little Slow – The app is super clean, easy to navigate and looks good. If we had to complain about one thing here though it would be navigation speed – it seems to have a slight delay before loading each page and you get a split second of a spinning wheel. You might think we're being pedantic about such a minor issue in speed but research by Google found that people search less if search results are even slowed by a fraction of a second. People have no patience and why should they?
Can't Transfer In…Yet – Currently, you can't transfer-in to any of their accounts but apparently, they are working on this. Our guess is that once they've been up and running a little while and ironed out any bugs they will be fast to enable transfers-in, so watch this space. At the end of the day, they make their money by holding your assets, so the more money you have with them, the more readies they make.
Our Final Thoughts
We'll never complain about increased competition because this is what drives down fees for consumers. We're currently spoiled for choice and there are more investing apps popping up all the time. Dodl may not be making big waves when it comes to General and ISA accounts, but we think a lot of people will be interested in their Pension and Lifetime ISA, which are amongst the cheapest on the market.
So, that wraps up the review! Some of the apps we've mentioned today have offers on the MU offers page, so check those out. Let us know down in the comments what you like and dislike about Dodl, and if you're still unsure, feel free to ask us any questions. We do our best to answer as many as we can.
Written By Andy