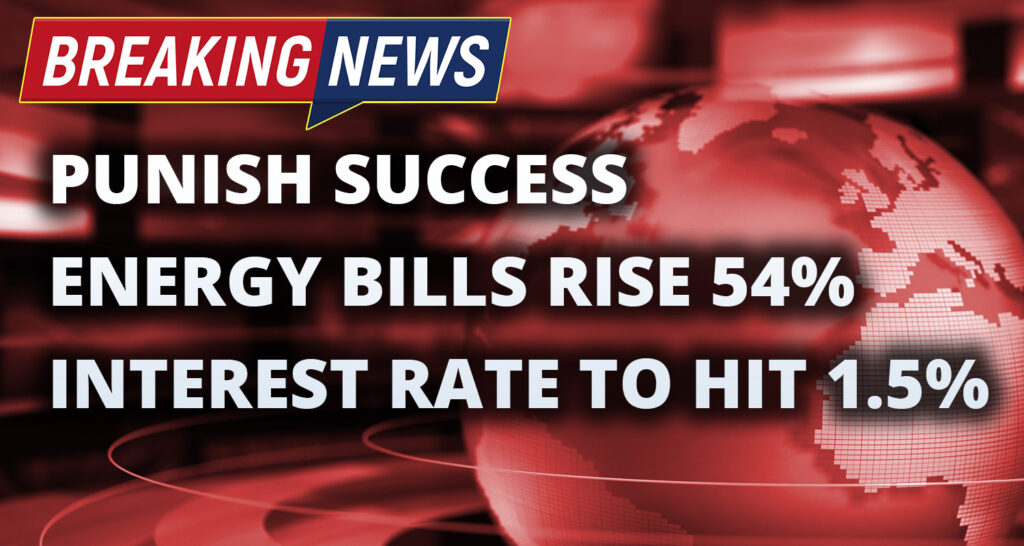 Hello and welcome to Money Unshackled News. The headlines:
Energy bills to skyrocket by 54% or £693 in April for a typical bill, taking the total cost to nearly £2,000 a year.
Chancellor Rishi Sunak offers measly £150 rebate and mandatory loan arrangement of £200 in response to rising energy bills.
Bank Of England raises interest rates from 0.25% to 0.50% in an effort to tame inflation. Mortgages and loans to become more expensive.
Job Seekers will be forced to accept any work after just 1 month or risk having benefits cut, even if it's outside of their field.
As oil prices near $100 a barrel and Shell rakes in the big bucks, some call to levy a tax on oil and gas producers.
The work from home tax loophole allowing people to claim up to £125 a year is set to close.
And finally, Bank of England governor who earns £575,000-a-year tells ordinary people to not ask for big payrises.
There's been a lot happening in the last few weeks, so we've aggregated all the important money news to bring you the stuff that matters. Now, let's check it out…
Alternatively Watch The YouTube Video > > >
If you're looking for a new investment app or just fancy some free cash head over to the Money Unshackled Offers page as we bring you all the latest and greatest offers including free cash, free stocks, and discounts to various trading apps and services. You can currently get 6 months free with Nutmeg and Moneyfarm, 25% off premium stock analysis tool Stockopedia, and a free stock with Freetrade worth up to £200, plus loads more.
Energy Bills Are To Rise By A Staggering 54%
The biggest news making the headlines recently is the colossal rise in energy costs from 1 April. Energy bills are to rise by a staggering 54%, which is on top of the large rises back in October 2021. The increase to hit in April will be £693 for an average bill, taking the total cost to £1,971 for a year.
What confuses many people about these price caps is that they're not an actual cap on your total bill. It is in fact the rates that are capped, so if you use more, you'll pay more. Unfortunately, and something that is really annoying is that the regulator Ofgem, and the media, prefer to report on the cost of a typical bill, rather than tell us what our actual rates are.
Thankfully Money Saving Expert have produced an average rate table, but even then your region will vary slightly.
We've gone a step further and calculated the percentage increases for both the daily standing charges and unit rates. The findings are astonishing, and we cannot believe the mainstream media aren't reporting this. It turns out the typical 54% increase is based on a set of assumptions that could be way off your situation. If you're a heavy gas user, you could be in for a nasty shock with the unit rate rising by 81%.
The only consolation regarding the gas price hike is that this is taking effect initially for the summer season, so hopefully much of this damage can be limited for the time being.
However, electricity costs are being massively hiked for both the unit rate and the standing daily charge. In fact, even if you were able to reduce electricity usage – which is unlikely – your daily charge, which you're charged regardless of usage, is being hiked by 82%.
If you think all this is bad, then make sure you're sitting down for this next one. We know that the energy price cap will change again in October, and if wholesale prices stay where they are now, Money Saving Expert is saying there will be a further rise of about 20%, putting the total bill up to more than £2,300/year on typical use.
We are extremely concerned. Most households cannot afford these hikes and people are sadly going to die when the colder months hit. In supposedly one of the wealthiest countries in the world, nobody should have to make the choice between eating or heating. So what action is the government going to take?
Government Response To Rising Energy Bills
Back in August 2020 Chancellor Rishi Sunak was spending our money like there was no tomorrow. He couldn't give it away quick enough. Back then, if you wanted 50% off kebab, chips and a greasy pizza, no problem – the government was paying.
Fast forward to now and he'd rather you freeze your tits off. The government think we're all idiots.  They've painted black and white stripes on a horse and are calling it a zebra.
They are forcefully giving every household a £200 discount in October, which must be paid back over the next 5 years. Or in other words we're essentially having a loan forced upon us.
There are so many issues with this scheme it's unreal. Firstly, it assumes that bills will come down in the future but there is no evidence to suggest this will happen. Any conflict with Russia – just as an example -would send energy prices skyrocketing. If households can't afford energy now, how will they afford it if prices increase further and they have to pay £40 extra a year for 5 years to clear that debt? Debt to cover living costs is never the answer.
Moreover, you may not even get the £200 discount, but you will still be expected to pay it back via increased energy bills. For example, a 24-year-old living with their parents wouldn't get £200 now, but when he or she moves out next year and gets their own place, the way the mechanism works is that they will have £40 added to their annual bill regardless of the fact they never received the original discount in the first place. Unbelievable!
It's not all bad news though: the government are helping 80% of households, who will receive a £150 rebate in their April council tax bill which will not have to be paid back. You'll need to be in bands A-D to receive this. This is by no means perfect as there will be many cash poor people in higher bands but given the circumstances this is probably one of the fairest ways to target support to those that need it. Local authorities would also receive £150m to make discretionary payments to the neediest.
Truth be told, we broadly think people should only rely on government support in dire circumstances – even worse than what we're experiencing now – but in the case of rising energy bills we can't help but feel that this government and past governments are responsible, so need to provide support. Rising wholesale costs will always be a threat if we continue to rely on foreign imports of energy.
If the government hadn't capitulated to the objections to developing more of our own oil and gas fields off Scotland, and permitting fracking, and rolled out renewable sources much faster, your finances would be in a far better situation. A country with energy independence would never be as vulnerable to energy prices as we are right now.
Interest Rates Raised To 0.5%
The Bank Of England has raised interest rates from 0.25% to 0.50% in an effort to tame inflation. It's the first back-to-back rise since 2004, and the central bank is forecasting that inflation will increase to 7.25% in April.
Five of the nine members in the committee voted to increase the rate to 0.5% but four of the nine members wanted an even larger increase to 0.75% to get a grip on surging inflationary pressure.
The Financial Times is reporting that markets are now expecting the Bank of England to lift interest rates to at least 1% by May, and 1.5% by November. Thisismoney said the increase will add almost £1,300 a year to the cost of a typical mortgage and City analysts are warning that the rise will be a shock to those who are accustomed to cheap home loans. Rates have been at 0.5% or lower for much of the last 13 years.
About ten million British adults have never experienced base rates above 1%, according to analysis by AJ Bell.
Another action the Bank of England is taking is bringing the curtain down on its £895billion money-printing programme after almost 13 years. As the £875billion of government debt from quantitative easing gets repaid, the Bank will allow the cash to simply disappear. This will reduce the cash supply by £28billion this year and just over £70billion in total by the end of next year.
After the interest rise, Nationwide and Santander have rushed to raise mortgage rates and are the first lenders to do so, reports The Telegraph. We've yet to see any banks raise the rates offered on savings accounts but with more base rate hikes expected to follow, we expect banks will adjust savings rates in time – so look forward to making a few more pennies each month on your savings account while your mortgage payments skyrocket.
Job Seekers Will Be Forced To Accept Any Work After Just 1 Month Or Risk Having Benefits Cut
In news that is being heavily criticised by the likes of Labour and the Liberal Democrats, there will be a crackdown on jobseekers who claim Universal Credit. Claimants will be forced to widen their job search outside of their preferred sector of work after four weeks, rather than three months, or face sanctions that will slash their benefits if they are deemed to not be making a reasonable effort to secure a role, or if they turn down a job offer.
At some point you do need to draw the line but are they expecting a trained and specialised computer programmer to apply for jobs shovelling crap into a skip? The whole process is a total waste of time. For one, the programmer is unlikely to get the job in the first place because he is likely to be deemed underqualified for this particular role and obviously not interested, and if he did get the job, he's equally likely to quit as soon as he lands a more suitable role. Surely, it's better all round to allow more time to search for jobs?
Shell Rakes In The Big Bucks As Oil Approaches $100
Crude oil prices are back up to levels last seen in 2014. West Texas Intermediate and Brent crude have pushed up towards $90 a barrel. Many experts think the next stop is $100.
As a beneficiary of this rise in oil prices, Shell has received criticism for its success. We should be celebrating these stories of successful UK companies, not reprimanding them. Shell posted a $19.3bn profit for 2021, up from just $4.8bn a year earlier. They also raised their dividend by 4% and are buying back shares worth $8.5bn in the first half of 2022.
The timing of this release was unfortunate. It came on the day that Ofgem hiked the energy cap by 54%, prompting calls by Labour to levy a windfall tax on oil and gas producers. We don't recall oil companies being offered state handouts when they were struggling back in 2020 when prices collapsed. In 2020 they reported a $21.7 billion loss.
Rishi Sunak said the idea of a windfall tax sounded "superficially appealing," but it would ultimately deter investment. We'd also like to point out that punishing Shell also punishes British pensioners, whose pensions are tied to the fate of FTSE 100 companies. Let's hope this is the end to silly ideas about punishing success.
Work From Home Tax Loophole Allowing People To Claim Up To £125 A Year Is Set To Close
The tax loophole on working from home that has cost the exchequer about half a billion pounds over the course of the pandemic is expected to close. It had only cost the Treasury £2million a year before the pandemic. However, the cost of the scheme to the Treasury has increased over 100-fold because of homeworking since the pandemic.
The relief was introduced in 2003 as a way to help home workers with gas, heating, internet and other utility bills, and allowed people to claim up to £125 a year for working at home even if they only spent a single day away from the office in the entire year.
Claims could also be backdated, meaning anyone who has worked from home due to Covid but has not made a claim for the relief could be entitled to a two-year payout of up to £250.
You might think that something as boring as an obscure tax relief might go unnoticed by the British public, but HMRC said 4.9 million successful claims for the tax break had been made since March 2020. But sadly, it looks like its days are numbered.
Bank Of England Governor Who Earns £575,000-A-Year Tells Ordinary People To Not Ask For Big Payrises.
'Sick joke': Bank of England governor who earns £575,000-a-year is criticised over pay restraint call, reports Sky News. Foolish and out of touch comments were made by the Bank of England's Andrew Bailey in an interview with the BBC.
He said workers should not demand big pay rises as the Bank battles surging inflation. If employees ask for big wage increases to match the cost of living, the Bank's task could be made harder. He doesn't want his job to be made harder despite his epic half a million-pound salary, but he seems unconcerned about the millions of ordinary people who will struggle to put food on the table. His theory is that employers would then pass on those higher wage costs to consumers in the form of higher prices, creating an inflationary spiral.
We on the other hand would like to say the exact opposite – that it's your duty to go and obtain a much higher wage. Most people cannot cut back to the extent that surging inflation demands, therefore you have no choice but to go and take what is yours.
Are you worried about rising inflation? What are you doing to keep your head above water? Join the conversation in the comments below.
Written by Andy