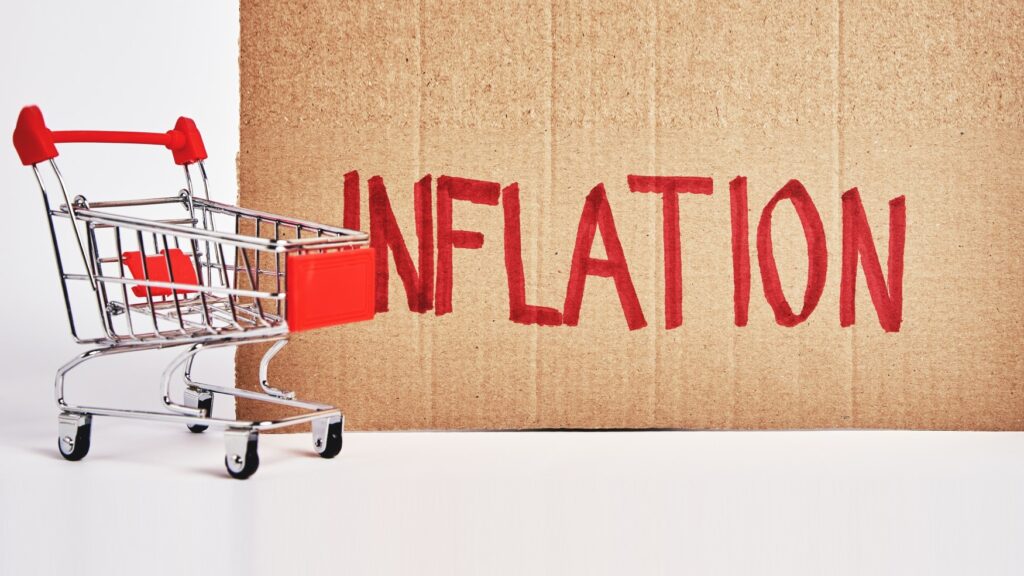 2022 has been dubbed the 'year of the squeeze'. Households will reportedly be almost £3,000 out of pocket, with a perfect storm of rising costs due to hit in April. That's when National Insurance is going up. It's also when the crippling new energy price cap takes effect, with energy bills set to soar by 54%. And around two-thirds of English councils plan to hike council tax in April too, by up to 3%. All this against a general backdrop of runaway inflation, now threatening to rise above 7% according to the Bank of England's latest forecasts.
It seems that everything is stacked against you. But what can you do to fight back and shield yourself against the rising cost of living, other than the usual unhelpful advice of cutting back on Netflix and Starbucks lattes?
There's no silver bullet, but we've done a roundup of 10 pain-free actions you can take to improve your situation during the months ahead without having to cut all the fun out of life, and hopefully help you make it through the worst of the crunch.
FYI: £50 cash bonuses and FREE stocks listed on the Offers Page.
Alternatively Watch The YouTube Video > > >
#1 – Cut Your National Insurance Payments
Your employer might offer you the option of salary sacrifice as part of their pension scheme. This can increase your pension size, lower the tax you pay, and can even increase your take home pay. If you choose to take up the option, you and your employer will agree to reduce your salary, and your employer will then pay the difference into your pension, along with their contribution to the scheme.
As you're effectively earning a lower salary, both you and your employer pay lower National Insurance contributions, thereby reducing the sting of Boris's new tax hike, and this often makes your take-home pay higher.
Better still, a good employer might pay part or all of their NI saving into your pension too (although they don't have to do this).
#2 – Don't Fix Your Heating Bills
The energy bills price cap is going up by 54% from 1st April 2022, meaning anyone on a variable tariff is about to see their bills increase by more than half what they currently are. There's no escape to be found by fixing your tariff either. MoneySavingExpert's Martin Lewis has run the numbers and concluded that there are no fixed tariffs on the market that offer a lower rate than the April price cap, with the cheapest fix right now costing a ridiculous 68% more than the pre-April price cap.
Your only shield here is to avoid fixed contracts – when your current plan ends, his advice is to do nothing and drop onto the variable rate. It's bad, but fixing would be much worse.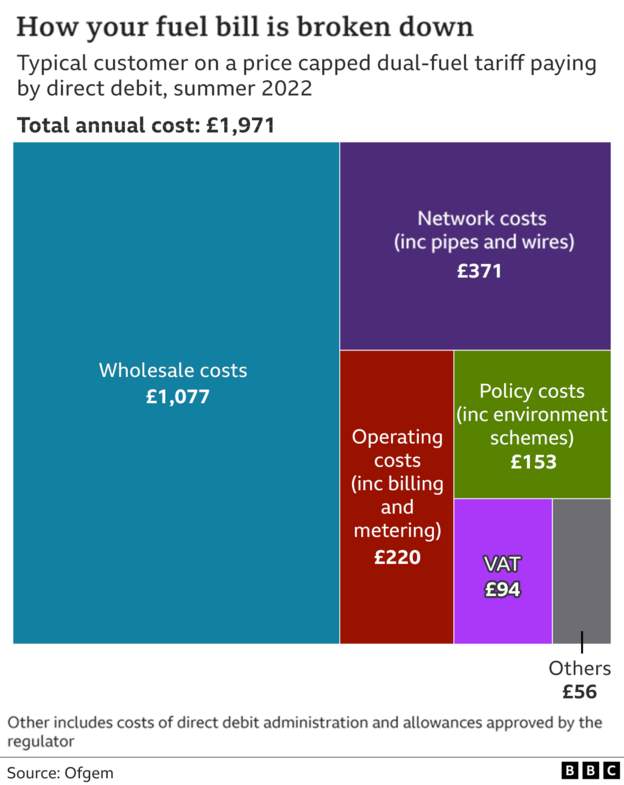 What's sad is that some of this pain could have been avoided. This is a breakdown of the average house's energy bill. The part that's rocketing up is in blue, the wholesale costs. But the parts the government has direct control over, and hence could scrap, are the green and pink blocks, which represent environmental and social taxes and VAT. Together these will make up 13% of your new fuel bill. Elements of these taxes and levies could have been scrapped, making for slightly more manageable bills.
#3 – Push Back On Your Employer's "Generous Payrise"
Headlines abound about how 2022 will be a year of better pay rises than usual, but should you just sit back and gratefully accept what you're offered?
Your employer will likely tell you that your pay rise is the 'best ever', or some nonsense like this. But the reality is that in 2022, UK pay rises could be just a measly one-third bigger than the 2.4% seen in 2021.
That works out at a 3.2% average pay rise in 2022. What's the forecast inflation rate again? Oh yeah, over 7%. So the average worker is really likely to be getting a massive pay cut.
If your boss tries to pull a fast one on you, make sure he's aware that you understand inflation and that anything less is not good enough. You'll never get a good pay rise if you don't ask for it.
You'll probably have to justify your pay rise in terms of merit though, because employers don't give good pay rises out of sympathy or even to help you keep up with the household bills. They'll try and get away with giving you a real pay cut if they can.
Once you've made it through the crisis, make it your ambition to set up a freedom fund of cash large enough to cover a few months of bills, so you are empowered to walk away from jobs that treat you with disrespect.
#4 – Move Your Thermostat
A thermostat works by telling your boiler to stop burning when the room the thermostat is in reaches the right temperature. So why have your thermostat fixed to a wall in a hallway you barely use?
For those with a wireless thermostat, rather than shivering in the lounge while your hallway heats up to a toasty 25 degrees, switch off your hallway radiator and place the thermostat in the lounge instead, set around 20.
Energy experts at uSwitch suggest turning down your thermostat by just one degree centigrade could save you £80 each year on your heating bill as of January 2022– and that was before the new higher energy cap was announced, so is now closer to a saving of £125 per degree.
#5 – Use Your Car To Power Your House
We're through the looking glass here, guys! The Times reports that you will soon be able to buy electricity at night, when it is cheap, and store it in your vehicle's battery for use at peak times in your home.
One family trialling the new tech are expecting to save £1,200 on their household bills this year, with the technology said to become standard on new electric cars within 6-months according to Volkswagen.
You might think that people who own electric cars are the least likely to be on the breadline, but there are a lot of middle class families living well beyond their means who will have a plug-in vehicle sat in their driveway, financed by debt.
Those lucky enough to have access to one will soon be able to take advantage of the way the UK's energy grid works. The Times article shows how power at night might cost 22p, but the same power be worth £2.40 during peak hours in the daytime. If you can charge your battery at night, and use that power during the day, you're paying night-rates for daytime-usage.
Even better, many employers now offer free charging for employee's electric vehicles as part of their PR campaigns to look more green and socially responsible. Why not let your employer pay your home heating bill by charging your car battery at work?
Also, note that the actual car isn't required here, just the battery. No doubt if this tech catches on, having a home-energy battery in your house may become the new normal.
#6 – Keep On Top Of The Cost Of Housing
Now that landlords' maintenance and interest costs will be rising in line with inflation, rents will be too. Analysis by Zoopla has also found that renters face more significant costs than homeowners; while homeowners spend 18% of their household income on their mortgage, renters spend 31%.
Understand that your landlord needs to raise the rent to protect their own family's household budget from inflation, but you can try to negotiate any rent rise down to maybe meet them halfway.
If you make clear that you can't afford a big rise and will be forced to leave if one is imposed, your landlord will likely concede to a better deal assuming you've been a good tenant and paid previous rent on time. They don't want a period with an empty property while a new tenant is found, nor to have to pay big finders fees to their agent for sourcing the new tenant.
If you can't avoid having to pay higher rents, consider house-sharing with someone else in your situation for mutual benefit, slashing your rent. Might not be ideal but needs must.
Homeowners may have it rough too if interest rates are raised further by the Bank of England to try and combat inflation. Financial markets are expecting the base rate will rise to 1.5% by the end of the year. You may want to fix your mortgage now if you're living on the brink and can't risk your mortgage bills rising.
Perhaps the best way for a homeowner to sidestep the cost of living crisis is to bite the bullet and get a lodger, which I did myself for nearly 2 years. While you may object to someone else sharing your living space… for £400 or more rent a month, it may make the difference between financial comfort and poverty. Plus, you're helping someone else to live affordably.
#7 – Take Advantage Of Cash Giveaways
You can get big cash rewards when you switch bank provider for your current account, as detailed on MoneySavingExpert.com, or when you sign up to investment platforms, with a full list of bonuses on the MoneyUnshackled Offers page.
There are hundreds of pounds of free money giveaways on there, all of which could come in handy in the months ahead.
#8 – Claiming The Benefits You're Entitled To
Benefits aren't just for the poor. Go to entitledto.co.uk and plug in your details, and it will tell you what benefits you are eligible for.
I plugged in my details and found out that I'm entitled to £21.15 a week in child benefit. Every little helps, right? It also turns out that when my child turns 3 years old, she'll be entitled to 30-hours free childcare, worth about £100 a week.
#9 – Sell Some Junk
MU's Andy used to roll his eyes when he heard people advise to solve your money troubles by selling your possessions. But then he tried it for himself, and is now hooked. He's making thousands of pounds by selling his stuff that he had considered junk – Lego in his mum's loft, an old guitar which he has no interest in playing anymore, old, outdated TV's and unnecessary furniture, and countless other bits of clutter that he bought ages ago and no longer wants or needs. Your junk really is someone else's treasure.
Selling your stuff can only be a temporary solution, as you'll eventually run out of stuff to sell, but in the Year Of The Squeeze, more people than ever are looking to buy used items and that junk in the loft could be paying your gas bill.
#10 – To WFH, Or Not To WFH?
Now that jobs are becoming more flexible, with working from home a real choice for many, you might want to re-evaluate the finances of how many days you spend in the office. For many it's a no brainer, due to the cost of the commute. Petrol prices are already at all-time highs at over £1.40 per litre, and rail fares will rise 3.8% in March (the biggest price hike for a decade).
But when you're in the office, your employer picks up the gas and electric bill, which as we know is now becoming more significant. You should run the numbers to work out if working from home is still economical. Your energy provider will provide you with a smart meter if you ask for one, and a device showing you the cost of your energy usage during the days you work from home.
Are you worried about the cost of living crisis, or even about the effect it will have on your ability to save and invest for your future? Join the conversation in the comments below!
Written by Ben
Featured image credit: Lazy_Bear/Shutterstock.com