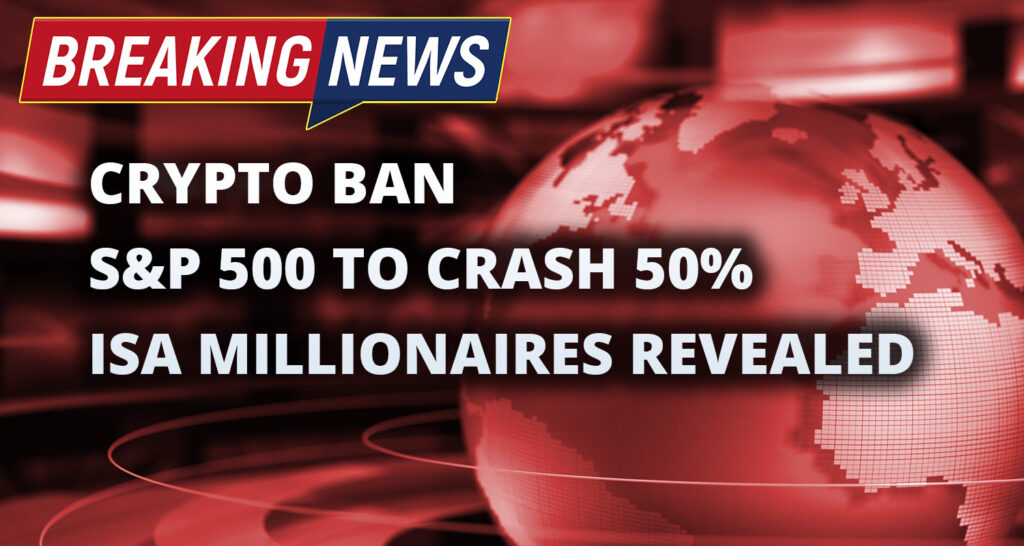 Hello and welcome to Money Unshackled News. The headlines:
The S&P 500 is in freefall. Legendary investor Jeremy Grantham predicts the S&P 500 will crash almost 50%. Here's where to invest to protect your wealth.
New figures from HMRC reveal that the UK has around 2,000 "ISA millionaires."
Soaring food costs and the energy bill crisis drove inflation to 5.4% in December. The energy industry has called on the government to intervene ahead of huge expected rises to household bills in April.
Microsoft is set to acquire Activision Blizzard in a $69 billion mega deal as gaming content land-grab heats up.
Russia set to invade Ukraine with 100,000 troops stationed at the border. Dire consequences for the world and investors could follow.
And in other Russia news, as the third largest crypto mining country, Russia proposes a ban on crypto trading and mining.
We've gathered all the latest money news from the past few weeks that matter most to your finances. Let's check it out…
💲💲💲 £50 cash bonuses and FREE stocks listed on the Offers Page.
Alternatively Watch The YouTube Video > > >
Jeremy Grantham Predicts The S&P 500 Will Crash Almost 50%
The S&P 500 is currently in free fall. Legendary investor Jeremy Grantham predicts the S&P 500 will crash almost 50% after the 4th US 'superbubble' in the past century pops. Jeremy Grantham is the co-founder of asset-management firm GMO which had $120 billion of assets under management at its peak, and he has predicted the last three market bubbles.
He said the S&P 500 index may slip to around 2,500 – even with multiple efforts underway to prevent it. This is a drop of 48% from January's peak, and the tech-heavy Nasdaq Composite, meanwhile, might see an even sharper downturn, he added.
Grantham said, "This time last year it looked like we might have a standard bubble with resulting standard pain for the economy. But during the year, the bubble advanced to the category of superbubble, one of only three in modern times in U.S. equities, and the potential pain has increased accordingly."
He goes on to say that "Even more dangerously for all of us, the equity bubble, which last year was already accompanied by extreme low interest rates and high bond prices, has now been joined by a bubble in housing and an [emerging] bubble in commodities."
He compared this bubble to Japan in the 1980s, which saw two asset bubbles at the same time – real estate and stocks. The US, in contrast, has three and a half major asset classes bubbling simultaneously for the first time. These are stocks, bonds, real estate, and commodities. He said, "When pessimism returns to markets, we face the largest potential markdown of perceived wealth in U.S. history."
By now he has scared the living daylights from anyone who has their money invested, so what advice does he give to investors? He advises to avoid U.S. equities, invest in value stocks of emerging markets and several cheaper developed countries, most notably Japan. He likes to have some cash for flexibility, as well as a little gold and silver.
And for all the Crypto fanboys, unfortunately for you he takes a dig at digital money. He says cryptocurrencies leave him increasingly feeling like the boy watching the naked emperor passing in procession.
For those that don't remember that folklore: two swindlers offer to supply magnificent clothes to the emperor that are invisible to those who are stupid or incompetent. Everyone goes along with the pretence, not wanting to appear inept or stupid, until a child blurts out that the emperor is wearing nothing at all.
HMRC Reveal That The UK Has Around 2,000 "ISA Millionaires"
New figures from HMRC reveal that the UK has around 2,000 "ISA millionaires", sitting on pots worth an average £1,412,000 according to the data obtained by InvestingReviews.co.uk.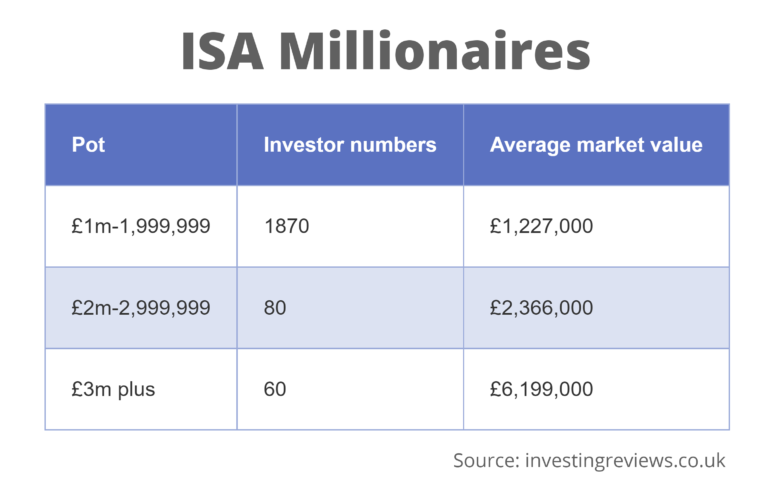 Included in these incredible numbers are 60 investors who are in the £3 million+ bracket with the average pot among them standing at £6,199,000. And 80 investors had pots valued between £2 million and £3 million.
Becoming an ISA multi-millionaire is more difficult than you might think, due to the historical deposit limits. The predecessor to ISAs was the Personal Equity Plan (or PEP), which was only launched in 1987 with just a £2,400 allowance. With the annual allowance for the PEP being around £6,000 for most years after that and the ISA being around £7,000 for many years, the data released by HMRC indicates a small number of investors have benefited from supercharged returns over the years.
AJ Bell commented that if somebody had saved the full allowance since 1987 and earned 5% returns a year, they would only have built up almost £708,000 in their pot.
Investors starting from scratch now could expect to reach millionaires' row in around 22 years by making maximum use of their annual ISA allowance, assuming a compounded 7% annual return, InvestingReviews.co.uk said.
Currently, there are around 2.7million Stocks and Shares ISA holders of which 37 per cent are maxing out their allowances, which at £20,000 per year is very impressive.
Inflation Soared To 30-Year High
In mainstream financial news, the biggest problem facing ordinary people is soaring inflation. The BBC report that surging food prices have pushed inflation to a 30-year high. Soaring food costs and the energy bill crisis drove inflation to 5.4% in the 12 months to December, up from 5.1% the month before, in another blow to struggling families.
Food writer and anti-poverty campaigner Jack Monroe said the inflation index measure "grossly underestimates the real cost of inflation" and what it means for people in poverty. She went on to list some examples.
"This time last year, the cheapest pasta in my local supermarket was 29p for 500g. Today it's 70p. That's a 141 per cent price increase as it hits the poorest and most vulnerable households," she said.
"Baked beans: were 22p, now 32p. A 45 per cent price increase year on year.
"Canned spaghetti was 13p, now 35p. A price increase of 169 per cent."
As for energy, the energy price cap is due to be revised on 1 April and as a result, fuel bills could increase by another 50% in the next few months pushing the average bill to around £2,000 a year. This is a potentially terrifying prospect for many people up and down the UK who simply cannot afford these price increases. The energy industry has called on the government to intervene.
One of the issues is dependence upon oil and gas from other countries. Theconversation.com say that the UK government should be taking a stronger position on developing the Cambo oil field off the Shetland Islands, which is estimated to have 53.5 billion cubic feet of gas undeveloped, not to mention 180 million barrels of oil.
These days companies seem to simply index their prices with inflation, rather than increase them because their underlying costs have gone up, so high inflation is sort of a self-fulfilling prophecy.
The Mirror reports that millions of phone, TV and broadband customers are facing £42 a year hikes on their bills under a series of price rises from the likes of TalkTalk, BT, Plusnet, Vodafone and EE.
Here at Money Unshackled we try to find a silver lining and inflation is good for at least one thing – the erosion of debt. Both the British public and the government are up to their necks in debt, and if we are able to maintain our earnings in line with inflation (a big ask), paying down the debt should in theory be a lot easier.
The best example we have seen of this is student loan plan 1 debt, which is the student debt held by people who started Uni between 1998 and 2011 in England, Wales and Northern Ireland. The interest rate on this is calculated as the lower of the Bank of England base rate + 1%, or the rate of inflation.
A few years of high inflation and relatively low interest rates would make that debt disappear, so for some it's not all bad news.
Takeovers Heat Up
In takeover news, Unilever has had its third offer for GlaxoSmithKline's consumer health business rejected. The business includes brands like Aquafresh and Sensodyne toothpaste, Panadol painkillers and Nexium antacids. The final bid was £50 billion, and Unilever have said they will not be increasing the offer.
The Financial Times said that Glaxo is likely to try to proceed with a planned demerger of the consumer health business in the middle of this year unless another bidder emerges.
In other mega takeover news, Microsoft is set to acquire Activision Blizzard in a $69 billion mega deal. It's one of the biggest acquisitions in the tech industry in recent years, one that will boost Microsoft's standing in the growing gaming industry, making Microsoft the third-largest gaming company by revenue, after Tencent and Sony.
The agreement is pending regulatory review and Activision Blizzard shareholder approval, with the deal set to close in 2023.
Activision Blizzard own game franchises such as Call of Duty, World of Warcraft, Candy Crush, and Overwatch. Activision has hundreds of millions of people playing its games, which could help Microsoft win subscribers to its Game Pass service, says CNBC. Overtime massive game franchises could become exclusive to Microsoft.
This acquisition comes on the back of the ZeniMax purchase in late 2020 in a $7.5 billion deal, which added game franchises including The Elder Scrolls, Fallout, and Doom to Microsoft's growing intellectual property. Microsoft are not messing about when it comes to a land-grab of video game content.
Russia Set To Invade Ukraine
In other takeover news, Russia is set to launch a hostile takeover bid for Ukraine. Russia already has a small holding in the eastern European country after acquiring the Crimea in 2014 and is looking to take full ownership. Joking aside this a serious situation we find ourselves in and it could have devastating consequences for both the region and the wider world, including a heavy financial toll.
Mainstream media is reporting that Russia has an estimated 100,000 troops deployed near Ukraine's borders. US President Biden says his guess is that Russia will move in but has warned that a full-scale invasion would be a disaster for Russia. From what we can tell it would be a disaster for the world, as the West would have to act. To do nothing would set a precedent and likely stoke further aggression from Russia in the future. Let's not forget that World War 2 started after appeasing Hitler for far too long while he annexed European territory.
The West's main tools for dealing with Russia, outside of military action, could be to disconnect Russia's banking system from the international Swift payment system, and/or to prevent the opening of Russia's Nord Stream 2 gas pipeline in Germany.
Other sanctions are mostly unknowns for now, but if they are indeed severe, both a military conflict and/or the sanctions could have a serious impact on the world economy, reports barrons.com.
As Russia supplies a lot of gas to Europe, any gas supply sanctions self-imposed by the West or a counter-reaction by Russia would lead to spikes in the price of natural-gas above the punishing increases we're already experiencing.
Proposed Crypto Ban
In Crypto news, Russia's central bank proposes a ban on crypto trading and mining within Russian territory. The announcement surprisingly did not appear to knock the price of Bitcoin any further down. Russia is the third largest cryptocurrency mining country after the US and Kazakhstan, and it has developed a thriving mining industry after China last year outlawed the practice. Russia's share of Bitcoin mining rose to 11% last year from 6.8% in 2020.
Meanwhile, in the UK, the Treasury plans a crackdown on 'misleading' cryptocurrency ads by making them subject to the same regulations as marketing for other financial products such as shares and insurance.
Bitcoin's price is down more than 50% from its November high. Is this a buying opportunity? Or could the price fall further? Join the conversation in the comments below.
Written by Andy