Getting onto the housing ladder is becoming increasingly difficult. In fact, latest figures show only 50% of all 35-44 year olds had a mortgage, down significantly from 68% in 1997. When this dataset is next updated by the ONS, the decline will no doubt be even worse.
At the same time, people in their 20s and 30s are becoming more aware than ever of the importance of investing for their futures.
Unfortunately, the state pension is unlikely to exist in its current form for them, and gone are the days of final salary pensions. If you're not investing from a young age, your future is looking grim.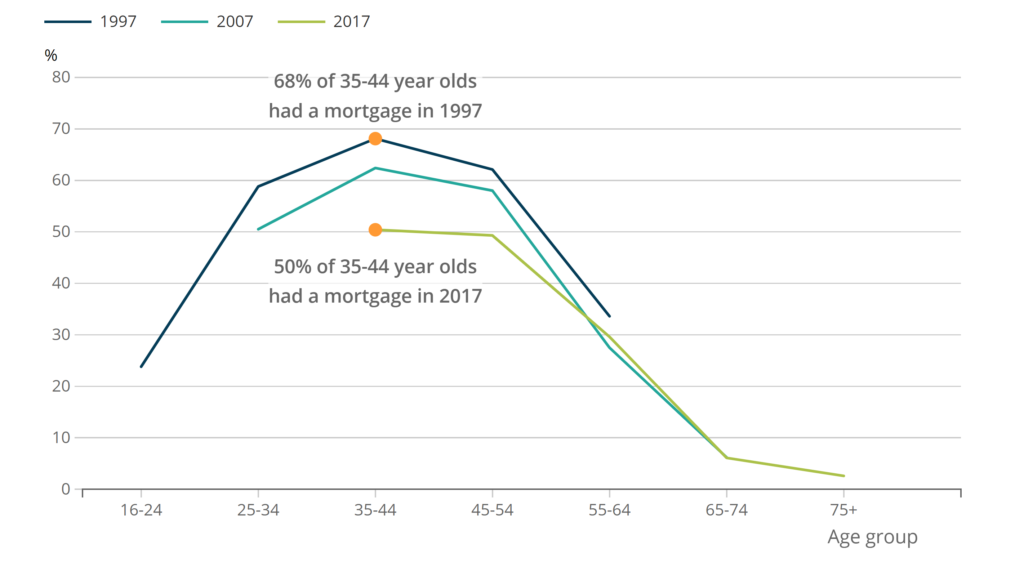 Investing and home ownership are both worthy financial challenges to tackle, but the 2 goals are conflicting. How can you save up for a house deposit, AND invest adequately for your future?
Which target should you prioritise first? The roof over your head, or avoiding a miserable retirement?
Today we're going to try to solve this problem facing the majority of young people, on which goal to tackle first from a financial perspective. Should you save for a house or invest in the stock market?
And if you've already saved up for a home, has the missed opportunity of many extra years of compounding investment returns done irreparable damage to your investing potential?
If you're new to investing and want the professionals to manage your money, a great option for hands-off investors is to open a Stocks & Shares ISA with Nutmeg. They also offer Lifetime ISAs to help with saving for a house deposit.
New customers who use this special link will also get the first 6 months with ZERO management fees. If you'd rather manage your investments yourself, check out our hand-picked range of 'do-it-yourself' Stocks & Shares ISAs, here.
Alternatively Watch The YouTube Video > > >
A Growing Problem
The dilemma facing young people about whether they should start investing or save for a house deposit is getting more obvious with each passing year.
Firstly, investing is now more accessible than ever. You can now invest on many platforms without fees, and with minimum investments as little as £1. Information about the stock market is plentiful, is easily accessible and is free on places like YouTube.
Investing has been made omnipresent and accessible to the point that anyone can pick up a phone and buy some stocks.
This openness has removed a barrier that previously would have stopped most people from even considering investing, and made young savers think that maybe they should be abandoning the decades long attempt to build a house deposit and build a financial future through stocks instead.
However, at the same time, the prospect of ever owning a house is receding into the distance. House prices have gone up by an average of 5.2% over the last 20 years.
Why is this a problem? Because that is MUCH higher than wage inflation, which has averaged just 2.8% a year over the last 20 years. Incomes are not keeping up with the rate that house prices are increasing.
While you're saving, house prices are going up in real terms. So more and more it feels like if you don't try and buy a house right now, you'll never get a better chance.
Why Not Do Both? Couldn't You Whack Your House Deposit In The Stock Market?
Seems reasonable right? You've got a lump sum of cash just sat there idling in the bank while it slowly gets added to from your saved wages. Why not take it out, invest it, and get to your goal quicker?
Many people do this, and there are certainly success stories – but the same can be said of people who put it all on black on the roulette wheel.
The stock market can go up as well as down in the short to medium term, so we would not advise anyone to put their house deposit into the stock market unless you don't plan to buy a home for at least 5 years, and preferably longer.
Otherwise, there's a good chance you could have lost money on your house deposit at the point when it's needed. It's therefore usually best to keep the 2 goals separate.
3 Reasons To Save For The House Deposit First
#1 – A House Can Be An Investment
Your home is not an investment in the traditional sense of the word – a house costs the owner a fortune to maintain, and any capital growth can't easily be accessed unless you decide to sell up and live on the streets.
But there ARE ways you can make the house turn a profit, by charging other people for the use of your assets.
The usual thing to do is to get a live-in lodger or two, or do Airbnb. A couple of lodgers paying rent could easily cover the cost of your mortgage and eliminate your biggest cost of living – a great investment.
But you can also rent out your driveway for day commuters; let someone park a mobile home or trailer on your land; or lease out your garage, attic, and spare room for storage space.
A house can also be a great investment if you geo-arbitrage it. This is when you intend to sell up the house in the future and move to a less expensive area.
Maybe you've managed to get on the housing ladder in London and can afford it due to your high London banker's salary, but could see yourself retiring to Yorkshire. You might one day liquidate a £1m townhouse to buy an equivalent sized semi in Leeds for £300k.
#2 – The Emotional/Cultural Need
For most people in this country, home ownership is a defining feature of whether or not you're a proper adult. This is an aspect of British culture, where 63% own their homes. This is down from 71% in 2004, when buying a house was much easier.
On the continent they are not as fussed as we are about this. The Germans and Austrians quite like to rent, with only 51% and 55% respectively owning homes. The Swiss care even less about home equity, with just a 42% rate of home ownership.
On this channel we don't think whether you own a home or not defines you as an adult – having an investment portfolio and choosing to rent is just as valid a life-choice. Nor do we buy into the myth that renting is dead money: check out this article next on the merits of buying vs those of renting.
But if you'd sleep better at night by keeping up with the Joneses, then buying your home first is the right choice for you.
#3 – Investment Returns Don't Matter So Much Initially
If you've got 2 or 3 grand and you're stressing about where to put it… don't. Your investing returns are likely to be miniscule in terms of pounds and pence, compared to what you'll be able to make one day when your pot is much larger.
When you've got a decent sized house deposit built up, this might be a different story. If you're enjoying this content, give us a big like to let the YouTube algorithm know that this video rocks! You can also show us some appreciation with the new Super Thanks button below.
1 Big Reason To Focus On Investing: The Compounding Boost Is Insane
First-time buyers now need an average of £59,000 to get on the property ladder, a 2021 report by Halifax bank has revealed.
That's up £12,000 from the previous year. This is the national average: in London, first time buyers need an average deposit of £133,000!
Those numbers are huge, and represent many years of saving hard. How many years? A lot. ONS data tells us that of people between the age of 22 and 29 years, about 40% have not yet managed to save anything at all, while around 10% have savings of between £2,000 and £3,000. Only around 25% have saved more than £6,000.
And £6,000 is the also average savings for people aged between 35 and 44. Clearly saving for a house deposit is now a decades long task for most people.
These are decades that you can't afford to be wasting sitting out of the stock market. Let's assume money flows naturally to you, and it takes you only 10 years to save for a house deposit, from age 20 to age 30. You save £6,000 a year towards a £60,000 deposit.
Example 1 – Buy House First (Save During 20s)
Here's how much money you could have when you retire at age 60 if you only started investing into the stock market at age 30, once you'd sorted the house deposit. Keeping it simple we'll assume you continue to be able to invest £6k a year, or £500 a month, at 6% after-inflation returns. This gives you £500k at retirement, enough to draw an income from.
Example 2 – Invest Instead & Never Buy A House
Now here's what happens if you choose never to buy a house, and you'd been able to start investing in the stock market from age 20, with an extra 10 years of compounding: you retire with £1m at age 60. The money you had put away in your 20s accounts for HALF of your ENTIRE retirement wealth. That's the power of compounding over time.
Example 3 – Invest First (Invest During 20s, Save For House During 30s)
If you instead decided to delay buying your first home until you were 40, what effect would that have on your investment pot? Well, you'd be able to invest for that important first decade, which following on with our example provides £494k of after-inflation net worth to your retirement funds.
You then take a decade off from investing between age 30 and 40 to save for a house deposit. Your initial investments are cooking away merrily during this time.
Bear in mind that your required house deposit will likely be higher by then. If houses increase in value by 3% above inflation annually over 10 years, your required house deposit would move from an average £59,000 to £80,000 in REAL terms; a third higher. And a higher house price likely means higher mortgage payments and a reduced ability to invest.
Then you resume investing at age 40, and are able to build up to a further £231k over the next 20 years from your contributions plus growth. This assumes your mortgage repayments didn't increase.
This amount takes you twice as long to attain, for half the end value of the money you invested in your 20s, again demonstrating the importance of investing early in life. You could end up with £725k, much higher than the £500k you would have got by saving for a house first. But even though your investments are larger, you'd still have a small outstanding mortgage at age 60.
But It's Good To Own Property, Right?
Unless you're planning to access the equity in your home by moving to a cheaper city or downsizing later in life – most people don't – the growth in your house's market value doesn't really matter for your finances. Only the size of your initial deposit matters.
You'll always need a roof over your head – you can sell your house for more, but your next house will cost more too as a result of the whole property market going up together.
Our Preferred Order
Before you set money aside each month for your house deposit, earmark some for investing on a small scale. If you can afford to save £500 each month in total, maybe you just invest £100 of that.
The goal is to learn while the stakes are low, with a large enough amount for you to care about how the investments perform, but not enough to get in the way of your other objectives.
You should always have an investment account even if it only holds a few hundred quid, so you can spend your formative years figuring out the stock market. Like anything worth doing, investing takes experience and time to perfect.
Ramping up your commitment to investing earlier means you get to experiment and make mistakes while your pot is small and it matters less. Once you're older with a family, a mortgage, and responsibilities, you'll be too scared to start once you have more to lose.
With your remaining savings you can save for the house deposit if that goal is on your dream-list. When the house is bought, every spare bit of cash you have should be going into building your investments. Nobody cares more than you do about your retirement, least of all the government. Your future finances have to be YOUR priority.
Which do you think should take priority – saving for a house, or building a freedom fund? Join the conversation in the comments below!
Written by Ben
Featured image credit: Dean Clarke/Shutterstock.com