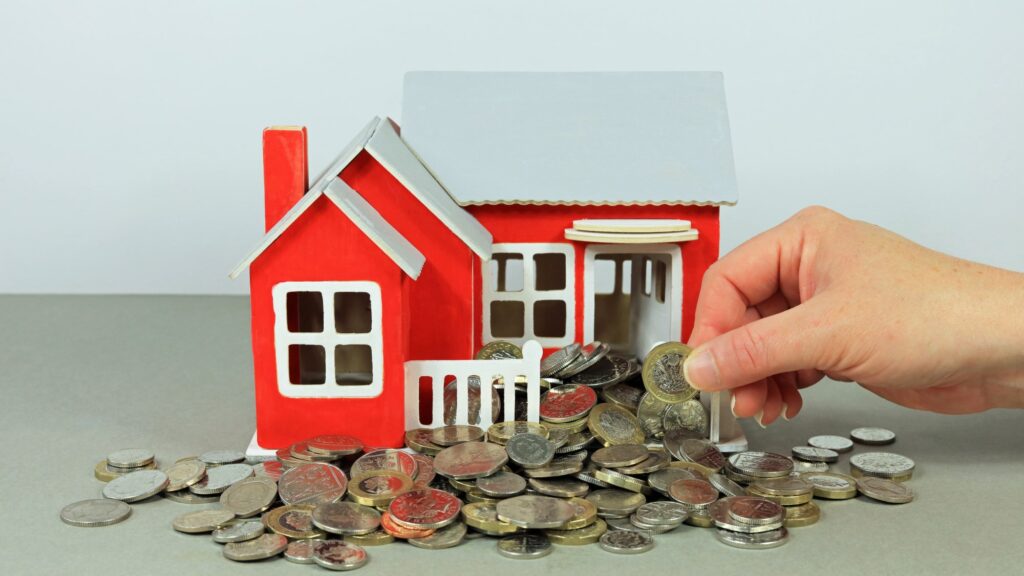 Imagine transferring £50k of extra cash into your bank account, without having to work to get it. Think what you could do with that money. The world would be your playground. This is what I did in my late twenties, and by investing the cash wisely, it transformed my life.
The way I did this was with equity release. Equity release is the popular name for products that provide homeowners with a way of releasing wealth tied up in their property, without having to downsize and move house. I got £50,000 out, but you might be able to get much more.
Your 'equity' is the difference between the value of your home and any mortgage you might owe. Equity release can give you access to some of this money, which would otherwise stay tied up in the value of your property.
If you've owned your home for even a handful of years, it's likely that the property may be worth considerably more than what you first paid for it. On average, UK house prices increased by 17% in the five years to 2020, and are up a further 6% in the first half of 2021 alone! This could mean that you have an enormous sum of money locked away waiting to be accessed.
Here we'll explain how equity release works and show you the different options available to do it no matter your age.
Maybe you dream of home improvements or a holiday, or maybe you intend to live off the money. For us, we'd use the cash to buy some income generating investments. Whatever you'd like to use the money for, equity release will help get you there. Let's check it out!
Another way to make easy money for minimal effort is with Matched Betting, a risk-free technique to profit from the free bets and incentives offered by bookmakers. It can make you £500+ every month for less than an hour a day of effort.
Go to the Matched Betting guides to find out more, and for all the latest offers.
Alternatively Watch The YouTube Video > > >
A Plan For Any Age
Traditionally, equity release products are aimed at the over 55s. A specialist industry has grown in this space, with a very interesting range of products aimed at lump sum and regular income withdrawals.
But if you're younger than 55, fear not: I just told you that I've already done this, and I'm 33. But if you're over 55, or you can wait until then, the specialist products for this age group – known as Lifetime Mortgages – are tailor made for this job, so are worth prioritising.
For Lifetime Mortgages, the most common qualifying criteria are:
The youngest homeowner is 55 or over;
You own the property, either outright OR with a mortgage;
The property is worth more than £70,000;
If you have a mortgage, you will have to pay this off with the money you receive from the equity release.
If you're under 55 this option is closed to you – to release equity, you'll just need to be able to qualify for a regular mortgage on your house's current market value.
How Much Equity Can You Release?
This comes down to your property's value, and if you're under 55, your income. For Lifetime Mortgages, your age is also factored in, and with some providers, your health.
The two times I have released equity, the gap had widened between my mortgage amount and the value of my home. This is due both to monthly mortgage repayments reducing the size of the loan, and to market prices pushing up the property value.
With the specialist products for the over 55s, the amounts you can release are much more clearly defined.
For Lifetime Mortgages, typically you can release between 20-50% of your property's value. The older you are, the more you can release. You can withdraw even more than this with a product called a Home Reversion Plan: more on this soon.
In terms of timeframe, most equity releases take between six to eight weeks to complete.
What It Costs
Let's be clear: most equity releases result in an increased mortgage amount against your property. As such, there is a cost. The main cost is the annual interest on the loan, currently around 2.5% on Lifetime Mortgages, fixed for the rest of your life.
If you're averse to debt, this might sound expensive, especially the "for the rest of your life" part, but consider that 2.5% is essentially the same as inflation. Your property is likely to grow even faster than this, based on historic property growth rates of 5-7% annually.
And it depends on what you are using the cash for. If you choose to invest it over the long-term, 2.5% is perhaps a small price to pay for the rate of return you could get from the stock market for example, typically between 8-11% historically.
There will be some other upfront costs, including loan arrangement fees typically in the region of £1,000 which can be added to the amount you're borrowing, and any brokers and solicitors' fees for sorting this all out, which will typically add up to another grand or so.
The Specialist Products: How Lifetime Mortgages Work
Lifetime Mortgages are a growing but relatively unheard-of industry, serving only 500,000 UK homeowners since 1991. Barely anyone has taken advantage of these life-changing products!
If you take one on, you have the right to remain in your property for life, or until you need to move into long-term care: you can't be evicted by the bank. You also have the right to move to another property so long as your new home is suitable collateral for continuing the arrangement.
With equity release, monthly repayments aren't necessary. You can choose to enjoy the money now, and let the interest be taken from your estate upon the sale of your property, typically after you and your partner have passed away.
Alternatively, if you decide to pay the interest each month, your loan balance remains static.
Finally, with a Lifetime Mortgage you get an amazing feature called a "no negative equity guarantee". You don't get this with a normal mortgage.
A "no negative equity guarantee" means that when the property is sold and all selling fees paid from the proceeds, EVEN IF the amount left over is not enough to fully repay the loan, the difference will be written off. Sweet!
The Different Types Of Equity Release Products
First let's look at the different products available in the equity release market for the over 55s, and then we'll look at how you can manufacture your own equity release by using normal mortgages, regardless of your age.
#1 – Lifetime Mortgage
If you want to release a lump sum of cash up to 50% of the house's value, a Lifetime Mortgage could be for you.
There is no requirement to make monthly repayments, as the amount you release, plus any interest, is repaid from the proceeds when the property is eventually sold. You can choose to pay towards the interest if you like, for those worried about leaving a more intact inheritance to their heirs.
#2 – Income Lifetime Mortgage
This one is really interesting because it allows you to turn your home into an income stream! An Income Lifetime Mortgage gives you flexible access to your equity. Rather than releasing a lump sum upfront, you can release your cash over time as a regular income.
If the value of your house is expected to go up by X amount each year, you might decide to withdraw that amount, less the interest cost and perhaps less inflation too, as an income each year.
Think about it! You can add an extra income stream to your other retirement incomes, without depleting your home equity!
#3 – Home Reversion Plan
This is an option for those who really need the cash. With these, you can take out even more equity than with a Lifetime Mortgage, typically up to around 60%. But it comes at a terrible price.
In exchange for a lump sum worth 60% of the value of your home, you would be signing over the entire ownership of your house to the product provider. Not the best of deals. But, you would not be taking on any debt, and you would get the right to stay living in the property for your lifetime, so this will no doubt appeal to some people.
How To Do It Yourself If You Are Under 55
If you are under 55, the only way to release equity from your home – other than moving house – is to get clever with how you use normal mortgages.
I've done 2 equity releases on my house over the years. Here's what I did the first time. I ran a quick calculation to make sure that the finances worked, which was as follows:
I got my house valued for free by Yopa at £230,000. I was confident then to start the formal remortgaging process, as you need the bank to agree with your desired valuation. They did, and also valued it at £230,000.
I knew the new mortgage would be around £207,000 at a 90% LTV. The bank would pay this amount to my solicitors, who were provided by the bank as part of the service.
My old mortgage would need to be paid off by the solicitors, at £179,000. This would leave the solicitors holding nearly £28,000, payable to my bank account.
So I pushed ahead with the plan, and received nearly £28,000 in my bank account a few weeks later.
Was It Worth It?
We're not suggesting you release equity to squander the money on frivolous things like holidays or fast cars. Although you could.
I put the released equity into a buy-to-let property, the expected investment returns on which were 20% annually. Minus the additional interest payments from the equity release, the net annual benefit was £3,600.
If you ever plan to release equity, you want to be able to do so on your schedule and at the opportune moment. If there is an Early Repayment Charge on your existing mortgage, you would either have to wait to be clear of the fixed-term period, or pay the price. I had to pay an ERC to break contract when I did this, but it would have been unnecessary if I had avoided a long fixed period in the first place.
Things To Consider
The new lender may ask you what you plan to do with the money. While we think it's really none of their business, it's best to be honest.
Banks are usually uncomfortable with the thought of you investing your borrowed money, when you could be spending it all on a holiday like a normal person. It's a strange world we live in.
Here's where using an independent mortgage broker comes in handy, as they will know how best to circumnavigate any uncomfortable questions in the application process.
And if you're going for a Lifetime Mortgage, a chat with a financial advisor who specialises in these products would be sensible too.
It's also worth remembering that just selling up and moving to a cheaper property could be a simple alternative to equity release, resulting in a similarly large lump sum of cash. This might be done through downsizing, or by moving to a part of the country with lower house prices.
For Lifetime Mortgages, releasing funds in your lifetime that would otherwise stay tied up in your home until you pass away will reduce the size of your estate for inheritance purposes. Lifetime Mortgages aren't designed to be repaid in your lifetime.
Finally, consider what your life could be like with a huge injection of cash at just the right time.
Equity release changed my life: it bought me a couple of extra sources of income from investment properties; as a cash buffer, it gave me the confidence to quit jobs with nothing else lined up; and it eventually let me quit my career altogether and go full time on YouTube. What will it do for you?
Have you ever considered releasing equity? And when you're over 55, would you draw an income from your home? Join the conversation in the comments below!
Written by Ben
Featured image credit: Dean Clarke/Shutterstock.com