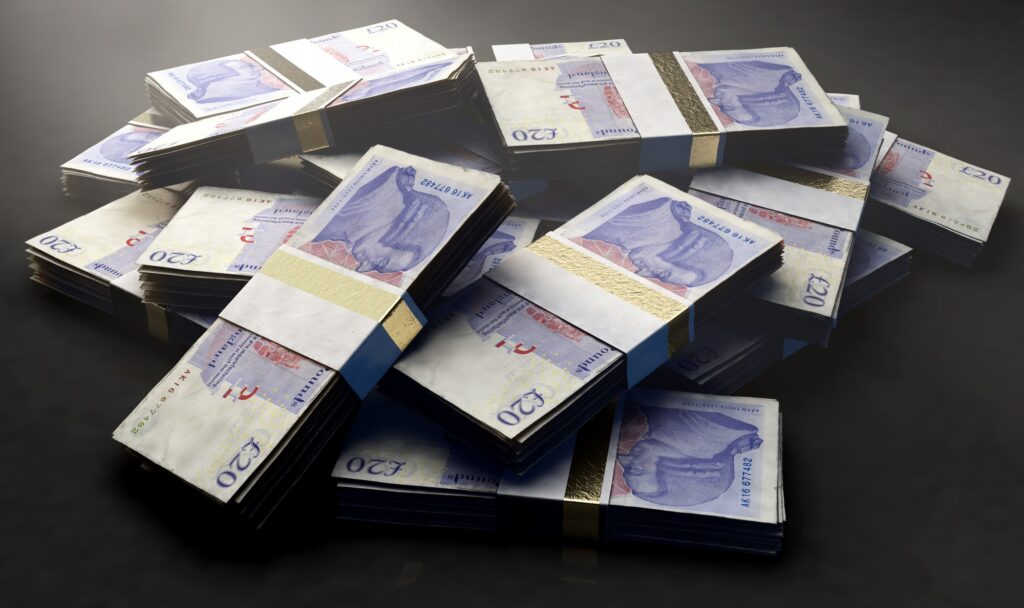 So you need an extra £1,000, and you need it quickly. How can you do that? In this article we're brainstorming 10 ideas to get your hands on £1,000 as fast as possible.
We'll cover a bunch of legitimate ways for you to earn that money swiftly – often from the comfort of your own home – plus the smartest ways to borrow a grand without screwing up your finances. Let's check it out!
Alternatively Watch The YouTube Video > > >
#1 – Cashback Offers
The internet is littered with cashback offers, and we've collected a whole bunch of them into one place on the Money Unshackled Offers Page.
This page has hundreds of pounds of cash bonuses, mostly for opening investment accounts, or switching energy or home insurance provider.
You can also get cashback offers by switching your bank account, the best current deals being on moneysavingexpert.com.
At time of filming, HSBC were giving away £125 cash plus a £20 Uber Eats voucher just for switching, and First Direct £100 cash – why not take advantage of both over a couple of months?
After exhausting these, you can take a deep dive into topcashback.co.uk, where you get cash back from purchases when you shop online. Obviously, this should only be used to get paid a little back for things you were going to be buying anyway.
#2 – Matched Betting
Matched Betting is risk-free, unless you don't follow the instructions correctly, and these can be found in our guides here.
You use the bookies' websites against them to milk them of their cashback bonuses by placing bets on both possible outcomes of a sporting event. That's why we say it's risk free – you can't lose!
But you can make a lot of money – when I tried it I was able to make £500 a month in the first 2 months by spending just over half an hour a day placing bets.
If I had doubled up my efforts I have no doubt that I could have made £1,000 in the first month.
Indeed, that's exactly what lots of people do. Matched betting is an easy way to make extra income each month in your spare time, and a fast way to earn £1,000. And if you now work from home, there's nothing stopping you doing this on your boss's time!
To do it properly you need to sign up to a matched betting site, like OddsMonkey or Profit Accumulator.
We have introductory offers for the top matched betting, including 60% off the first month or the first 12 days for just £1 (normal cost £19.99 a month), which more than pays for itself if you do the maths.
For more information about how you too can profit, check out our full video guide here.
#3 – Credit Cards
These next two ideas discuss ways to get your hands on £1,000 or more quickly, but by borrowing it over a long, low interest repayment period, rather than earning it.
As such, they should be approached with proper respect and financial literacy. Debt is like fire – if you don't know what you're doing you'll get burned, but if you can use it effectively it will both cook you a steak and run you a hot bath.
Not all credit card debt is created equal.
The way we've successfully got money out of credit cards in the past is to use either 0% Money Transfer Credit Cards, or 0% Purchase Credit Cards. Both typically have long interest-free repayment periods of 20 to 36 months.
A Money Transfer Credit Card is good for accessing money immediately, as they literally transfer thousands of pounds into your bank account.
It's like a 0% loan, but there is a small fee to do the transfer which gets added to the debt.
I have held a balance as high as £15k on this type of card at one point, as I used the cheap borrowing to help me to buy rental properties with.
A Purchase Credit Card might have a similarly long interest-free repayment term. But the way you get cash from it is you use it to buy your everyday outgoings – things like your food shop and petrol – and pocket the cash you would have spent.
In both cases, you need a plan for how you will pay back the balance before the end of the interest-free period.
Putting a few grand in your pocket at a key financial crossroad in your life might make all the difference to your future. It's a balance of risk you have to weigh up for yourself.
#4 – Cut Back Without Cutting Out
One obvious way to get £1,000 fast is by selling some of your stuff. This is aften a non-starter for most people as they don't want to sell any of their trinkets, and in any case, they need their Louis Vuitton clutch purse with Damier Ebène canvas and natural cowhide trim.
But we're not suggesting that you go without – but think about the cash you could claw back quickly by switching out your existing stuff like-for-like with less expensive alternatives.
One easily tapped area is cars. Can you trade in your 3-year-old BMW for a 3-year-old Mazda? You might make several grand on the transaction.
Can you sell your iPhone 20 Pro Max on the second-hand market, and buy a second-hand Samsung Galaxy S9? You could be up several hundred quid.
Also, go through your house and single out things which no longer give you joy, and whack them on Facebook Marketplace. Do you need 3 sofas? Is that £500 of home gym equipment still doing it for you?
#5 – Trading Stocks
Next up is stock picking, and the tool we use for this is Stockopedia. While long-term investing seeks steady long-term returns of around 8-10%, stock picking CAN result in 100%, 1000%, or even higher returns.
Stockopedia works by first serving you up a series of stock suggestions based on specific criteria – such as growth, dividends, mirroring an investing guru's methodology, and more – and then tells you pretty much everything you need to know about a stock's financials all on one page.
Stocks are ranked by Value, Momentum and Quality out of 100, and you can easily find stocks that excel in all areas.
While highly ranked individual stocks are by no means guaranteed to be winners, historical rankings have had a high correlation overall with whether stocks performed well or did badly.
Try Stockopedia for free for 14 days using this link, and see what you think. The link gets you a 25% discount too, if you stick around for more!
#6 – Crypto Mining
Now here's a way of taking advantage of the crypto craze without feeling the need to buy speculative investments. All you need is some graphics cards, a computer, and an internet connection, and you can set your computer to mine cryptocurrencies while you go off and do something more fun,
Mining crypto can pay hundreds or even thousands of pounds a month, and scales with the number of graphics cards you own.
You might already have the equipment if you have a gaming or video editing machine. With just one graphics card you might make a couple of hundred quid a month. Add this on to some of the other ideas in this article and you're on your way to 1 grand. Invest in several more graphics cards and you're already there.
For a more in depth look into crypto mining – check out this article next on the 3 Big-Money Side Hustles To Start In 2021.
#7 – Use Your Assets
Do you own a driveway? Rent it out for someone to park on. Do you own a car? Get paid up to £100 a month for placing an advert on your car at carquids.com.
Do you own your home, whether outright or with a mortgage? Then rent out a room or two to lodgers, for hundreds of pounds a month each.
I once rented out a room in my home for £400 a month over an 18-month period, netting me over £7,000 tax free.
An asset doesn't have to be physical, or even something that costs money. Do you have a risqué story to tell, that a magazine or newspaper might pay good money for?
Gossip magazines love this rubbish. According to frontpagestory.co.uk, you can get £10,000 or more for a good bit of goss.
Similarly, if you've caught a unique video or photo on your phone, someone in the media might want to buy that too – preferably of a politician eating a sandwich in an unusual manner (sorry, Ed!).
#8 – Online Jobs
Next up are a whole bunch of ways you can make money online from your sofa, while reruns of 90s sitcoms play away in the background.
Anything you can do online that trades your time for money is really a second job, but there's nothing stopping you having several online "second jobs" at the same time, and anyone can qualify for them.
PeoplePerHour is a popular site which matches paid project work with people who want to do the job. Here's some current trending examples of work on offer.
Do you have a skill that you can use in the evenings and weekends to bring home some extra cash from doing online project work? This might range from being able to type to being able to code. The rarer your skillset, the bigger the bucks.
Then there are sites like usertesting.com, who pay you to test websites and apps.
You might also try your hand at designing stuff for sale on Etsy or teespring.com – stuff like this sweet MoneyUnshackled Wage Slave mug. Of course, people would actually have to want to buy your products for you to make any serious money fast…
Finally, you can make fast money from online surveys and market research video calls. Someone we know who does this in their evenings in front of the telly made over £1,600 over the last 12 months, split out like this. The pay-out rate varies wildly, with household name YouGov amongst the stingiest.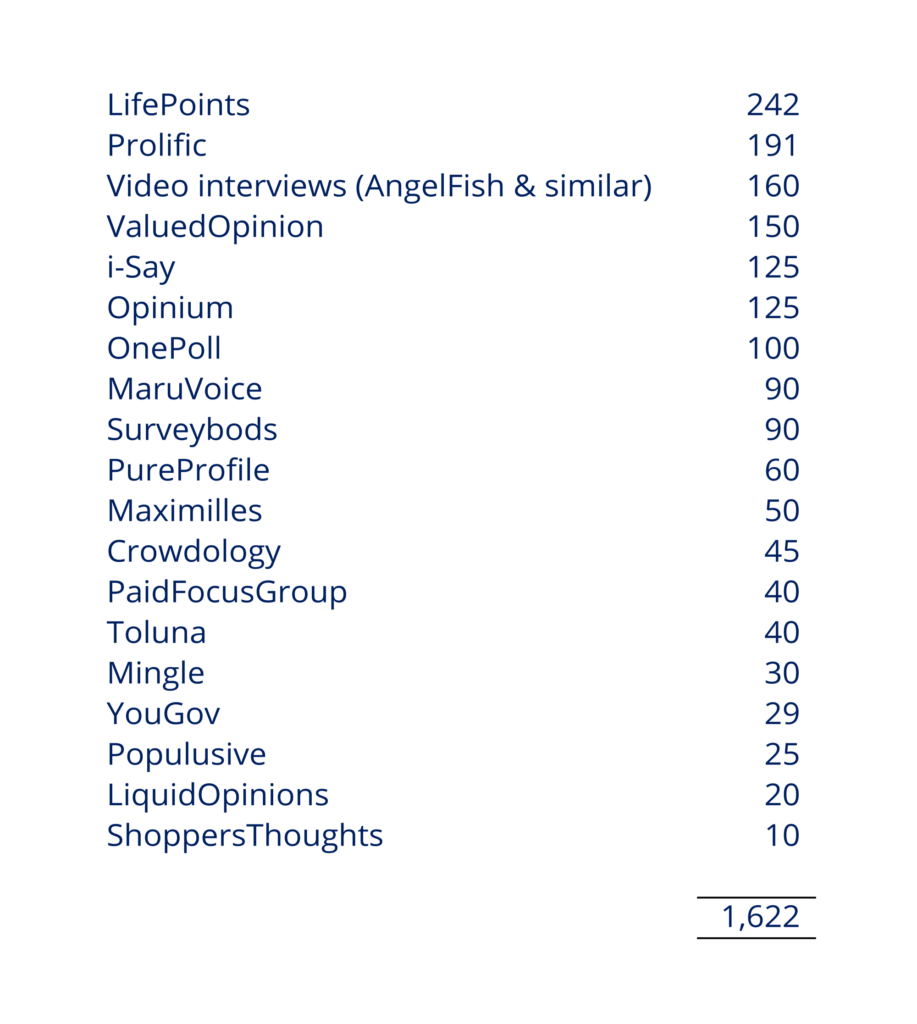 #9 – Physical Side Hustles
And then, there are real world physical side hustles that almost anyone can sign up to and start making decent money fast in their spare time.
These include gig economy jobs like Deliveroo and Uber that you can do in your own time, product testing where you get sent stuff in the post to report back on, being a mystery shopper, and cat sitting.
#10 – Medical Trials
People are also paid good money to take part in medical trials – a quick google cites numbers of £100 a day to £4,200 per trial.
Medical trials don't normally get to the testing on humans phase until they've been thoroughly laboratory tested in all other regards, and can range from initial human testing through to a box ticking exercise before a new product goes to market.
The medical testing companies all cite ensuring your safety as their main concern of course, but that's a judgement call for you to make.
What other ways are there to make £1,000 fast? Join the conversation in the comments below!
Written by Ben
Featured image credit: Inked Pixels/Shutterstock.com