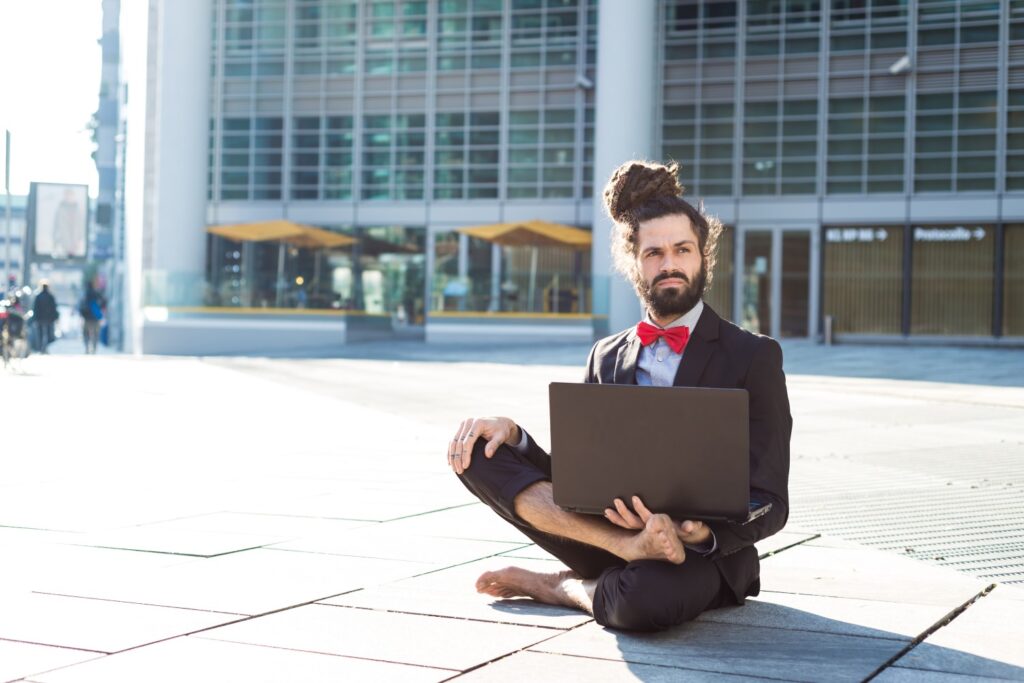 What percentage of your income are you saving or investing each month? If you're like most Brits, it won't be anywhere near enough.
We know this because the average Brit retires at age 64. If they were saving properly for retirement, we're betting FEW would willingly choose to limp on into their mid-60s.
But how much of your income do you need to be saving each month to reach your goals?
In this article we'll assume that your goals are a comfortable retirement, on your terms, starting sometime in your 40s or 50s.
We'll look at what the financial gurus recommend, we'll look at what most normal people are doing, and finally what you need to do to set yourself apart from the slow-laners who follow the mainstream media narrative.
It might even be that the whole notion of saving a percentage of your income is flawed. Maybe there's a better way?
Alternatively Watch The YouTube Video > > >
What Percent Of Their Income Do Other People Set Aside?
The average UK citizen saved just £2,292 in 2020, according to Charter Savings Bank.
The average salary in 2020 was just under £26k, so from this we can calculate that the average person saves around 11% of their job income, after taxes and other pay-slip deductions.
We also know that the average person retires at 64 – the average retirement age is expected to keep climbing, and will probably be well into the 70s by the time our generation gets to retire.
If we know the average person currently retires at 64 and the average person saves 11% of their income, it seems that saving 11% is not going to be good enough for you.
For you to reach financial freedom before your 70s, you're going to need to be putting aside more than the average Joe.
Though to be fair, the majority of these savings will not be invested in wealth building assets – instead, they will have been left to fester in a low interest bank savings account.
But as we'll soon calculate, even when properly invested, 11% is still far too low.
We're also very sceptical of these savings statistics – far too often, what people describe as their "savings" are really "delayed spendings".
What they count as savings today goes on fixing the car tomorrow. Our definition of saving is putting that money aside and never touching it again until retirement.
Savings % By Age
You'd think that when you're younger it would be harder to save or invest a high percentage of your income, because you probably don't have much of it. Any money you bring IN goes straight OUT again on rent.
There's some truth in that – but people in their 20s actually save above the national average, probably because they don't have families to pay for:

People in their 30s are able to save the most, as most people are established in their careers by this point and raking in the big bucks.
For whatever reason, saving tails off once people pass the age of 50 – perhaps they are putting money into pension accounts as well that is not reported in this data. But still, these numbers are very low.
Is Anyone Investing Their Savings?
Of course, to get anywhere in this world, you need to be INVESTING your savings, not stashing them in a bank account.
Cash accounts earn less than nothing due to inflation and low interest rates. The stock market on the other hand is widely quoted as having an average return of 8% since records began.
A person who saves 10% of their after-tax income in a Cash ISA will fare FAR worse over time than a person who invests 10% each month into a Stocks & Shares ISA.
But the most recent data tells us that for the tax year ending April 2019, just 22% of ISA subscriptions were Stocks & Shares ISAs, compared to 76% for Cash ISAs.
What Do The Financial Gurus Say?
JL Collins, author of The Simple Path To Wealth, recommends you aim to save or invest a full 50% of your income.
While he admits that he hasn't always been able to do this himself, he credits the setting of this target as having been essential with helping him to become financially independent while still young.
Andrew Craig, author of Live on Less Invest The Rest, suggests people should invest 10% of their income as a minimum, and anything over and beyond that will also be beneficial.
We find this a bit unambitious personally, though we do respect most of what this guy says. 10% is simply no good for retiring before your 60s. But it's better than nothing.
Most commentators agree that the answer lies somewhere between 10 and 50 percent. Some in the FIRE community take it to the extremes and invest over 70 percent of their incomes.
Some are doing this by living like tramps, while others are able to set aside so much by pursuing a higher income. Let's now look at how hard it is to increase your savings percentage.
Is Saving X% Really So Hard?
The average UK citizen who earns £26k is in the top 3%, richer than 97% of the people on Earth. So in theory, saving money really shouldn't be that hard.
The reason you may not feel this well-off is though is because you are used to a certain lifestyle and standard of living.
You choose to live in expensive accommodation. You choose to have the big TV, ten monthly subscriptions and a new car on finance.
We're not saying any of this is a bad thing – we're just pointing out that in this country, saving for our futures is often a choice that comes second place behind our lifestyle priorities.
Saving a higher percentage gets far, far easier the higher your income is. This is because the range of money that most people need to live on is quite similar, while incomes can vary wildly.
You probably only need around £20,000 after tax income to live a moderate lifestyle in most cities – anything earned over this could in theory go straight into your early retirement fund.
You'd probably find that moving from saving 10% of your income to 20% is easily done if you were to get a promotion or move jobs.
Assuming these numbers are all after tax: 10% of a £25,000 income is £2,500. 20% of a £30,000 income is £6,000.
If you'd just moved up the career ladder from £25k to £30k, your salary would be up by £5,000k. But your savings per month only need to go up by £3,500 to double your percentage of income saved.
You just got an extra £5k of income, so doubling your savings rate in this scenario is EASILY achieved. So long as you don't succumb to too much lifestyle inflation!
But if you are not able to increase your income, the only option left to you if you want to increase your savings percentage is to cut back.
But to reach anything like 50%+ and join the top ranks of the FIRE community by only cutting your outgoings, you'd have to make some radical lifestyle changes.
But let's assume you don't want to live on rice and beans for the rest of your working life. What's a more realistic amount to be saving each month?
How Much We Think You Should Invest Each Month
The correct answer is, you need to work backwards from your target wealth goal, choose a timeframe that you can stomach, and aim to save and invest at least the percentage that this calculation tells you to.
For both of us, the goal is a minimum £500,000 per person in a household.
This would bring in an annual income per person of £20,000, using the famous 4% Safe Withdrawal Rate rule – what we think is enough for one person to live a basic lifestyle.
Say you start investing at age 25 and your salary is £30,000 after tax.
Let's further assume that the absolute maximum you're willing to tolerate slaving away for would be 15 years, gaining financial independence at age 40:

You would have to invest 57% of your income over this timeframe to reach this goal, with compounded average stock market returns.
While the same person allowing themselves an extra decade to reach their goal, with a target freedom date at age 50, need only save 21% of their income.
Alternatively, the correct answer is as simple as; "if your goal is financial freedom, you need to save as much as you possibly can, because freedom ain't cheap".
As a footnote to this rule, you may believe you are already saving and investing as much as you possibly can. But are you really? Or are you in fact just investing as much as your lifestyle allows you to?
The Slow Lane Mindset
Unfortunately, the rot of "the 10% savings rule" has spread widely across the mainstream media.
Next time you see a financial expert on the BBC they'll likely quote this number like it's some kind of gospel truth.
This doesn't help anyone though and is just a form of talking down to the audience.
Quite a number of other outlets including Experian are now citing the 50/30/20 rule, which is an improvement.
It suggests spending 50% of after-tax income on essentials, 30% on non-essentials, and leaving 20% aside for your savings pot.
But to us this still lacks aspiration. Especially while you are in the first half of your investment journey, how much you can save each month is far more important than your return on investment.
And yet we see investors worrying about the difference between an 8% and an 8.5% return, who are only depositing a few quid a month.
As we showed before, investing around 20% of your after-tax income is probably OK if you want to retire in 25 years' time.
But who wants to be forced to work for 25 years?
25 years is long time. Every percentage that you can edge that savings rate higher will shave years off your career.
Switch To The Fast Lane Now
Also common in the mainstream media is a total disregard for investing.
Newspaper articles about home finances will only quote the latest Cash ISA interest rates; the BBC's coverage of individual investors paints us all as uninformed chancers who jump onto bandwagons like GameStop and Crypto.
But most of the viewers of these shows and readers of these magazines are stuck in the slow lane of cash savings – the media are just talking to their audience.
You need to switch into the fast lane of investing, and we're not talking about some scary Wild West where you gamble your savings on a single stock or the latest fad.
A "Do-It-For-Me" investing platform like InvestEngine invests into diversified funds FOR you. It's as simple as answering a few questions about your risk tolerance and target time period, and hey presto – you're delivered a portfolio of diversified funds covering stocks from around the world, both big and small, with some precious metals for protection against downturns. And the total fees are tiny at just 0.25%!
Find your way to InvestEngine via the link on the Offers Page and they'll give you a £50 bonus upfront!
What percentage of your income do you set aside for early retirement? Join the conversation in the comments below!
Featured image credit: Eugenio Marongiu/Shutterstock.com