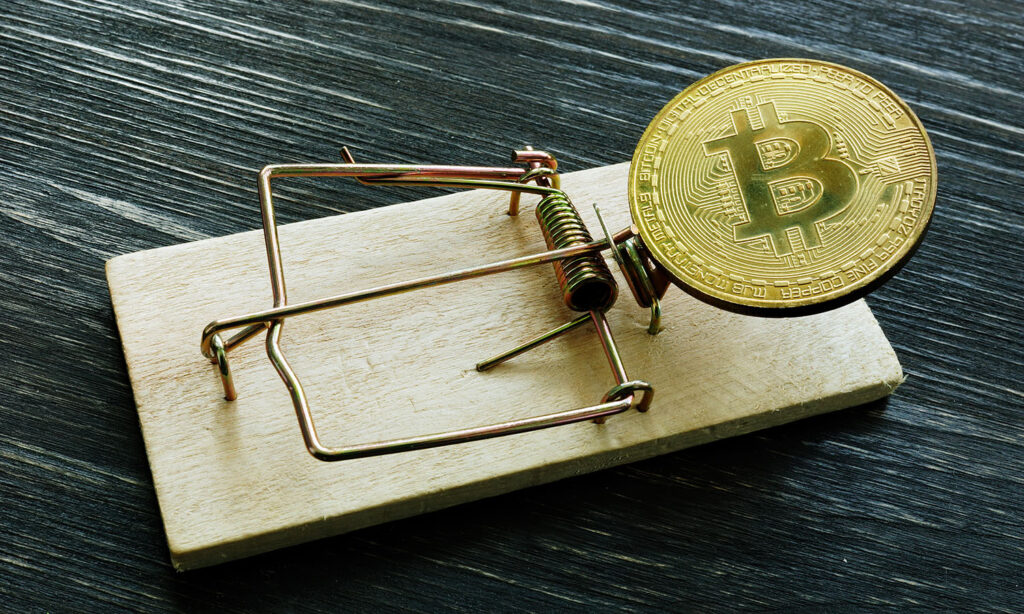 Hello and welcome to Money Unshackled News. The headlines:
BoE fails to raise interest rates, despite everyone saying they should have. Bank governor denies policymakers 'bottled it'.
Hidden tweak to pension rules in the Budget could see workplace pension fees shoot up.
JPMorgan says Ethereum is a better bet than Bitcoin as interest rates rise.
UK leads the way in retail footfall recovery among EU peers and Christmas is expected to be the biggest spend ever.
Watch out for new 'pig butchering' crypto scam which saw somebody lose $60k.
As Lloyds Bank shuts 48 more branches, high street banks will disappear from the UK by April 2032 if the current rate of closures continue.
Are you sure you want to go green? The real cost of Boris Johnson's Green Britain plan is expected to be £1.4 trillion.
And finally, half of borrowers will still have a mortgage aged 65+.
We've gathered all the latest money news from the past few weeks that matter most to your finances. If you find this financial news bulletin useful then hit the like button and let us know down in the comments. Let's check it out…
If you want to grab some free cash check out the Offers page. InvestEngine, Loanpad, EasyMoney, Octopus Energy, and others are all giving away £50 in welcome bonuses. Free stocks available too.
Alternatively Watch The YouTube Video > > >
BoE fails to raise interest rates
The Bank of England holds interest rates at an all-time low of 0.1%, despite widespread anticipation it would increase the rate to 0.25%. The Monetary Policy Committee voted by a majority of 7-2 to maintain the Bank rate as it is.
Analysts have said that they expect the rate to be hiked to pre-pandemic levels in the next 18 months as the economy resumes a more steady course.
Governor Andrew Bailey fought back amid suggestions that the Bank wrong-footed investors by signalling an imminent rate rise ahead of the decision and told Sky News: "It was a very close call".
Lenders Natwest, Lloyds and Barclays – whose profitability tends to be boosted by higher rates – saw their shares fall by 4% or more as a result of the news.
Mr Bailey told Sky News that rate-setters still needed to see "hard evidence" on the state of the jobs market before any hike and that an increase would not directly address supply chain issues that are key causes of the acceleration in price rises.
In related news the UK is facing a cost-of-living squeeze after the Bank of England predicted that inflation will be heading to 5% early next year, its highest level in a decade.
Our take on the matter is that it's only a matter of time before the decision is made to slowly begin to start raising the interest rate but as stated many times before we cannot see this increasing much due to the financial struggles that both Britons and the government are facing.
Hidden tweak to pension rules in the Budget
The Budget slipped by largely unnoticed in October, as for once it seemed that taxpayers, savers and investors had managed to avoid the usual punishment beatings.
But a little reported tweak to pension rules slipped though the net which may have big consequences for those of you saving for retirement. Workplace pensions currently have a fee cap in place which stops your fund provider from fleecing you for fees. This Budget paves the way for this cap to be removed.
Martin Lewis says: "This can be positive, as it allows a wider choice, but must not be allowed to push up the norm for charges for simple funds." And if you've looked at your workplace pension, the fees on funds can be pretty steep already.
A half solution might be to at least move old workplace pensions to a SIPP where you can pick your own low-cost funds; more information on SIPPs can be found here and includes welcome offers for some providers. But if you want your employer to match your contributions, you'll likely have to stick with the more expensive workplace pension.
JPMorgan says Ethereum is a better bet than Bitcoin as interest rates rise
JPMorgan says Ethereum is a better bet than Bitcoin as interest rates rise, due to the boom in DeFi and NFTs. Ethereum is at the heart of decentralized finance and the market for non-fungible tokens, two booming areas. Bitcoin is apparently more akin to digital gold, which is likely to fare less well as interest rates and bond yields rise.
JPMorgan analysts, said in a recent report that rising interest rates could pose a problem for Bitcoin, just as they traditionally do for gold. "With Ethereum deriving its value from its applications, ranging from DeFi to gaming to NFTs and stablecoins, it appears less susceptible than Bitcoin to higher real yields."
The bank's analysts also said Ethereum may be the better bet over the longer-term due to the growing importance of environmental concerns in investing.
Both cryptocurrencies currently use a validation and security system that uses vast amounts of electricity. Yet Ethereum plans to move away from this system to a far less energy-intensive one by the end of 2022.
However, JPMorgan has said that both cryptocurrencies currently appear overvalued since most institutional investors won't touch them due to being far too volatile.
Honestly, we have no idea how anyone can attempt to value any crypto at this early stage in their lives. Who would seriously be surprised if Bitcoin or Ethereum tripled in value from here, or collapsed threefold? Much of their value depends on their always being someone else willing to buy the coins.
Could either follow the path of SQUID coin, a cryptocurrency designed around popular Netflix show Squid Game, which rocketed 23 million percent in value to $2,860 a coin… only to plummet to nearly $0, when investors found no-one else was waiting in the wings to buy their coins.
UK leads the way in retail footfall recovery amongst EU peers
Now for something you'll never see on the telly – some positive news! The number of people shopping on Britain's high streets in October beat all major economies in the European Union new data has shown, reports Yahoo Finance.
Total UK footfall saw a 3.2 percentage point improvement in October compared with the month before, boosted by the school half-term and Halloween.
However, it's still down 13.7% compared to this time 2 years ago – i.e., if we compare it to the October before the pandemic.
We may have lost the Euros to Italy back in the summer but we're smashing their retail figures; Italy's footfall was down 34.6%. Similar dire figures were seen for Spain, down almost a fifth; Germany slumped 26.2%; and France declined 34.9%.
The Sun reports that Christmas shoppers will spend a record £85bn as eager families are already hitting high streets for presents and food. Brits are expected to splurge over £5 billion more than last year's £80bn Christmas shopping bill. Money saving website VoucherCodes says the average Brit will spend nearly £1,300 per person for the special day.
Watch out for new 'pig butchering' crypto scam
A massive global crypto fraud which began in China has recently spread to the US and Europe. The Sun reports that a guy lost $60,000 in a new crypto scam when a dating site fraudster brainwashed him into investing in a fake scheme. This unfortunate guy is one of thousands who have fallen victim to the scam.
The fraud is known as sha zhu pan – or "pig butchering"- in a sick reference to how the target is said to be "fattened up" ready for slaughter. It sees professional con artists linked to the Chinese mafia spend months building victims' trust before pushing them to invest in bogus get-rich-quick schemes.
The guy bought some Ethereum via an online broker she recommended. The clever part of the scam is that the victim initially makes a profit and is even able to withdraw the money – but by then they are hooked. Sha zhu pan has been huge in China in recent years but was virtually unknown in the West until this year.
The scam focuses on tech-savvy young professionals with an interest in cryptocurrencies. This could include many of our audience, so stay vigilant. It's probably similar to the scammers that are always clogging up the comments section below our and other Finance YouTubers' videos, so be wary of YouTube comments about crypto too!
High Street banks will disappear from the UK by April 2032
Lloyds Bank is to shut 48 branches amid a decline in customer visits. Similar stories to this have been hitting the headlines for years now, so should come as no surprise. But what may surprise you is the rate of closure. Financial analysis firm AskTraders said high street banks will disappear completely from the UK by April 2032 if the current rate of closures continues.
Just 7,655 banks remain on British high streets, with an average of 55 banks closing every month for the past five years – that's 660 a year.
While the loss of a useful service and jobs is quite sad, honestly when was the last time you actually visited a bank branch? Anecdotally, people we've spoke to who say they occasionally use a bank to pay in a cheque had no idea that most good banks allow you to pay in cheques using their mobile app by simply taking a photo.
Of course, closure of banks will hurt some people more than others. Trade union Unite said "These closures will deny access to vital services and cash to thousands of customers who will be disadvantaged as a result."
But the fact of the matter is that society is increasingly moving towards being cashless and online, so surely banks cannot incur massive costs to please a small percentage of people? Moreover, most people are unaware that basic banking services for your bank are likely accessible via the Post Office, which are usually present in every town in the country.
The real cost of Boris Johnson's Green Britain plan is expected to be £1.4 trillion
Is going green such a good idea? While most will answer yes and say it's of vital importance, the cost is set to be astronomical. Downing Street has set out its plan to cut carbon emissions to net-zero by 2050, and the inflation adjusted cost of doing this is expected to be £1.4 trillion over the next 30 years, the Office for Budget Responsibility has warned. That's the equivalent of £1,700 a year for the average household, on top of £3,000 of tax increases per household already announced over the last year.
Phasing out gas boilers over the next decade and investing in home insulation, electric car charging points, and nuclear power plants are all part of Boris Johnson's vision for 'Green Britain'. We are yet to be given an exact breakdown of how costs will be spread, but higher taxes and higher consumer prices are expected to contribute to the total sum.
Replacing boilers with low-carbon electric heat pumps is expected to cost £10,000 on average and not everyone will benefit from a voucher scheme which covers half that sum.
The Telegraph reports that less than half the population is willing to pay thousands of pounds to make their homes greener and help meet Boris Johnson's net zero goals.
Half of borrowers will still have a mortgage aged 65+
And finally in property news, half of borrowers will still have a mortgage when they are aged 65 and over, reports whatmortgage.co.uk. Increasing numbers of people are borrowing with mortgages in their later life leading to concerns the dream of retirement may be under threat for many.
UK Finance said: "There's been growing demand for mortgages from those aged over 55 and this is set to continue as more people live and work for longer." For the average person this is a very worrying sign. The ability to work past your sixties should not be taken for granted. Ill health leaving you unable to work and unable to fund your mortgage repayments in retirement is a real threat.
For the investors watching, you may actually prefer to still have an outstanding mortgage in old age because you might be willing to tolerate the risk of borrowing on a cheap mortgage to invest and earn greater returns elsewhere. This is something we ourselves might plan to do if we're not already loaded at this point!
What's your opinion on higher consumer prices and higher taxes to fund green policies? Join the conversation in the comments below.
Written by Andy
Featured image credit: Vitalii Vodolazskyi/Shutterstock.com