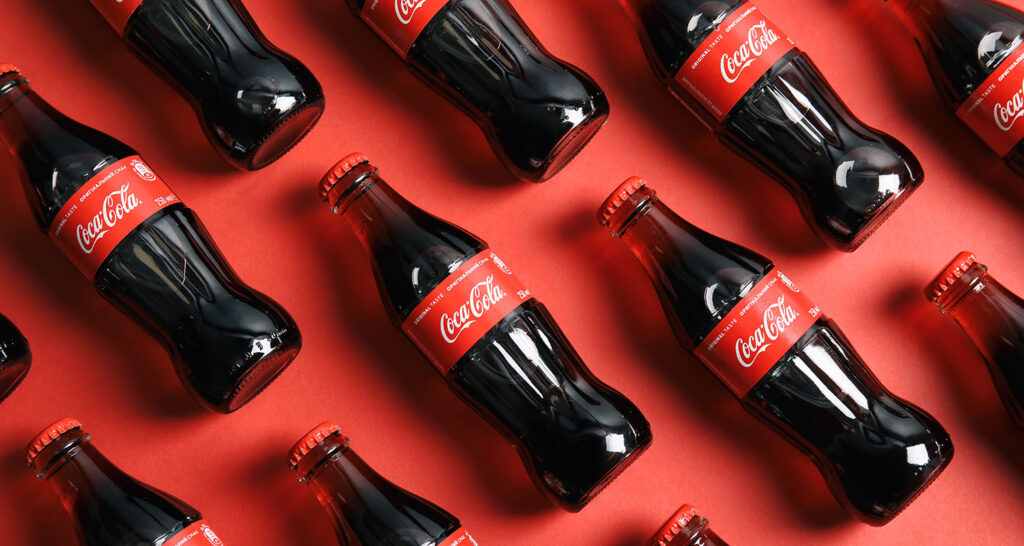 Hey guys, in today's post we'll be looking at Warren Buffett's portfolio. Warren Buffett through his company Berkshire Hathaway has consistently been one of world's best investors. If we all want to become better investors it makes sense to listen to the very best, and perhaps we should take inspiration from what they invest in.
Over in the US, institutional investment managers with at least $100 million in assets under management are required to disclose their equity holdings on a quarterly basis. This is publicly available and can provide insights into what the smart money is doing in the market. Today, we're going to reveal the portfolio and look at the big positions in a little more detail. Let's check it out…
Want to make easy money for minimal effort? Check out our Guides to Matched Betting, a step-by-step technique to profit from the free bets and incentives offered by bookmakers. It can make you £500+ every month for less than an hour a day of effort.
Alternatively Watch The YouTube Video > > >
Why You Should Care What Buffett Buys
Ordinary folks tend to buy index funds like the S&P 500 because they probably don't have a stock picking edge. But Buffett is no mere mortal – Berkshire Hathaway has delivered investment gains that have left the S&P 500 in its dust. But don't take our word for it. Let's look at the actual numbers.
Each year when Buffett's company issues the famous shareholder letter, we get to see exactly how Berkshire Hathaway has stacked up against the S&P 500.
Since 1965, the S&P has returned 10.2% annually. Buffett has returned 20% – almost double. This would be impressive over 5 years, but he's been smashing the leading US shares index for almost 60 years. That's a whole other level of awesomeness.
The true magnitude of that outperformance is not clear when we only look at annual returns, so let's look at the overall gains. Make sure you're sitting down for this because it's unreal.
Overall gains from 1964 for the S&P 500 are 23,454%. Very impressive until you hear that Berkshire returned 2,810,526%.
If you had invested just $1,000 into the S&P 500 you would now have $236k. Had you invested that same $1,000 in Berkshire, you would have over $28m.
We think this nicely demonstrates the importance of getting high returns and not settling for anything mediocre. One way to match Buffett's returns is to simply buy Berkshire Hathaway stock. Investors interested in buying into Warren Buffett's Berkshire Hathaway have two options: Class A stock (BRK-A) and Class B stock (BRK-B).
The Class A shares have never experienced a stock split and are currently priced at $431,000 per share. The Class B shares, currently priced at $286, were created to allow ordinary shareholders to buy shares directly as the class A shares were clearly out of reach.
Today, apps like Stake (new customers get free stock here) allow you to buy in fractions anyway, so this might not be as big of a problem as it once was.
One big reason to buy Berkshire stock, rather than buying its holdings individually yourself, is that Berkshire owns numerous companies outright – meaning they're not traded publicly, so you'll never be able to replicate Berkshire in its entirety. But by concentrating on the individual public stocks, you may even do better! With that being said, let's look at the portfolio.
#1 – Apple (AAPL)
Apple is by far the largest holding for Buffett, comprising 42% of the portfolio. Berkshire Hathaway owns approximately 907 million shares in the tech giant, worth $134 billion at the time of this video and is a stake of 5.5% of Apple.
Their shareholding is actually down from its peak as Buffett pocketed $11 billion by selling a small portion of their position, which Buffett later admitted was probably a mistake on his part.
Warren Buffett and Charlie Munger have spent just $36 billion to acquire their stake in the technology company from 2016 till 2018.
Buffett says that Apple has developed an ecosystem and level of brand loyalty that provides it with a competitive moat, and that consumers appear to have a degree of price insensitivity when it comes to the iPhone. While Buffett has famously avoided tech stocks, he has said that Apple is a consumer products company and that he understands consumer products businesses.
Apple's revenue for 2021 is expected to be $366bn up from $275bn in 2020, and its net profit is expected to be $94bn up from $57bn.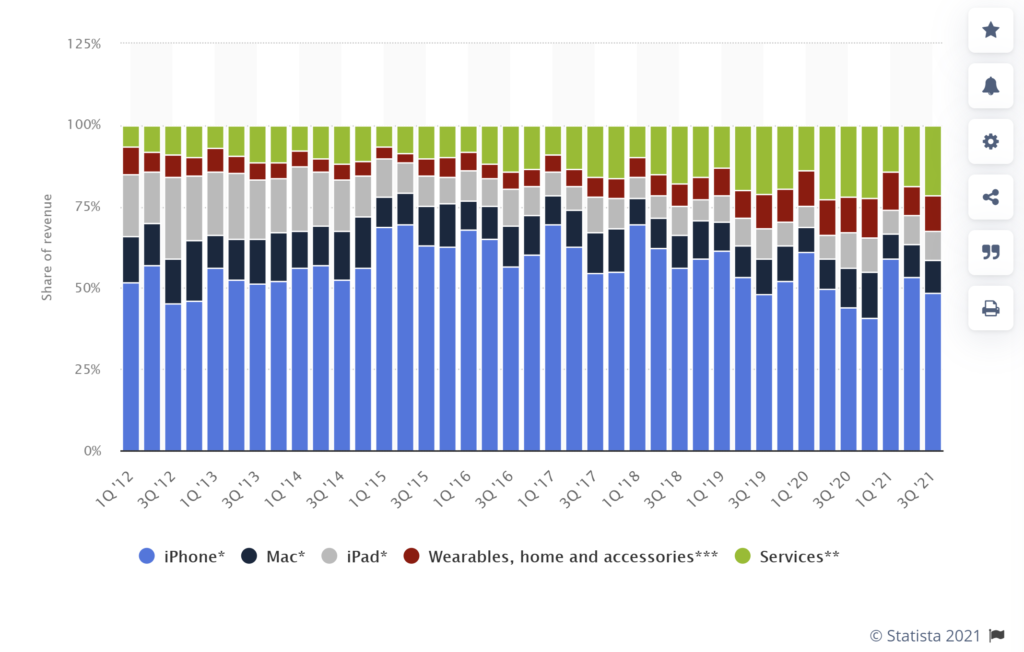 Its revenue by product category is highly concentrated towards iPhone sales with approximately half of revenue coming from this product. A positive trend is the growing services business, which includes the likes of Apple Music, the App Store, iCloud, and Apple Pay.
Although it would be remiss of us to not point out that Apple has taken some flak with its practices around the App Store and its payment system. Future revenues could be hurt by lawsuits. Just now, Apple has agreed to let developers of iPhone apps email their users about cheaper ways to pay for digital subscriptions and media by circumventing a commission system that generates billions of dollars annually for Apple.
#2 – Bank Of America (BAC)
In number 2 position is Bank of America, consisting of 13.6% of Buffett's portfolio. Buffett owns more than 1 billion shares, which is a stake of 12.3% and is worth $43bn.
Buffett's interest in this company began in 2011 when he helped solidify the firm's finances following the 2008 economic collapse. Bank of America is the 2nd largest bank in the US and 8th largest in the world. Its 2021 revenues are forecast to be $88bn, up from $85.5bn in 2020, and its net profit is expected to be $28.1bn, up from $17.9bn.
A major signal in 2020 from Buffett showing his fondness for Bank of America was that he sold shares of nine different financial stocks, including big sales of JPMorgan Chase, Wells Fargo, and Goldman Sachs, while simultaneously buying more Bank of America.
#3 – American Express (AXP)
American Express is the second financial services company to make Buffett's top five list, consisting of 7.9% of the portfolio. With 152m shares to his name – worth $25bn – Buffett has a 19.1% stake in the company.
Buffett first invested in the financial services company in 1964 through a former partnership. In 1963, American Express was in the middle of a serious scandal, but Buffett's instincts were to ignore the temporary noise and use the unrest as an opportunity to invest in a great company. He purchased a 5% stake in American Express amid the scandal fallout, resulting in one of his early investment successes.
According to business insider, Berkshire first invested in American Express in 1994, and spent $1.3 billion to establish its current stake, meaning it has scored a roughly $25 billion unrealized gain in under 30 years.
American Express is a leading issuer of personal, small business, and corporate credit cards across the United States and around the world.
American Express is one of the few companies that issues cards and has a network to process card payments. Visa and Mastercard have processing networks but don't issue cards. With multiproduct capabilities, American Express generates revenue from both interest-earning products and network processing transaction services.
American Express has built a strong brand that resonates with affluent customers – and therefore has an economic moat, which is probably why Buffett likes the stock so much. Although this data is a little dated, those who use American Express as their primary card spend the most per month on average — around $1,687. Meanwhile, those using Visa, Discover, and MasterCard as their primary cards spend less than half that amount — at $843, $737, and $639 per month on average, respectively.
#4 – Coca-Cola (KO)
In 4th position and making up 7% of the Berkshire Hathaway portfolio is Coca-Cola. Buffett holds 400m shares, valued at $22.2bn, which is a 9.3% stake in the beverage company.
Warren Buffett bought more than $1 billion in Coca-Cola (KO) shares in 1988, an amount that was then equivalent to 6.2% of the company. The purchase made it the single largest position in Buffett's Berkshire Hathaway portfolio at the time.
Coca-Cola has an iconic name and global reach creating an economic moat around its business. Coke has an incredibly far-reaching distributor network and retail relationships that protect it from encroachment by competitors. No competitor is ever likely to appear and take away Coca-Cola's market share.
According to the Motley Fool, since 1995 to 2019, Berkshire has earned about $7 billion from the dividends alone on the Coke investment. This far exceeds the purchase price of the shares, which only has a cost basis of $1.299bn.
While Buffett still characterizes Coca-Cola as a "very good business", he admits that the consumer backlash against sugary sodas has put a dent in its armour.
During an interview on CNBC in 2018, Buffett said of Coca-Cola, "It doesn't look as good as it did 5 or 10 years ago." Nevertheless, Buffett says it has the best distribution system in the world, which should serve the company well as it expands into energy drinks and comes up with new products. In 2019 they acquired Costa Coffee for $4.9bn.
Coca-Cola has incredible operating margins at 26%. According to Stockopedia this is ranked highly in both the wider market and the Beverages market.
You can probably see why Coke is so profitable. They mix a bit of sugar with carbonated water and you end up with a great product that doesn't need to have billions of dollars spent on development each year.
#5- Kraft Heinz (KHC)
Another giant company. The Kraft Heinz Company is the third-largest food and beverage company in North America and the fifth-largest food and beverage company in the world, with eight $1 billion+ brands.
The company has experienced troubles in recent years, with the share price plummeting from a high of over $96 in Feb 2017 to just $20 in March 2020.
According to CNN, Investors are growing concerned that the company focused too much on cost cutting following the 2015 merger of Kraft and Heinz and not enough on finding new, innovative food products that younger consumers would actually want to buy and eat. The share price has rebounded somewhat but does the lower share price provide a good buying opportunity?
Despite the troubles, Buffett still seems to maintain faith in the company, holding 326m shares of Kraft Heinz, worth $11.7bn. This puts Kraft Heinz as number five in Berkshire's portfolio, consisting of 3.7%, and a huge ownership stake of Kraft Heinz at 26.6% of the company.
Kraft Heinz might appeal to dividend investors as the company is currently yielding 4.4% and with forecast net profit expected to exceed $3bn per year over the next 2 years, the dividend looks well covered at 1.68 times.
Everything Else
The top 5 stocks make up around 75% of the portfolio. Think about that. Just five stocks make up the vast majority of Buffett's public portfolio. He's made it so simple to copy him, and hopefully, his performance.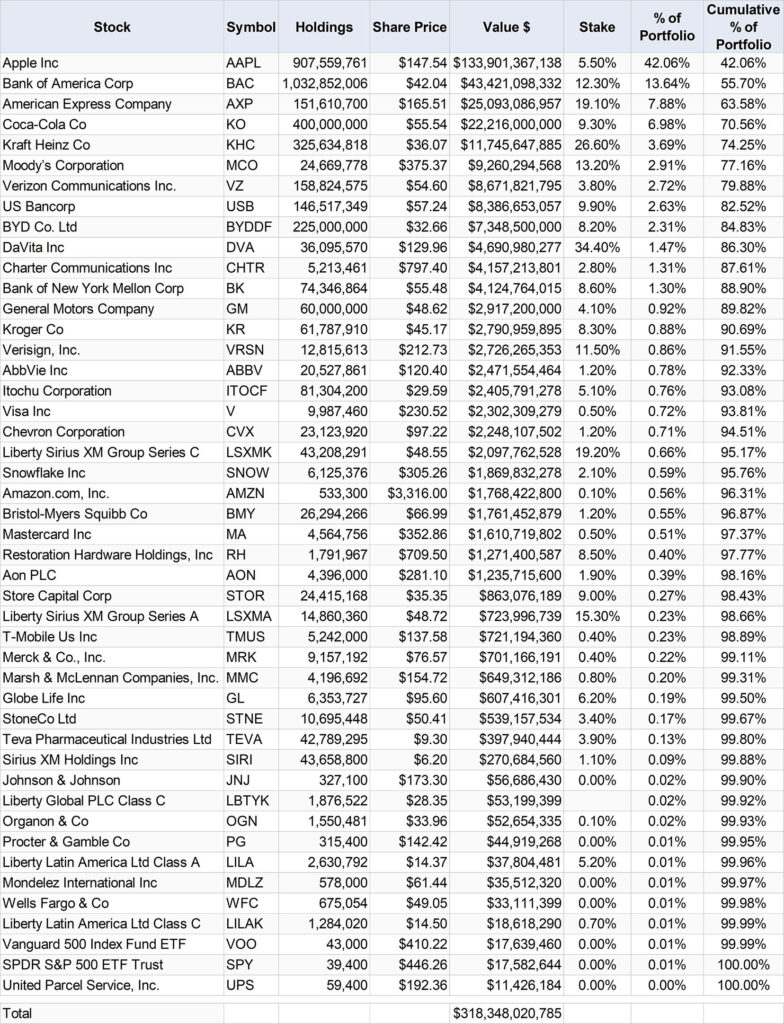 There are another 41 stocks as seen here that make up the rest. Some of the positions are so small (relatively speaking of course), you have to wonder why Buffett even bothers with them as they will make little impact on overall returns.
What do you think of Buffett's portfolio and will Berkshire Hathaway be outperforming the S&P 500 over the next decade? Join the conversation in the comments below.
Written by Andy
Featured image credit: New Africa/Shutterstock.com