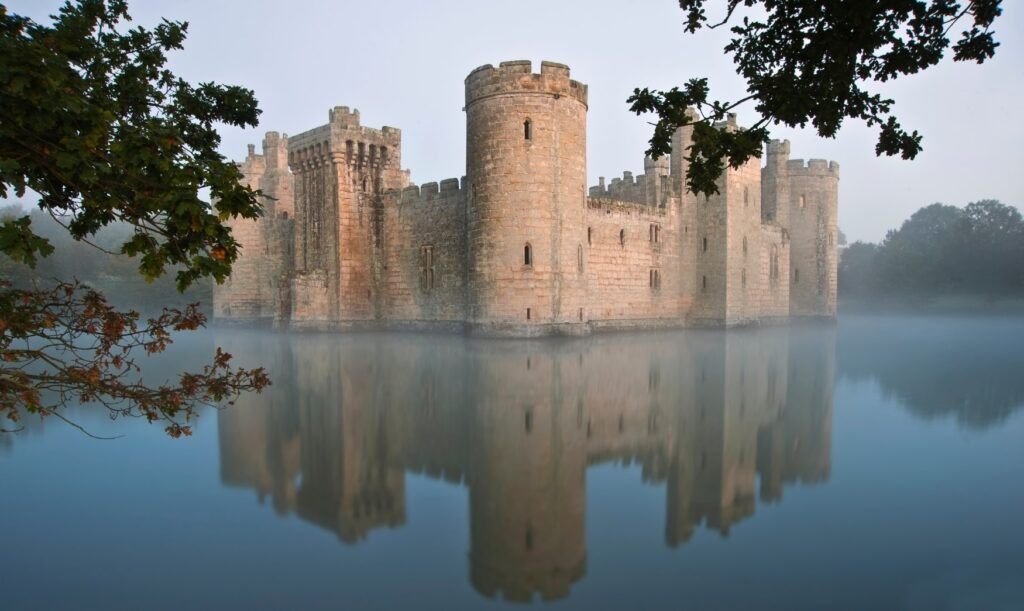 You guys know we spend a lot of time searching for the perfect investment portfolio that will get us to retirement, but also keep us there. There's only space for quality here – all killer, no filler.
We want the best index funds, the best properties, and… the best individual stocks. This article is looking at the stocks that we think are suitable for holding from today right through to retirement, whenever that might be for you.
These stocks need to be evergreen – they need to be companies with strong roots and staying power. But they also need to be powerful dividend stocks for the stability and cash flow they provide – UK dividend stocks specifically so we can avoid nasty foreign dividend withholding taxes.
And ideally, they'll be in essential industries – even better, near monopolies with impenetrable barriers to entry for potential competitors.
We think we've found 3 such stocks that fit the bill. Let's check it out…
Much of the research for this article was made possible due to our subscription to Stockopedia, the premium stock picking research and analysis tool for investors. Try Stockopedia for yourself with a free 14-day trial at the special offer link here, which also gives you a 25% discount off your membership if you decide it's for you.
Alternatively Watch The YouTube Video > > >
Essential Retirement Stock #1 – British American Tobacco (BATS)
Tobacco, you say? No way! That's a dead industry! Hear us out.
This company is one of the best we've seen in a long time and has been top of our list for a while now. Its finances are killer, and we'll get to those in a bit. Spoiler alert: it has a sustainable 8% dividend!
But its current finances mean nothing if it's not going to be around for your retirement. Let's address those concerns first.
At the start of this piece we hinted at 4 criteria for any retirement stock. These are:
Essential Industry;
Barriers To Entry and an Economic Moat;
Strong Roots – a large cap stock with staying power;
and Kick-Ass Dividends!
Ideally the stock will be reasonably priced too, but that's not so much of a concern if you're holding it forever and it pays a good dividend.
So does BAT tick all the criteria boxes? The first one was Essential Industry, and it is indeed essential to the many tobacco addicts around the world! Its customers are physically compelled to keep buying its products.
There is a reasonable worry for shareholders that the number of smokers is declining globally.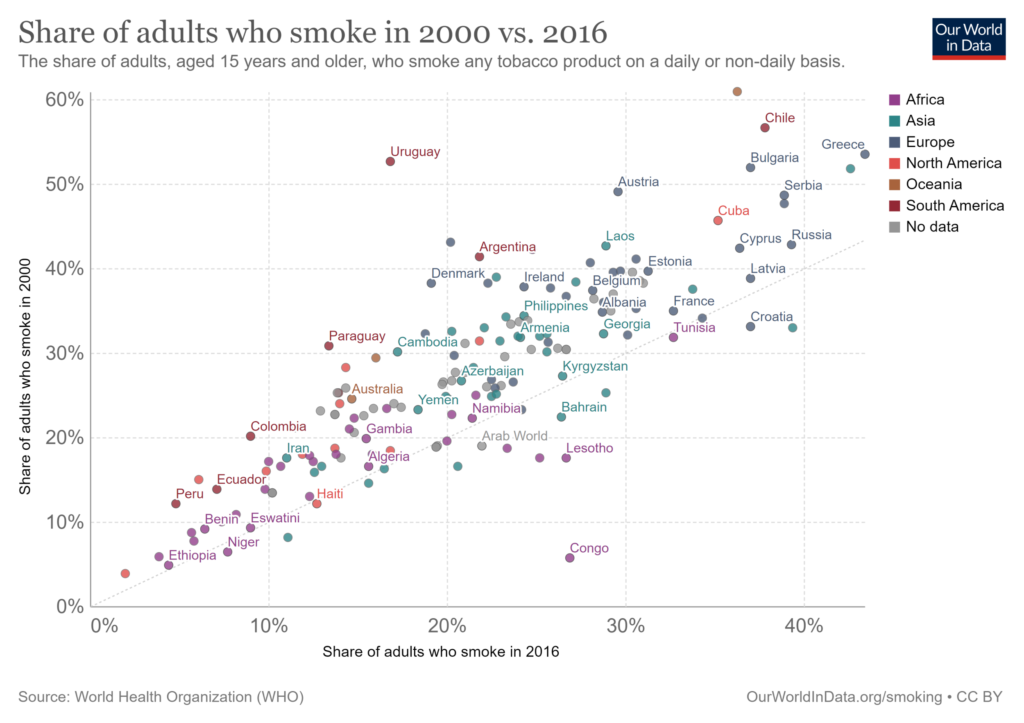 This chart from the World Health Organisation shows that more countries are in the "declining usage" side at the top of the chart, than the "increasing usage" side at the bottom. Note that these are percentages of adults in each nation, but population sizes are forever expanding which will offset this decline to some degree.
They are already diversified as one of the world's leading vaping and e-cigarettes producers as an alternative to tobacco, which is maybe the future of the company long-term. There also exist opportunities to expand into cannabis in the countries which it becomes legal in, which we expect will be a fair few over the coming decades. BAT have indeed just acquired a £126m stake in Canadian cannabis firm OrganiGram.
As for Barriers To Entry, who else could possibly compete with BAT? It's illegal or difficult to advertise smoking products in most of the big markets BAT sells in including the UK, USA, Europe, Australia and NZ and much of Asia, which means this already established giant can exist unopposed by new entrants to the market.
BAT doesn't need to advertise anyway – their brands are well established in their markets and saving all that money on marketing means they can pay out a bigger dividend. They rake in money, and they pay it straight out to you.
It has Strong Roots, present in 180 markets with 150 million daily consumer interactions from a dedicated pool of customers providing steady cashflow. BAT has been around since 1902 and has a market cap of £61bn.
Looking more closely at its finances now, its dividend yield is around 8% and forecast to grow, but we can see that this is not an anomaly – it's actually at a sustainable level.
That's because its dividend cover is consistently over 1 – anything over 1 means it can easily afford the dividend, and is the case for at least each of the past 6 years, with this forecast to continue.
The dividend yield looks overly inflated because the shares look oversold, which we'll take a look at in a sec.
In 2017, it bought out the second largest tobacco company in the US, Reynolds American, a major landgrab invasion to grab an even higher stake of the American market. BAT have taken what is theirs, as global tobacco kings.
This left them a load of debt – but they are committed to paying this down a bit every year and have been doing so. Their revenue and profits are massively up since the acquisition.
BATs finances look so solid it appears they haven't even realised that there's a pandemic going on – profits just keep on growing!
Despite all this positivity, the price of BAT is ridiculously cheap. Its 12-month future forecast PE ratio is 7.8, Stockopedia showing us that this compares very favourably with the industry and with the wider market.
The EV to EBITDA, which is a slightly more accurate indicator of price as it factors in debt, is 9.6 – still very cheap. BAT is clearly under-priced when you add in the sustainable dividend.
The market has decided it doesn't like BAT – its share price has plummeted over the last 5 years – probably due to overdone fears haunting the tobacco industry. Despite these fears, 21 institutional analysts are saying it's a Buy.
We think this jewel of the British crown has been overlooked in favour of trendy new socially responsible stocks and green technologies. But don't write tobacco off if you want to earn big, long-term dividends.
Essential Retirement Stock #2 – BAE Systems (BA.)
OK, we've invested in lung cancer with a tobacco company, now let's buy some guns and bombs…
Seriously we didn't plan it like this, but it seems to be that the so-called Sin Stocks are the ones to buy for long-term dividend success.
If we're talking morality though, we like to remind ourselves that smoking tobacco is a personal choice, and without a well provisioned military to defend us we'd all be speaking German.
BAE Systems is one of the UK's main arms, security, and aerospace companies, but it's reach is much bigger than Britain. It has a global presence, being the largest defence contractor in Europe and ranked third-largest in the world based on 2017 revenues.
When China starts raining fire down on the West, we'll be glad that BAE is there to have our backs.
BAE's customers are national governments, supplying the essential bits and bobs for their armies, navies and airforce.
They're also heavily involved in cyber defence for nations, which is going to be a growing problem for the world to deal with as advances like quantum computing come into play.
They have a big Barrier To Entry in they are practically a monopoly provider for some of the world's richest countries. Let's look at their finances to see if they have staying power.
Stockopedia was red-flagging a potential liquidity risk for us to research further. On inspection, it's because its debt has shot up in the last couple of years.
This is fine because we know that its revenue comes from governments, most of which are able to magic money out of thin air from their central banks. They won't be defaulting on their contracts. Total debt is only 2x annual profits – not high by any standard.
BAE has been supplying governments with weapons since 1902, surviving much worse than a bit of covid related liquidity worries.
Their revenue is growing consistently, as is net profit. As are dividends, and dividend cover. A yield of 4% and forecast to grow is good, and it is sustainable. This is company that's not going anywhere, other than up.
And like BAT, they have an incredible Stock Rank in the 90s (of 100), cheap PE ratio for their industry and a cheap EV to EDIBTA ratio. In fact, BAE is more cheaply valued than all but one of its international peers in the defence sector.
Essential Retirement Stock #3 – National Grid (NG.)
National Grid is the definition of a stock with an Economic Moat. How could it have any competitors? It owns pretty much all of the electricity delivery networks in the UK.
Its cables, pipes and pylons criss-cross across the country, an essential part of the system that delivers power to all our houses and businesses: from power source, to lightbulb.
National Grid enables our economy to function. We'd go so far as to say that without the assets it owns, there is no economy. That's a big tick for Essential Industry.
Its cables do not discriminate between green power and dirty power either – it is transporting electricity, which makes your TV work the same no matter the source. This means dependable revenue and stability for its share price.
That said, work is constantly ongoing to keep the network fit for purpose in a cleaner energy future, and to keep expanding the grid. It's selling off its gas pipelines and buying up more electricity assets in recognition of the move away from fossil fuels.
Projects include 24 miles of new tunnels deep under London to ensure reliable electricity supplies for the next 120 years; it's also just finished a new 3-mile tunnel under the River Humber to transport 25% of Britain's remaining gas needs.
They're also building the world's longest undersea electricity cable to connect the UK to clean hydro power direct from Norway's fjords, and a boat load of new revenue for its shareholders.
It has operations in the US too in New York and New England to diversify its income streams – in fact 45% of its operating profits came from its US operations in the year to March 2021.
On the face of it, National Grid has ridiculous levels of debt, at 18x its net profits. But it's not a normal business model – its revenue is completely steady and predictable, and the company's services will be required for many decades, even centuries to come. It has no liquidity problems as a result of its debt, with average current and quick ratios and a decent interest cover.
Dividend yield is rock solid at over 5% and forecast to grow, with dividend per share creeping up and forecast dividend cover expected to be comfortable.
It's probably not a great time historically to buy into this stock, with an average PE ratio, and a really bad EV to EBITDA ratio relative to its industry.
But can we really compare National Grid to any other company? It's got a monopoly in the UK – and there's nothing else quite like it.
Frankly, this is one of those times when the price shouldn't really matter too much, as long as the dividend yield is acceptable to you, which at 5%+ it likely will be. This stock is one to hold forever and grow fat on the dividends.
Who Wants More Stocks?
If you liked this post and want even more stocks, then let us know down in the comments here or over on YouTube. There were too many stocks to cover here and give proper justice to them all.
Or, filter for the best stocks using the tools on Stockopedia. If you want to expand your portfolio of UK dividend stocks, go grab yourself a Stockopedia subscription and start digging. Remember, the first 14-days are free with our special link and it's 25%-off thereafter.
What do think are the best stocks to retire on and why? Join the conversation in the comments below!
Written by Ben
Featured image credit: Matt Gibson/Shutterstock.com