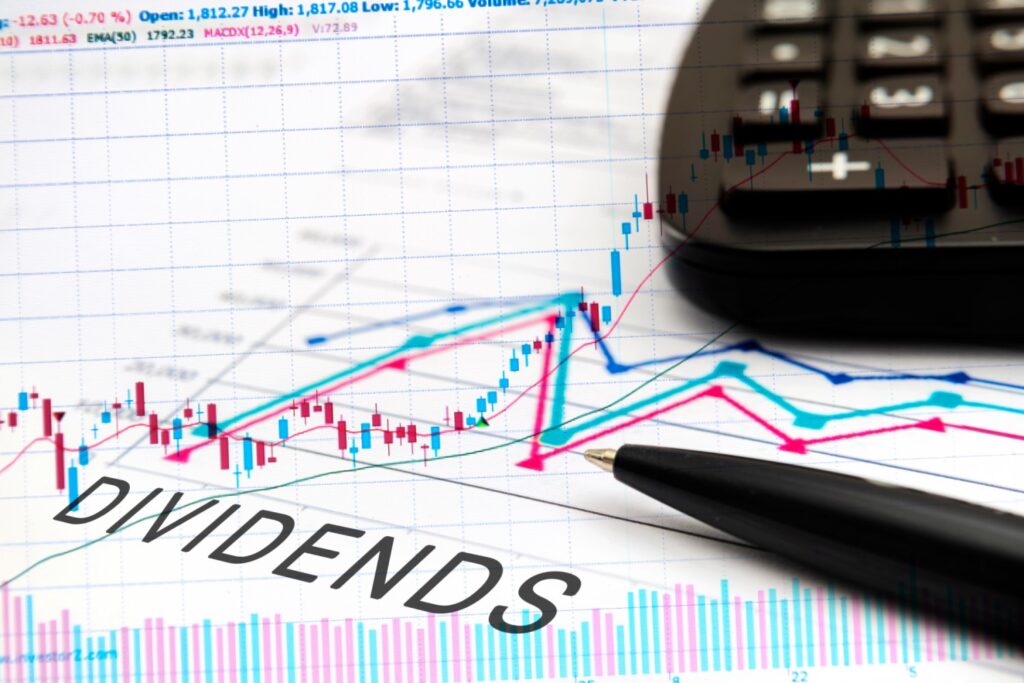 Now that things have settled down a bit in the economy, we can see more clearly through the fog of uncertainty with regards to dividend stocks. What are the best dividend stocks to buy this summer for long term stability, yield and growth?
Back in February, we put on our analyst hats and used a set of rules and data to automatically select 20 dividend stocks while removing the human element from the decision – and it's done great!
It's well documented that institutional stock pickers underperform indexes 85% of the time. The thinking was to remove our instincts to second-guess which dividend stocks will and won't do well, by building a portfolio of dividend stocks using rules.
We'll show you how well the dividend portfolio performed, and the essential changes we've just made to the portfolio for Summer 2021.
We also go on to single out from this pool of rules-based stock picks what we think are the 3 best placed dividend stocks to outperform over the next year. Let's check it out!
Our dividend stock portfolio was made possible by the innovative investing solutions offered by Stockopedia and Trading 212. Get a free stock worth up to £100 when you open an account with Trading212 (at time of writing there's a waiting list you can join which secures your free stock), and 25% off a Stockopedia subscription after a 2-week free trial. Don't miss out.
Alternatively Watch The YouTube Video > > >
The MU Dividend Aristocrats Pie
We originally built this portfolio on the Trading 212 app, specifically chosen because of their awesome Pies feature, which lets you build a portfolio of stocks with specified percentage allocations.
The app lets you invest on a percentage basis as much as you want into each stock or ETF in your Pie.
We chose 20 stocks, equally weighted at 5% each. Their values of course drifted over time, but today we'll be resetting the pie back to 20 stocks at 5% each. This is super easy to do, and we'll show you exactly what we did in a moment.
The methodology we followed is fully documented in our previous episode/article, linked here.
But briefly, we cross analysed the best dividend stocks as per Stockopedia's StockRanks, with the best stocks according to the S&P Global Dividend Aristocrats Quality Income Index, which in our view is the ultimate index for dividend stocks. The top ranking 20 from our model made the cut into the Pie.
MU Dividend Pie: The Last 3 Months
When we built this dividend pie 3 months ago, we dropped £1,000 into it as an experiment to see how well this approach would work. Performance since inception has been fantastic, with total returns of 12.51% in just 3 months.
1.00% of that came from dividends, and the other 11.51% from share price growth. We had set the app to reinvest dividends, but it looks like the pound amounts were too low for this function to kick in. Returns would therefore have been marginally higher if we'd invested more money.
We got 15 dividend payments over the period – some of the stocks pay dividends twice yearly, some quarterly, and so on.
Some of the individual stocks did amazing, with 4 returning around 30% and several others with really good hauls. 4 performed negatively, but only 2 did really bad. Watch the video version of this article for more details.
How does our return of 12.51% compare to a benchmark? The best benchmark to use for comparison is the returns on the SPDR S&P Global Dividend Aristocrats UCITS ETF (GBDV).
This ETF tracks the index that we are selecting stocks from, and the returns are what you could really have gotten if you had bought this ETF instead back in February.
The growth in the ETF price plus the quarterly dividend distribution paid in early May would have given you a total return of 10.41%. Our Pie has returned 2.10% better than this, at 12.51%! So, we managed to achieve what we set out to – we beat the index. For now at least!
Now We Need To Rebalance
A lot can change in 3 months. Especially as we're coming out of one of the biggest periods of uncertainty for dividend stocks. After the markets crashed in 2020, cash flows became tight, and many companies had to cut or cancel their dividends.
But not any of our champion stocks. Below is how the Pie stood at inception – now 3 months later, 6 have to go. Not because they couldn't survive the pandemic (all remain in the Dividend Aristocrats index), but because even better stocks have come along to take their place.
2 had to go because we only allow 5 stocks from any one sector in the Pie – it's one of our rules to ensure we get adequate diversification – and there were 5 Financials that ranked higher than these this time around.
The others' Stock Ranks fell out of the Top 20 this time around. These 6 will be cut, despite some of them doing ace – People's United grew 20% and United Bankshares grew 14%. Verizon, Moneysupermarket and B&G Foods all did poorly over the quarter and are amongst the cuts.
But the main reason we're having to swap as many as 6 stocks out on this rebalance is that, as we'll soon see, Trading 212 recently massively updated their available range to now include almost all of the Dividend Aristocrat stocks from the US, UK and Europe. 5 of the 6 replacement stocks were not available back in February.
If they had been, this rebalance would be a lot smaller. For this reason, we're not overly concerned about the temporary increased impact of transaction fees from FX, Bid-Offer Spreads, and Stamp Duty.
The Updated Pie
Here's the details of the new Pie, updated as of the end of May 2021. This is what the data and algorithms are telling us are the best dividend stocks for Summer 2021.
The process has added 6 new stocks, 5 of which are due to Trading 212 adding them to their available range since we last carried out this exercise, and Exxon Mobil because it has staged a miraculous comeback from a prior Stock Rank of 50.
Most of the other stocks are more or less where they were 3 months ago, but with big improvements in Stock Rank for Pfizer and Swisscom.
We added the 6 new stocks into the Pie on Trading 212 at 5% weightings, removed the 6 that our data is telling us must now to be dropped, and rebalanced the whole Pie back to equal 5% weightings for all stocks. This also redistributes our existing gains amongst the new mix of stocks.
You can find our updated dividend stocks Pie on Trading 212 here. Feel free to copy it or to use it as inspiration for your own portfolio. If you previously copied the original Pie you will have to use the new link as we will be closing the old version.
Top 3 Dividend Stocks For Summer 2021
If you don't fancy building an entire portfolio using rules, then we've hand-picked our Top 3 Dividend Stocks for Summer 2021 from within the MU Dividend Aristocrats Pie.
That's because we know that these stocks:
[a] – all have 10-year consecutive records of maintaining or increasing their dividends, courtesy of being on the Dividend Aristocrats index;
[b] – all are ranked highly by Stockopedia for the overall average of their Value, Quality and Momentum; and
[c] – are all available on Trading 212, and hence anyone can trade these stocks without having to pay commissions.
See the video above for a full walkthrough of these stocks on Stockopedia.
Top Dividend Stock #1 – Janus Henderson Group
Being top of the list in terms of Stock Rank, the fact that this Dividend Aristocrat was excluded from the Trading 212 available range until only recently is, in our view, almost criminal.
It is the best rated stock from the Financials sector in a Pie where 5 of the top 9 entries are Financials. The sector, known for its value stocks, is making a big comeback after covid.
Janus Henderson is an independent global investment manager, focusing on the United States, Europe, Asia and Australia.
It scores amazingly in Stockopedia across all ranking areas. At a market cap the equivalent of just £4.6bn it has plenty of scope for growth. Its forward PE ratio looks very tempting at just 10.5, suggesting this US company is valued on the cheap side, both within the market as a whole and within the finance industry.
Its growth momentum over the last year gives it the feel of a growth stock, but it's a strong dividend payer too with a forecast yield of 4.0%.
It qualifies for 4 Stockopedia Long Screens, which is impressive – more screens means more ways by which it is considered a good stock and likely to get the attention of other investors. That puts them in the top 350 stocks by screens of the 19,000+ US, UK and European stocks that we have access to with our Stockopedia memberships.
Its revenue and profits are forecast to grow, as are its dividend per share and dividend yield. And there's a big sign of safety – negative debt. This means the company has more cash than debt, which means it has fantastic liquidity. After poring through their accounts we can also confirm that they have negative debt after excluding ring-fenced client cash.
Want a dividend aristocrat stock with growth potential, which ticks all the right boxes? Then look at Janus Henderson Group.
Top Dividend Stock #2 – Exxon Mobil
The pandemic took a hammer blow to the Oil industry, but the story of 2021 so far has been one of recovery. As the world opens up again, oil is once again going to be needed.
That said, investing in the old energy companies is still a contrarian position to take.
A play on Oil is a bet that the harsh economic reality of going green will come home to roost, and the switch away from fossil fuels will take longer than wished for by the global elite.
One good thing about investing in an old-fashioned energy company is that you're not investing directly in a commodity like Oil.
Rather, you're investing in a multinational operation stuffed full of cash, patents, and research scientists; and you can bet your bottom dollar they won't be sitting around meekly waiting to become redundant.
They might be the companies who lead the market in the energy technologies of the future, like hydrogen and fusion.
Back to Exxon then, what's so good about this stock in particular?
Despite being one of the worst effected industries by covid, Exxon maintained its dividend payments throughout the pandemic, despite fears that it would have to cut them.
Exxon didn't make it into the Pie back in February because it was rated terribly at just 50 out of 100. Since then, it has shot up to a ranking of 88, meaning fears for this stock may have been misplaced.
If you're looking for price growth potential, it's still there in spades in the oil industry, and Exxon has a strong run of momentum in price growth since October 2020.
Revenue is forecast to return to strength in 2021 and 2022. It increased its debt throughout the pandemic, but only to 3x its 2018 profits – not yet a red flag issue.
With a yield touching 6%, this is a consistent dividend payer that's cheap to own, and unloved as a stock due to the negative press around the industry.
If you feel you can ignore the peacock feathers of the clean energy industry and the showboating politicians, you might find you can get a few more years of value out of Exxon Mobil.
Top Dividend Stock #3 – Pfizer
If Exxon Mobil had a rough pandemic, Pfizer has found a lot to be cheerful about.
The Pfizer vaccine was the first on the scene at the end of 2020, and has led the way in the US, UK, Europe, and elsewhere in the world as the vaccine of choice.
Pfizer has so far managed to avoid controversies on the scale of those which have dogged AstraZeneca, and their brand and profile have been vastly improved by being perceived as heroes of the pandemic.
If you search Google Trends for the word "Pfizer", you'll see its journey from a non-entity to a household name since the end of 2020.
Pfizer are ranked very high in Stockopedia for Quality, reflecting their stability as an established pharmaceutical giant with a market cap the equivalent of £152bn.
Revenue and profits are forecast to be up massively in 2021 and 2022, obviously a result of its recent success with the vaccine. Its dividend per share and dividend yield are increasing and this is forecast to continue.
Sales have grown 44% in the last year, but that can be put down to the vaccine rollout. The real question is, will Pfizer's success continue in the post-pandemic era?
We think it will. People will remember Pfizer's role in this pandemic, and so long as the vaccines don't cause long-term side effects, Pfizer's brand should retain a permanent boost.
They are well placed to take advantage of a world that now cares a lot more about virus control.
What do you think of the stocks in the Money Unshackled Dividend Pie? Will you be investing? Join the conversation in the comments below.
Written by Ben
Featured image credit: jittawit21/Shutterstock.com