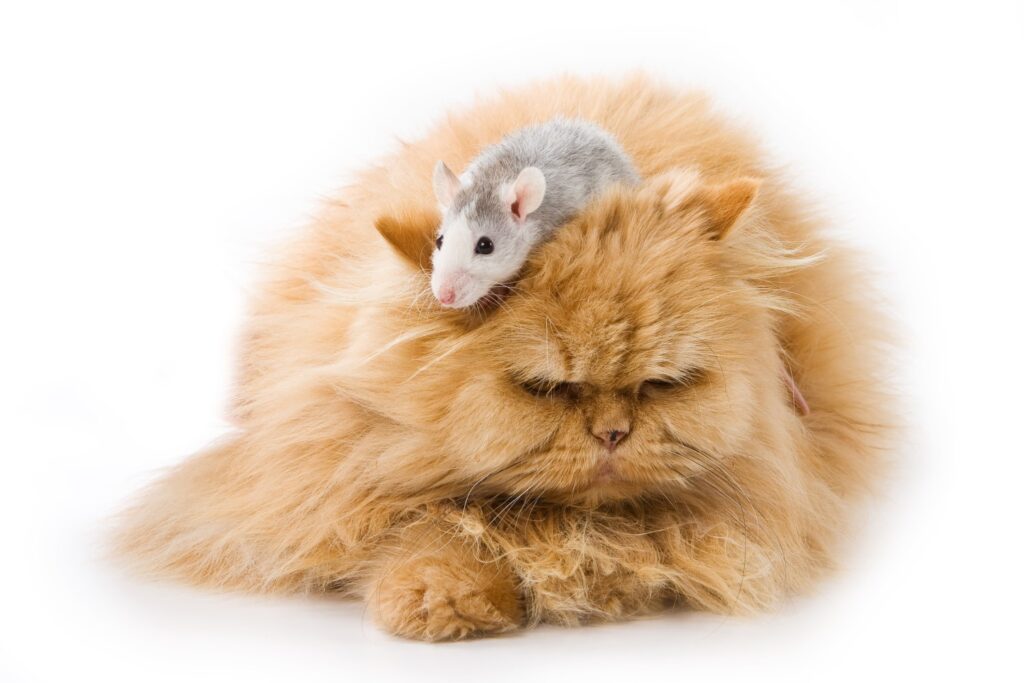 Small cap stocks are taking off!
The MSCI World Small Cap Index has absolutely skyrocketed over the last 6 months, up by 33%!
To put that into context, the last 6 months have been incredible for the S&P500, but even that only went up by 17%.
So small caps have given investors double the return that they could have gotten by investing in the biggest American companies.
This MSCI World Small Cap index is a core component of the Money Unshackled Ultimate Portfolio, which is what our own portfolios are now built around since we streamlined them a few months back.
So we've been pleasantly surprised to watch this chunk of our wealth jumping up, and up, and up every week since!
But this has got us to thinking: if the index of over 3,300 small cap stocks can climb by 33% on average in 6 months, what enormous heights must some of the underlying holdings have achieved?
Is it too late to jump on the momentum of some of the individual stocks, including many that rose by 100% and more?
We're not so sure. 2021 looks ideally suited for continued small cap growth.
Today, we're looking at why small caps are currently kicking ass, why we think they will continue to do so for a while longer, where to find small cap stocks, and we'll look at some high performing individual stocks too.
Alternatively Watch The YouTube Video > > >
Why Small Cap Stocks Are Smashing It
Small Cap stocks have a number of different definitions, but for the context of this article, Small Caps are stocks with a market value in the bottom 15% of companies in the developed world, except for the bottom 1% (which MSCI label Micro Caps).
Because small caps are… well… small, they have very different qualities to larger companies that can be an advantage at certain points in the economic cycle.
Small Caps are:
More nimble
More adaptable
Less regulated
Breeding grounds for new ideas
High growth potential
These traits make them ideally suited to outperform in an economic recovery, which the stock market is anticipating, and which should remain throughout the next couple of years at least.
The ones that survive the crisis adapt to their new surroundings. Many other small operations take advantage of the open space left by lumbering larger companies that can't keep up.
What's Going On In That Small Caps Index
The Small Caps in the developed world are overwhelmingly US companies. 59% of them in fact.
This isn't surprising, because the US is an ideal location to start a business, with its capitalist economy, rule of law and technological and scientific excellence.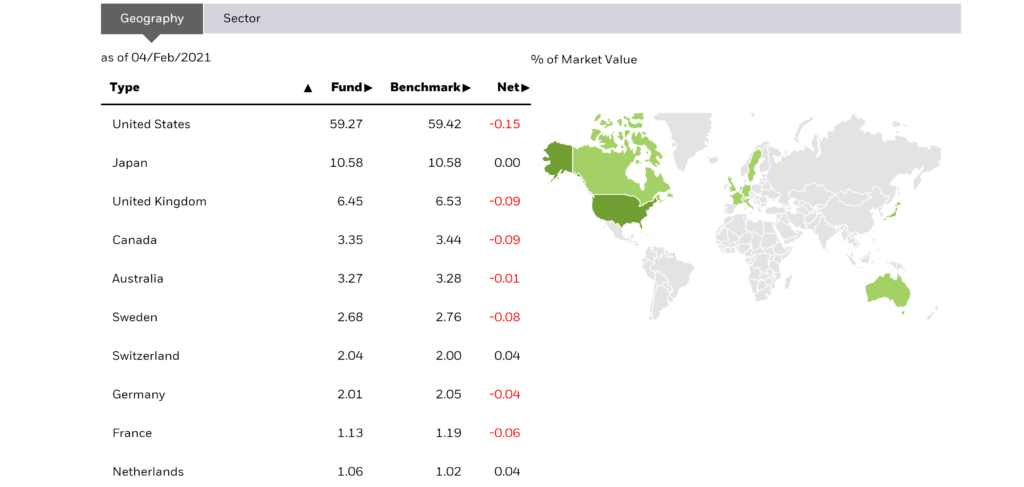 Below is the top 10 – apart from the top holding which is just some money market asset, these are all US companies.
Digging down into the month returns on some of these: Plug Power's up 483%! Penn, a casino company, is up 163%. Novavax, a vaccine developer is up 70%. And on it goes with solid return after solid return.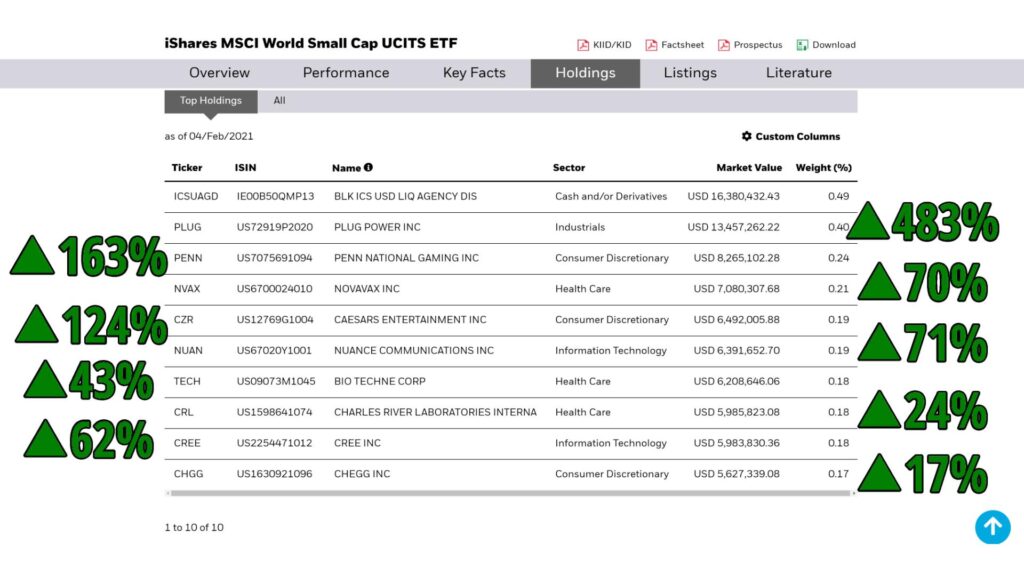 Finding Small Cap Stocks To Invest In
In fact, if you wanted to stock pick some small caps, looking at the top companies of this index wouldn't be a bad place to start your research.
All these stocks are available on commission-free trading platform Stake, who are in the process of bumping up their universe to 7000 US stocks, so you're bound to find Small Caps on there that you can't find on any other free trading apps. Even better, they are giving away a free US stock worth up to $100 to everyone who signs up via the link on the Money Unshackled Offers page!
Small Caps In 2021
Even though Small Cap stocks outperformed Large and Mid Caps in 2020, they are predicted by the experts to continue this outperformance in 2021.
A typical comment from the institutional investing sector comes from CEO of Grit Capital, a former $100m portfolio manager: "They have strong prospects going forward… there is more room to run."
Morgan Stanley Wealth Management's chief strategist says that "Small Cap stocks outperformed on average in the months following the troughs of Large Cap stocks during past recessions".
"In the six, 12 and 24 months following Large Cap troughs, Large Caps gained 31.5%, 29.4% and 48.2% on average. However, the gains were larger with Small Caps that generated 46.9%, 53.4% and 86.2%."
A strong economic recovery would benefit Small Cap stocks since they are more sensitive to what's going on in the economy.
2021 is supposed to be the year of the vaccine.
This means 2021 has the potential for a strong economic recovery from those vaccines, but also from governments chucking more funds from the magic money tree into the economy.
Quick, nimble, adaptable Small Cap stocks with fresh ideas should outperform Large Caps in that environment.
Any fiscal stimulus such as tax breaks should propel small companies along further than large companies, who are typically well funded and more secure anyway, and so don't really need much help.
Rising inflation is also somewhat linked historically to stronger Small Cap performance, according to Morgan Stanley.
Inflation flatlined in 2020, but the economy opening up again should reverse this, to the likely benefit of smaller companies.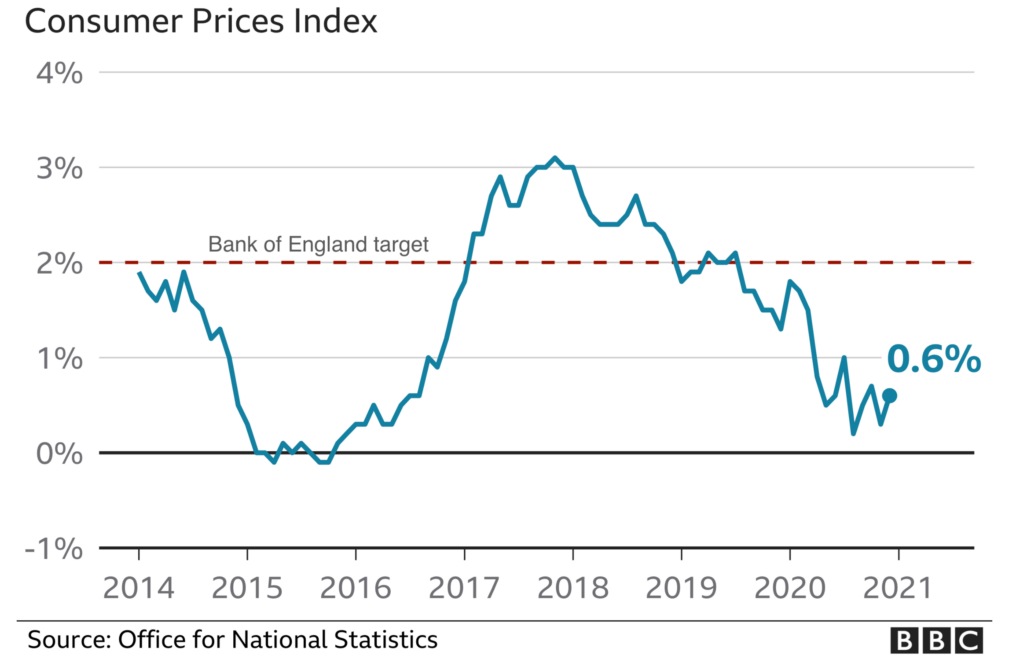 A Quick Look At Some Small Caps
The MSCI World Small Cap Index got awesome returns, but you could have done much better by handpicking some of the many winners.
Let's look again at the Top 10 stocks in the index. We ran these through Stockopedia to check out the fundamentals and see how we might do by investing in these stocks.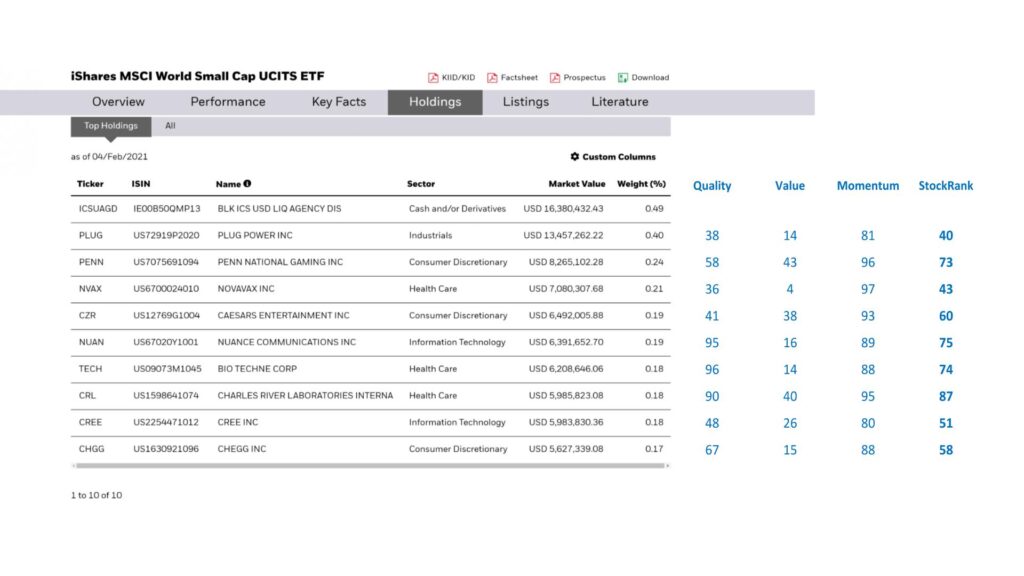 What should really stand out to stock pickers is that, while their overall stock ranks are a mixed bag, the Momentum of each stock is incredible.
These are stocks that are on the rise with no obvious sign of slowing down.
That's just as well, because few of these stocks offer good Value, meaning their incredible recent share price growth and high valuation isn't reflected in their current operating profit.
But maybe this doesn't bother you if you think their future potential beats current profitability.
Maybe Charles River Labs with a 90 Quality score has a high enough Momentum that it's mid-range Value score is acceptable, and can still make you a decent return?
Let's have a look at some of these stocks, starting with Charles River Labs.
Charles River Laboratories (CRL)
These guys are an American biotech company – that's right, the sector that's leading the vaccine charge against coronavirus, and will be instrumental in protecting us from future health risks.
We've already mentioned their sweet overall fundamentals, but what else can we tell you about this company?
It's Value metrics aren't great, with a high forward PE Ratio (31) and forward EV to EBITDA (24) but a high PE ratio isn't necessarily a bad thing as this suggests other investors are bullish about its prospects.
On Stockopedia, it qualifies for some screens (always a good sign on Stockopedia), has great health scores (all in the green), and an almost unrivalled track record of earnings per share growth.
It's rare to see a stock with such consistency in earnings growth. It's in double-digits pretty much every year, including the 2021 forecast.
Over on the cash flow side, it's taken on a load of debt recently, but this was to acquire other businesses.
Charles River does this a lot, and it's clear from the earnings growth that the company is skilled at making good acquisitions.
We're just going to draw your attention to one more stock – we want to know more about Nuance, because they're a high-quality, high-momentum company that designs artificial intelligence.
Nuance Communications Inc (NUAN)
6 brokers including Morgan Stanley and Barclays have this as a Strong Buy. So, the market loves this stock. But what do we think?
Well, it's fundamentals are pretty average, but the reason we think there is such excitement around this Small Cap stock is its incredible forecasted Earnings Per Share growth of 120%.
What's more, it's a profitable company in a very cool field; AI. They are a tech company delivering solutions that understand, analyse, and respond to people.
Where it's adding the most value right now is developing customer service tools like chat bots and call centre software, that should one day replace the need for human customer service staff.
The savings to businesses would be huge. Technology that saves businesses money is technology that makes its shareholders rich!
Sticking With Small Caps
Small Caps are an essential, but often neglected part of any portfolio, in our opinion.
Obviously short-term traders can have some fun with high-momentum small caps like the ones we just showcased, but longer term investors should be giving Small Caps some respect too.
We showed you in this article how Small Caps tend to have higher returns over the long term and so can help beef-up your pension pot but are more volatile in the short term.
And we showed you in this article how long-term historic comparisons between Large Caps and Small Caps have Small Caps coming out on top in the age of the internet.
We're sticking with small caps – they make up around 21% of our core equity allocation, despite being just 14% of the developed world's market cap.
Will you be joining us in investing in small caps in 2021? Join the conversation in the comments below!
Featured image credit: Utekhina Anna/Shutterstock.com