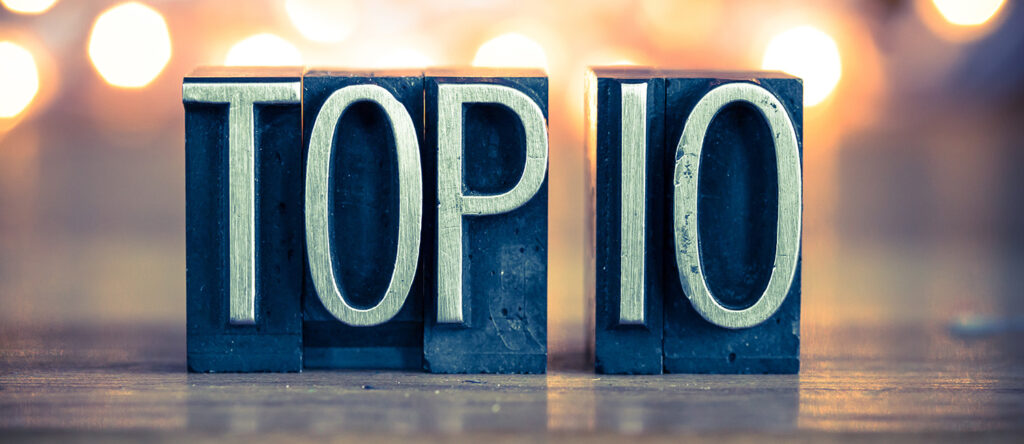 Our favourite investment product is the Exchange Traded Fund, and it is possible to beat the market by investing in these extremely versatile funds if you pick the right ETFs. But which ETFs should you choose?
Deciding exactly where to invest can be a difficult task, particularly if you're trying to beat the market. There's a lot of forces at play causing certain industries, countries, and asset classes to vastly outperform others.
For inspiration we can look at the most popular ETFs bought, and Interactive Investor publish the Top 10 every month. So, in this post we're going to look at the most popular ETFs traded by UK investors in September 2020.
Rather than just reel off a list in rank order, for the purpose of this post we've grouped all 10 ETFs into 4 discrete groups, and you can find the full list in rank order at the end of this post.
UK ETFs
#1 iShares Core FTSE 100 ETF (ISF) and #2 Vanguard FTSE 100 ETF (VUKE)
The 2 ETFs most frequently bought in September were both FTSE 100 trackers. These are essentially the same fund, albeit from different ETF providers, with both giving investors exposure to the largest 100 listed UK companies.
This is a core component of our world portfolio that we frequently talk about, and FTSE 100 trackers are likely to be central to any UK investor's portfolio.
FTSE 100 stocks typically make up about 4-5% of global market capitalisation but as we're based in the UK, we generally overweight it to perhaps around 15%. Historically, many UK investors will have been fully invested in UK stocks, but this strategy has proven to be disastrous in recent years as other major markets have left the UK in their dust.
Of course, large companies tend to have global revenues rather than be dependent on 1 country and FTSE 100 stocks are no different with about 75% of the FSTE 100's revenue coming from outside the UK.
However, with many of the stocks in the FTSE reporting in GBP or being vulnerable to UK political decisions, the FTSE has been far from immune to Brexit jitters and the actions taken by Boris in the fight against coronavirus. Also, the FTSE is crammed full of Oil and Banking stocks, which just so happen to have been terrible investments recently.
Both ETFs have a tiny Ongoing Charge (OCF) of just 0.07% and both provide similar returns. The iShares ETF has a year-to-date total return of -17.5% and the Vanguard ETF has returned -17.3%. Looking at 1-year returns can often be misleading but sadly the 3-year returns are similarly depressing with the iShares ETF returning -10.4% and the Vanguard ETF returning -10.3%.
Personally, we don't think it matters which of these 2 ETFs you invest in, as they cost the same, have similar tracking differences and will ultimately have similar returns. We can totally understand why these 2 ETFs are topping the leader board right now, with UK stocks overall looking irresistibly cheap.
#5 WisdomTree FTSE 100 3x Daily ETP (3UKL)
I don't think we've ever mentioned leveraged Exchange Traded Products before because they are really intended for those looking to speculate on short term movements of an index and we don't personally use them because of this. We're surprised that the Top 5 most popular ETFs includes such a speculative product.
They are not meant to be held for longer than 1 day and should only be used by sophisticated investors. If you do intend to use them make sure you understand them.
The WisdomTree FTSE 100 3x Daily ETP aims to offer investors three times the movements of the FTSE 100 and achieves this through complex derivatives. This means that if the FTSE 100 goes up by 2% in 1 day, the ETF will provide a return of 6%. However, it also works the other way, making these products very risky.
The fact that this is sitting in 5th place suggests that investors are very bullish about the FTSE 100 right now.
It's important to note that daily ETPs rebalance daily and do not track an index over a longer period. So, if the FTSE 100 increased by 5% over a year, the 3xDaily ETP will not return 15%.
We can't explain it fully in this post, so just take our word for it but you can check out this interesting article from Interactive Investor where they explain it very well.
#10 – L&G FTSE 100 Super Short Strategy (Daily 2x) ETF (SUK2)
Conversely to the bullish investments just mentioned, it seems that a lot of investors are still keen on shorting the FTSE 100. This ETF is intended to reflect twice the daily percentage change in the level of the FTSE 100 on an inverse basis. This means that if the FTSE 100 goes down by 2% in 1 day, the ETF will provide a positive return of 4%. However, it also works the other way.
We have to say that this seems very brave as the FTSE 100 has already had a dire year and we wouldn't have thought it can fall much further. But who really knows? That's why we invest for the long term.
While we don't currently hold any short positions, which means to profit from a decline in share prices, we can certainly see the appeal, especially if you believe you can time the market. As stocks tend to rise over time, you really are going against the grain when you invest with these types of products.
Energy Sector
#3 – iShares Global Clean Energy ETF (INRG)
This is one of the most surprising ETFs on the list. It first entered the top 10 in August but was even more popular in September. We're not surprised that it's popular, but we're surprised that more people were buying it than investments in the US stock market such as the S&P 500, and other major markets.
This ETF tracks the S&P Global Clean Energy Index for a pricey fee of 0.65%. This ETF will give you direct investment in 30 global clean energy companies and to be fair it has been kicking ass in 2020, despite most stocks around the world performing very poorly.
This ETF is having a blinder, with a 62% gain this year and a 124% gain in the past 3 years.
We can't say we know much about the underlying stocks in the ETF, but we do know that there is a huge green political movement worldwide, which is no doubt helping these stocks immensely.
For instance, Boris has just announced arguably unrealistic plans to power all UK homes with wind by 2030 and other countries will no doubt have similar plans, such as Biden's clean energy plan in the US. While we think these sorts of plans are ambitious, it cannot be denied that the direction is towards renewable energy and away from dirty energy.
However, we still believe oil and gas will be the predominant fuel energy source for years to come. Moreover, this ETF contains many stocks that may be trading at very excessive prices. Many of the companies are loss making and yet are being valued at billions of dollars, driven more by momentum and ideology than by current profitability.
Commodities
#4 – iShares Physical Gold ETC (SGLN) and #6 – iShares Physical Silver ETC (SSLN)
It comes as no surprise that both gold and silver make the top 10 in the current climate. They tend to be popular investments in normal times but with so much uncertainty surrounding global markets this year it's no wonder gold and silver make the list as money has been pouring into precious metals.
Both these investments have performed very well in 2020 so far with the gold ETC up 20% and the silver ETC up 30%.
Both these Exchange Traded Commodities will give you direct exposure into the metal they track and will be physically held. That means that the metal physically exists and is safely stored in a vault.
We both invest the iShares Physical Gold ETC ourselves as it should be a good hedge against economic turmoil and inflation over the long term.
US
#7 – Invesco EQQQ NASDAQ-100 ETF (EQQQ), #8 – Vanguard S&P 500 ETF (VUSA) and #9 – WisdomTree S&P 500 VIX Short-Term Futures 2.25x Daily Leveraged ETP (VIXL)
We're not surprised to see Nasdaq-100 and S&P 500 trackers in the top 10. If anything, we would have expected them to be even more popular.
The S&P 500 ETF gets you exposure to 500 large US stocks such as Amazon, Microsoft, Coca-Cola and Johnson and Johnson. It is an integral part of our core portfolios and costs just 0.07%. It has also had an awesome year so far considering the economic climate, and returned 9%.
The Nasdaq-100 ETF includes 100 of the largest US and international non-financial securities listed on the NASDAQ stock market, so will have a lot of crossover with the S&P 500. Most notably this ETF includes Tesla but the S&P 500 currently does not.
This Nasdaq-100 ETF has had a sensational year, returning 41.2% due to the concentration of tech stocks within the index. Information technology stocks make up 48% of the index and these have smashed all other stocks in 2020, largely thanks to Covid.
Unfortunately, this ETF comes in at a pricey 0.30% OCF, which we feel is too high for the investments it holds. We don't mind paying a premium price on an ETF if it gives exposure to more obscure investments, but these are all massive companies and so should be cheaper.
And finally, the S&P 500 VIX ETP provides 2.25 times the daily performance of the S&P 500 VIX Short-Term Futures Index ER.
VIX and S&P500 generally move in opposite directions, but the correlation is far from -1. This index measures volatility in the S&P and this particular ETP will amplify those movements by 2.25x. For example, if the index that the ETP is tracking rises by 1% over a day, then the ETP will rise by 2.25%, excluding fees. However, if the index falls by 1% over a day, then the ETP will fall by 2.25%, excluding fees.
The ETP is very expensive with an OCF of 0.99% and a Daily Swap Rate of 0.01181%, which will soon add up if you held it for a while.
Personally, we would never invest in this as we feel that these types of investments are far too complex and shouldn't be used by retail investors unless you really know what you're doing. You can lose a lot of money, fast.
The Full Table
As promised below is the full table of the top 10 most popular ETFs traded on Interactive Investor in rank order, with 1-year and 3-year performances.
Many of these ETFs won't be available on free trading apps but can be bought on premium Investing platforms such as Interactive Investor. We get a small commission if you use this link at no additional cost to you, which helps to fund this website. Thanks to anyone that uses it.
What are your favourite ETFs? Let us know in the comments section.
And as always don't forget to check out the Money Unshackled Offers page where we bring you thousands of pounds of awesome offers when you sign up to various investing platforms and services. Find the Offers page here.